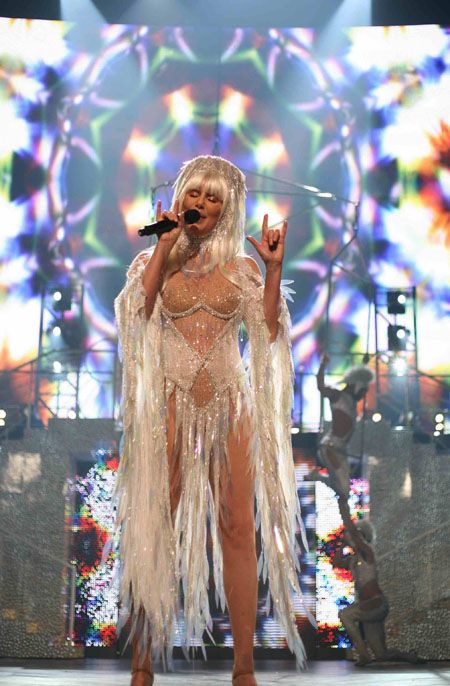 On this day in 1946, pop singer, song writer, Academy Award winning actress, producer and record producer, Cher was born Cherilyn Sarkisian in El Centro, CA. Her father was Armenian and her mother was of Cherokee, French and English descent. After her mother remarried and ran into financial difficulties, Cher was placed in temporary foster care. She eventually dropped out of high school due to severe undiagnosed dyslexia.
She met Sonny Bono, 11 years her senior, marrying him and singing together, eventually emerging as the duo, Sonny & Cher. There first hit was "I've Got You Babe" which reached the top of the charts in 1965. They had one child, Chastity, born in 1969.
After a brief career slump, talent scouts saw their act in Las Vegas and signed them for a variety special which led to the popular TV variety show, The Sonny and Cher Comedy Hour . The show ran from 1971 to 1974 collecting 15 Emmy's. The show was canceled due to the couple's divorce. Later that year, Cher married her second husband, rock star Gregg Allman. Their son, Elijah Blue, was born on July 10, 1976. They separated in 1977 and divorced two years later.
She went on to not just a successful career as a solo artist but stretched into acting making her movie debut in Come Back to the Five and Dime, Jimmy Dean, Jimmy Dean (1982) which earned her a Golden Globe nomination. In her next role in Silkwood (1983), she played Meryl Streep's lesbian friend for which she received the Golden Globe Award for Best Supporting Actress – Motion Picture and her first academy Award nomination. Her role as a mother of a severely disfigured boy in the critically acclaimed The Mask (1985), Cher won the Best Actress prize at the Cannes Film Festival and received a Golden Globe nomination for Best Actress in a Motion Picture Drama. In 1987 Cher starred in three films, The Witches of Eastwick, Suspect and Moonstruck for which she received the academy Award for Best Actress in 1988.
She returned to singing and concerts. Her Fairwell Tour lasted three years (2002 – 2005). After a three year hiatus, Cher returned to the stage in Las Vegas where she still performs at Caesar's Palace. The dance hit Believe (1999), selling over 10 million copies world wide ans she is the only female performer to have Top 100 Billboard hits for the last four consecutive decades. During her 40 years career she has sold over 100 million records world wide.
Happy Birthday, Cher
325 – The First Council of Nicea – the first Ecumenical Council of the Christian Church is held.
1217 – The Second Battle of Lincoln is fought near Lincoln, England, resulting in the defeat of Prince Louis of France by William Marshal, 2nd Earl of Pembroke.
1497 – John Cabot sets sail from Bristol, England, on his ship Matthew looking for a route to the west (other documents give a May 2 date).
1498 – Portuguese explorer Vasco da Gama arrives at Kozhikode (previously known as Calicut), India.
1506 – Christopher Columbus dies
1521 – Battle of Pampeluna: Ignatius Loyola is seriously wounded.
1570 – Cartographer Abraham Ortelius issues the first modern atlas.
1609 – Shakespeare's Sonnets are first published in London, perhaps illicitly, by the publisher Thomas Thorpe.
1631 – The city of Magdeburg in Germany is seized by forces of the Holy Roman Empire and most of its inhabitants massacred, in one of the bloodiest incidents of the Thirty Years' War.
1778 – American Revolution: British forces from Philadelphia attempt to trap 2,200 Continentals defending Valley Forge led by Marquis de Lafayette. Lafayette, through skillful maneuvering, avoids the entrapment and the destruction of his forces. The encounter takes place at Barren Hill, now known as Lafayette Hill, just northwest of Philadelphia.
1802 – By the Law of 20 May 1802, Napoleon Bonaparte reinstates slavery in the French colonies, revoking its abolition in the French Revolution
1813 – Napoleon Bonaparte leads his French troops into the Battle of Bautzen in Saxony, Germany, against the combined armies of Russia and Prussia. The battle ends the next day with a French victory.
1845 – HMS Erebus and HMS Terror with 134 men under John Franklin sail from the River Thames in Britain, beginning a disastrous expedition to find the Northwest Passage. All hands are lost.
1861 – American Civil War: The state of Kentucky proclaims its neutrality, which will last until September 3 when Confederate forces enter the state.
1862 – U.S. President Abraham Lincoln signs the Homestead Act into law.
1864 – American Civil War: Battle of Ware Bottom Church – in the Virginia Bermuda Hundred Campaign, 10,000 troops fight in this Confederate victory.
1873 – Levi Strauss and Jacob Davis receive a U.S. patent for blue jeans with copper rivets.
1882 – The Triple Alliance between Germany, Austria-Hungary and Italy is formed.
1883 – Krakatoa begins to erupt. The volcano's final and most notable explosion occurs on August 26.
1891 – History of cinema: The first public display of Thomas Edison's prototype kinetoscope.
1896 – The six ton chandelier of the Palais Garnier falls on the crowd resulting in the death of one and the injury of many others.
1902 – Cuba gains independence from the United States. Tomás Estrada Palma becomes the first President of Cuba.
1916 – The Saturday Evening Post publishes its first cover with a Norman Rockwell painting ("Boy with Baby Carriage").
1920 – Montreal, Quebec radio station XWA broadcasts the first regularly scheduled radio programming in North America.
1927 – By the Treaty of Jedda, the United Kingdom recognizes the sovereignty of King Ibn Saud in the Kingdoms of Hejaz and Nejd, which later merge to become the Kingdom of Saudi Arabia.
1927 – At 07:52 Charles Lindbergh takes off from Roosevelt Field in Long Island, New York, on the world's first solo non-stop flight across the Atlantic Ocean, touching down at Le Bourget Field in Paris at 22:22 the next day.
1932 – Amelia Earhart takes off from Newfoundland to begin the world's first solo nonstop flight across the Atlantic Ocean by a female pilot, landing in Ireland the next day.
1940 – Holocaust: The first prisoners arrive at a new concentration camp at Auschwitz.
1940 – World War II: Germans break through to English Channel at Abbeville, France
1941 – World War II: Battle of Crete – German paratroops invade Crete.
1949 – In the United States, the Armed Forces Security Agency, the predecessor to the National Security Agency, is established.
1949 – The Kuomintang regime declares martial law in Taiwan.
1956 – In Operation Redwing, (shot Cherokee), the first United States airborne hydrogen bomb is dropped over Bikini Atoll in the Pacific Ocean;
1969 – The Battle of Hamburger Hill in Vietnam ends.
1980 – In a referendum in Quebec, the population rejects by a 60% vote the proposal from its government to move towards independence from Canada.
1983 – First publications of the discovery of the HIV virus that causes AIDS in the journal Science by Luc Montagnier and Robert Gallo individually.
1983 – A car-bomb explosion kills 17 and injures 197 in the centre of Pretoria, South Africa.
1989 – The Chinese authorities declare martial law in the face of pro-democracy demonstrations, setting the scene for the Tiananmen Square massacre.
1990 – The first post-Communist presidential and parliamentary elections are held in Romania.
1995 – In a second referendum in Quebec, the population rejects by a slight majority the proposal from its government to move towards independence from Canada.
1996 – Gay rights: The Supreme Court of the United States rules in Romer v. Evans against a law that would have prevented any city, town or county in the state of Colorado from taking any legislative, executive, or judicial action to protect the rights of gays and lesbians.
2002 – The independence of East Timor is recognized by Portugal, formally ending 23 years of Indonesian rule and 3 years of provisional UN administration (Portugal itself is the former colonizer of East Timor until 1976).
Birthdays
1927 – Bud Grant, American football coach, 83
1927 – David Hedison, American actor, 83
1936 – Anthony Zerbe, American actor, 74
1944 – Joe Cocker, British singer, 66
1946 – Cher, American singer, 64
1951 – Mike Crapo, American politician, 59
1958 – Ron Reagan, American talk show host, 52
1959 – Bronson Pinchot, American actor, 51
1963 – David Wells, American baseball player, 47
1965 – Ted Allen, American television host, 45
1966 – Mindy Cohn, American actress, 44
1966 – Dan Abrams, American TV reporter, 44
1968 – Timothy Olyphant, American actor, 42
1971 – Tony Stewart, American race car driver, 39
1972 – Busta Rhymes, American rapper and actor, 38
1984 – Patrick Ewing, Jr., American basketball player, 26