(noon. – promoted by ek hornbeck)
America is back, baby!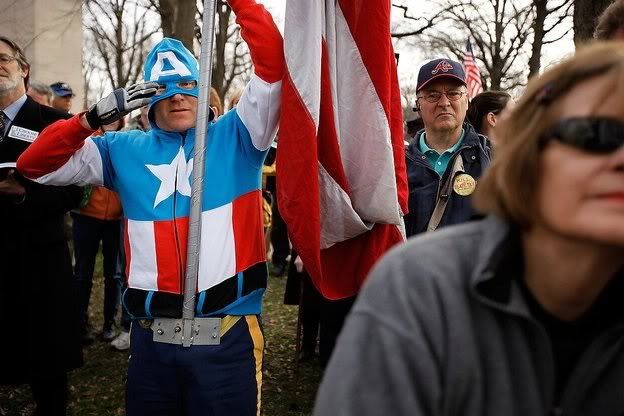 Way to go, America! Your investment in the future has paid off handsomely!
But honestly? This just makes me sad.
75% of young Americans are ineligible to serve their country because they have either failed to graduate high school, engaged in criminal activity, or are physically or mentally unfit.
Add that to our list of other exceptional accomplishments.
The United States is 49th in the world in literacy (the New York Times, Dec. 12, 2004).

The United States ranked 28th out of 40 countries in mathematical literacy (NYT, Dec. 12, 2004).

Twenty percent of Americans think the sun orbits the earth. Seventeen percent believe the earth revolves around the sun once a day (The Week, Jan. 7, 2005).

"The International Adult Literacy Survey…found that Americans with less than nine years of education 'score worse than virtually all of the other countries'"
Now, since we're doing everything for the children, how are we going to tell them that there are no other jobs besides military jobs, or that, if they manage to find another job, they will never retire?
Fox News is most concerned about national security:
National security is threatened by the sharp rise in obesity rates for young people over the last 15 years, the group Mission: Readiness contends. Weight problems are now the leading medical reason that recruits are rejected, the group says, and thus jeopardize the military's ability to fill its ranks.

In a report released Tuesday, the group says that 9 million young adults, or 27 percent of all Americans ages 17 to 24, are too fat to join the military. The retired officers were on Capitol Hill advocating for passage of a wide-ranging nutrition bill that aims to make the nation's school lunches healthier.
You can't fudge those waistline numbers. That is too much pudge to smudge. Too corpulent to corporal. The funny thing is that the school lunch program grew out of the rejection rates during WWII because kids tended to be malnourished from the depression.
This isn't the first time the military has gotten involved in the debate over school lunches. During World War II, military leaders had the opposite problem, reporting that many recruits were rejected because of stunted growth and inadequate nutrition. After the war, military leaders pushed Congress to establish the national school lunch program so children would grow up healthier.

The program was established in 1946, "as a measure of national security," according to the original bill language.
Among the luminaries at the press release were Dick Lugar (R- High Fructose Corn Syrup) and Tom Vilsack (D- Monsanto).
The good news is that these kids form the basis for a rag tag group of high schoolers calling themselves the Wolverines who will defend our great nation in the re-make of Red Dawn, 2010. This time, it's the Pinko Chinks.
I kid you fucking not.