(7 pm. – promoted by ek hornbeck)


so our boy called last night.
mom. guess what i just did?
urhm…. made a rocketship to fly me to mars?
mo-o-o-om! no! i filled out the census.
yeah? and….?
well y'know where they ask white, black, asian…?
uh-huh.
well. they had white. then it said black, african american, NEGRO.

shouldn't it have said white, cracker, honky?


well, son….
okay, mom. i was being facetious. well kinda.

i mean they wanted to know what kind of hispanic you are.

why not what kind of white?

you could be english or irish or russian or swedish or finnn or….
okay, okay. i see your point.
well they had a whole buncha other boxes.

then they had other.

that's what i picked.
oh yeah?
yeah. and i wrote in human.

that's what race i belong to after all.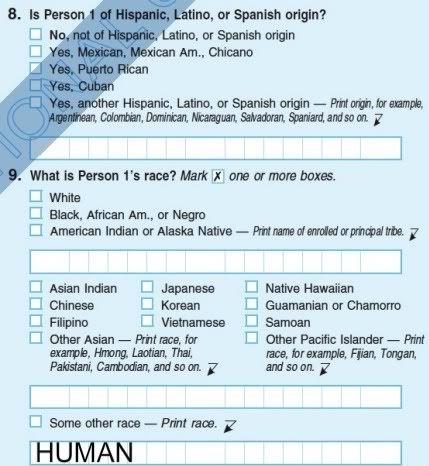 so i turned & told our girl what her brother had done.
i put human too mom
and i got to thinking….
what if half the people… or more(!)… put human?
they couldn't redistrict according to racial profiling…
if WE say race doesn't matter…. and show it by answering EVERY race question "human"

very soon they won't be able to separate us by "race".