( – promoted by buhdydharma )
UPDATE: 6:20 pm EDT: The Innocence Project reports that the US Supreme Court has issued a stay that prevents the execution of Hank Skinner.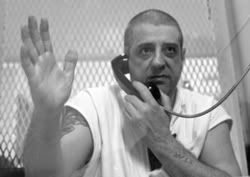 Hank Skinner
Texas plans to kill death row prisoner Hank Skinner by lethal injection today. Even though DNA from the crime scene has never been tested, and even though Skinner has insisted for more than sixteen years that he is innocent, Texas plans today to have its inexorable revenge against Skinner for a triple homicide. Stopping the execution now so that DNA testing can be conducted depends on long shots: Texas Governor Rick Perry and last minute appeals to the Supreme Court.
The New York Times reports:
Texas death row inmate Hank Skinner doesn't deny he was in the house where his girlfriend was fatally bludgeoned and her two adult sons stabbed to death in 1993, but he insists that DNA testing could exonerate him.

Skinner, scheduled to die Wednesday in Huntsville for the New Year's Eve triple slaying more than 16 years ago, visited with his French-born wife as he waited for the U.S. Supreme Court or Texas Gov. Rick Perry to decide whether to stop his execution.

He and his attorneys contend his lethal injection should be halted for DNA testing on evidence from the crime scene in the Texas Panhandle town of Pampa. Results of those tests could support his innocence claims, they said.

"It's real scary," Skinner, 47, said recently from death row. "I've had dreams about being injected. I didn't commit this crime and I should be exonerated."
Prosecutors and the Texas Courts have insisted that Skinner isn't entitled to DNA testing of evidence that was not tested before his 1995 trial. His appointed lawyer inexplicably didn't demand it before trial. The remaining evidence in question will probably reveal whether Skinner or another man committed the murders for which Skinner was convicted.
Testing this evidence is important if Texas wants to be sure that it is not (again) killing an innocent person. The amount of evidence is not large; a DNA testing lab has agreed to conduct the testing for free. If testing does not show that Skinner is innocent, there would be slight reason to disturb his conviction. On the other hand, if the testing exonerates Skinner, he should clearly be spared and released from confinement.
What is the role of this physical evidence in this case? Dave Lindorff explains:
The thing about Skinner's case is it would be relatively easy to prove whether or not he was really the killer of the three. There are two bloody knives that have never been tested for Skinner's DNA–or for the DNA of Twila's uncle, the man who had reportedly made several unwanted sexual advances at her earlier that evening, leading her to leave a party early, and who Skinner claims is the real killer. Nor was semen that was found on Twila Busby, who was raped, or skin found under her fingernails, ever DNA tested to see who they belonged to.

There were, to be sure, plenty of circumstantial reasons at the time of the trial to suspect Skinner. It is undisputed that he had been drunk and passed out on the couch in Busby's house shortly before the murders, which occurred in the same room he was in. The drunken Skinner also staggered from the home in Pampa, TX, his hands bloodied, following the killings. But Skinner maintains that he had cut his hand, falling off the couch, and that the blood was his own. He says he had woken up to find Busby and her sons already dead.

Incredibly, police investigators at the crime scene never took fingernail clippings from Busby, nor did they take a vaginal swab at the scene, though she had clearly struggled and had apparently been raped.
This physical evidence should be tested. The execution, which has waited for more than sixteen years, can be delayed an additional few months so that testing can be completed. If the physical evidence does not exonerate Skinner, claims that Texas is executing an innocent man should be diminished.
The important questions for Texas today are these: what is the rush? Isn't it more important after all of this time, to know the truth about Hank Skinner?
Please sign this Innocence Project petition to Governor Perry.
———————-

simulposted from The Dream Antilles and dailyKos