I'm so burnt out of anything political to say but I still take plenty of pictures. I tried to restart Friday Evening Photoblogging a few weeks back at DailyKos and this is a repost. I'm going to post last week's here tomorrow because it relates to this weeks and continue the series here on Friday night. I hope you enjoy these pictures.
Have you ever gone to a zoo in midwinter? This diary is a selection of of photos from a three hour trip to the Zoo on a sunny winter day.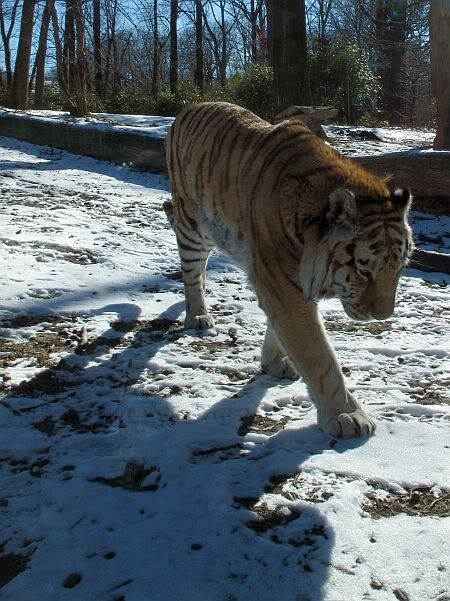 I could tell you a winter's tale or two about going to the zoo. I think it is the best time for both interaction with animals and photographic opportunities.
This is not my first Bronx Zoo diary. My point about a winter visit can be made by comparing the photos in that collection from about twenty visits to the zoo and these from a three hour tour.
The reason I went two weeks ago was to see the newest zoo babies. the Bronx Zoo announced the arrival of Glacier, Kootz, Denali, and Sitka.
The bears share a common history-their mothers were killed after habitually wandering too close to humans. The three brown bear cubs are siblings, born in early 2009 on Baranof Island in southeastern Alaska. The Alaska Department of Fish and Game rescued the orphaned trio and temporarily transferred them to Fortress of the Bear, an education and rescue center in Sitka, Alaska. The young grizzly bear, a male from Glacier National Park in Montana, was originally rescued by park rangers and kept for a few days at Washington State University's Bear Center.

The playful bears are busy exploring their new home at the zoo's Big Bears exhibit, and clearly enjoy each other's company (see video).
I only found three little bears and they are not as exciting to watch in freeze frame but here are the newcomers.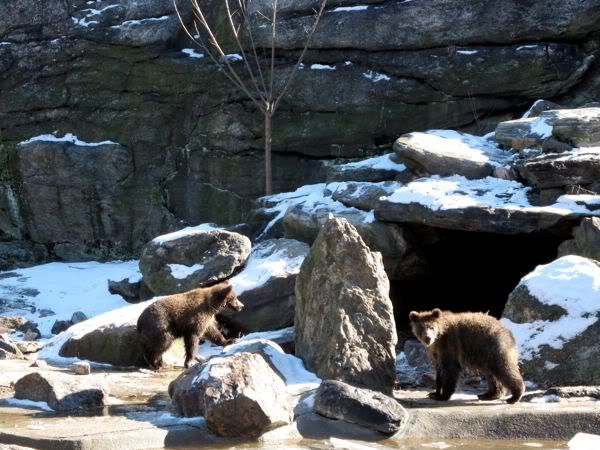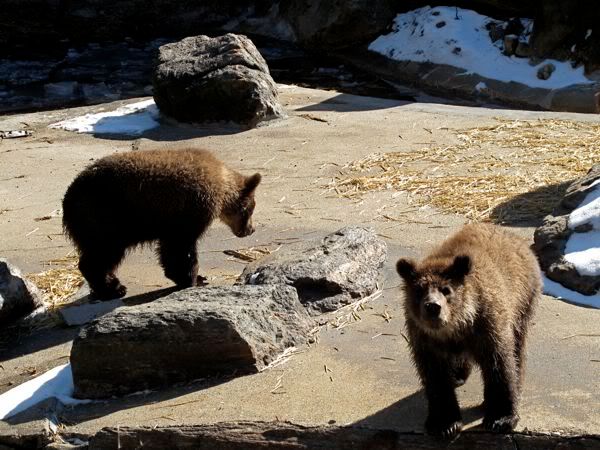 Notice how one of the young bears is checking me out?
I remember how my fascination with zoo animals in winter began. It was the year that the Central Park Zoo reopened after an extensive renovation by the Bronx Zoo. The new zoo was so popular that you needed to wait on line for hours so I put it off until the first snow storm.
I called my sister and we both experienced the new zoo for the first time in six inches of snow. It was the very first time the animals in the zoo had the place to themselves and they all took an interest in the only two people walking around. The sea lions were watching us walk around no mater where we went and we had a close encounter with a polar bear. As we looked through the new window a polar bear seemed to like having the place to himself so much that he charged headlong into the glass. I trusted the glass that shook but held. When I turned to my sister to say "Wow!" she was about two blocks south and moving fast.
I experienced another adrenalin rush in the Bronx on a February day. That time it was with a Roosevelt Elk and a girlfriend. The big stag looked at us and charged one hundred yards full speed, crashing his antlers in the fence right next to us. There is a stream right before that fence that is now occupied by Père David's Deer so on top of the shock of crashing antlers we were also covered with freezing water.
Those are the rare encounters but it is very common that when you are the only person in the zoo the animals are interested in you. Here is the reaction I got from the Red Panda.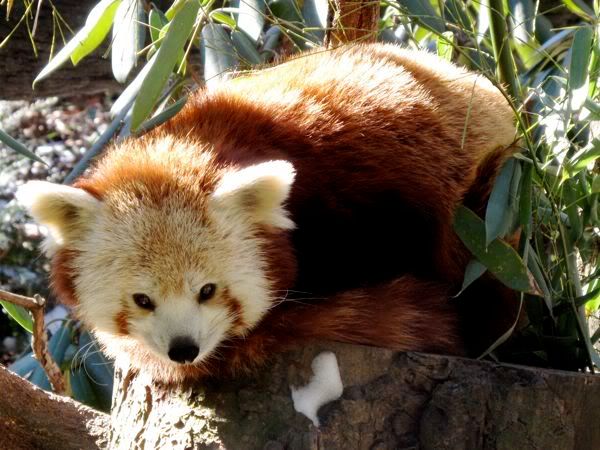 I also got a reaction from the Red Panda's next door neighbor. The Snow Leopard wanted to know what I was doing there. It reminded me of the look I got from that Roosevelt Elk a few years back.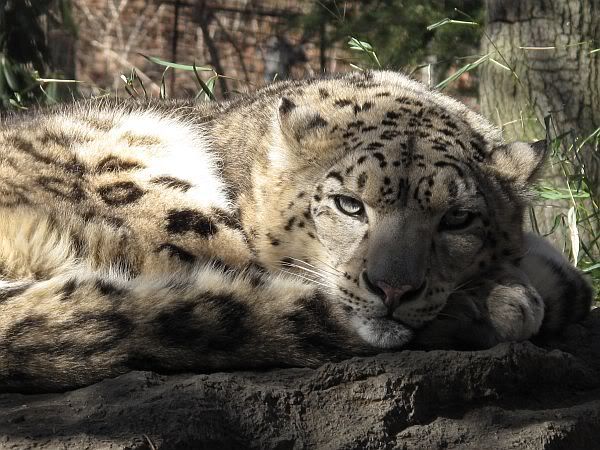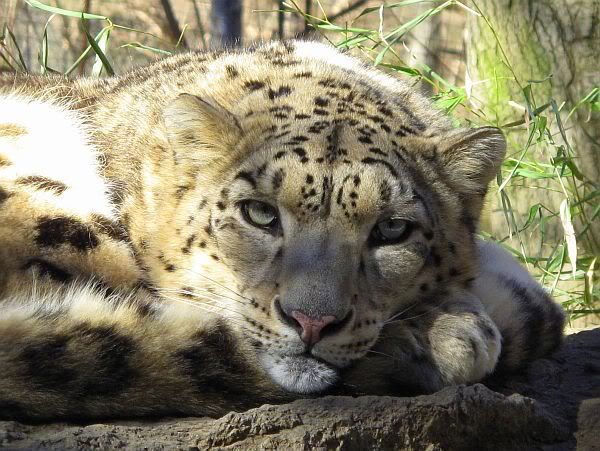 But I didn't disturb the cat nap for too long.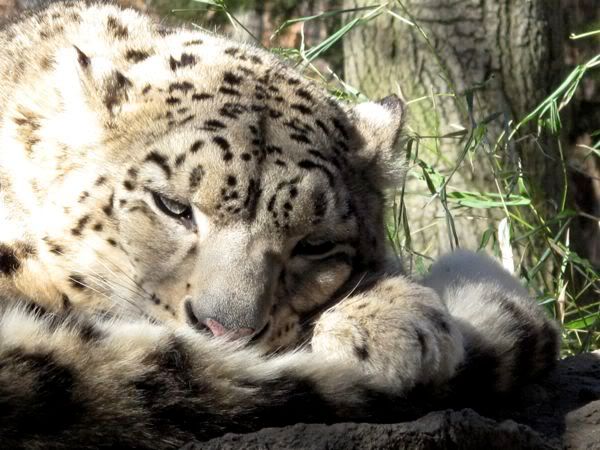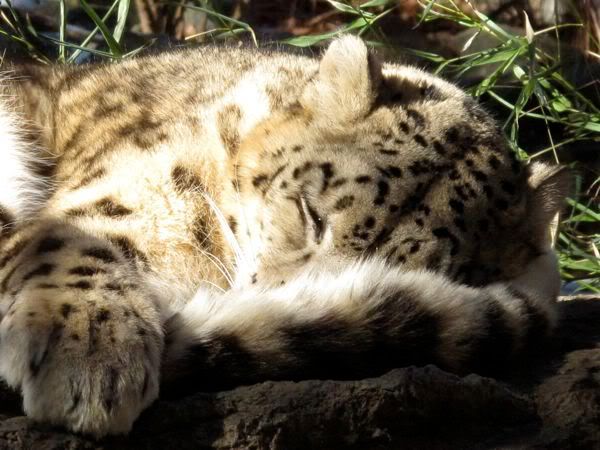 Across the bamboo forest of the Himalayan Highlands two White Naped Cranes are beginning preparations for the large nest they build each spring in the center of their private pond.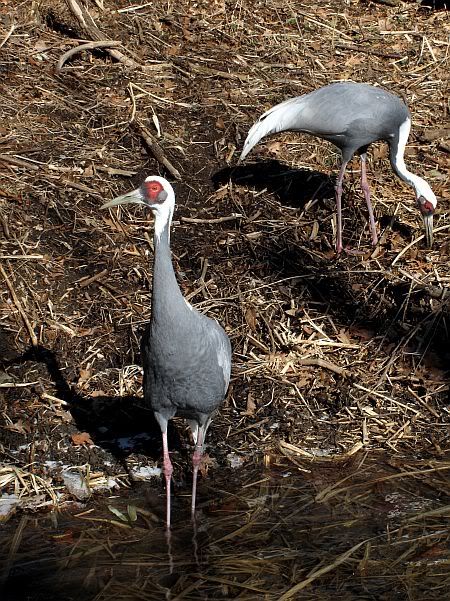 That Bronx Bamboo forest that offers some privacy to the White Naped Cranes is always a warming sight in the winter.
But another reason to enjoy the zoo in winter are the seasonal sights. The American Bison that the Bronx Zoo did so much to save from extinction look right at home.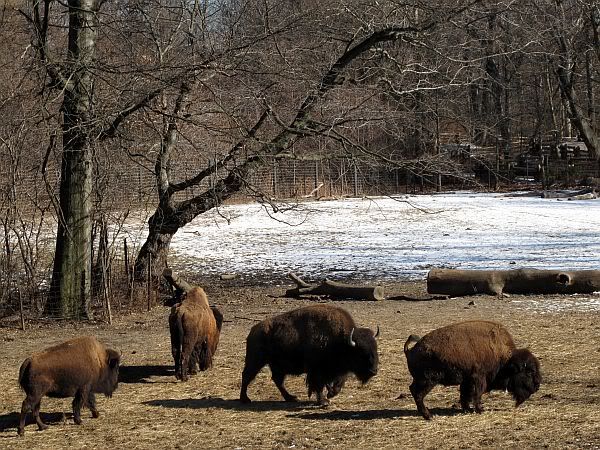 And the next door neighbor of the four new bear cubs did not seem to excited to see me but Tundra who probably still misses Fubo, seems like he is in the right place for a change.
If it gets too cold you can always take a trip to the jungle.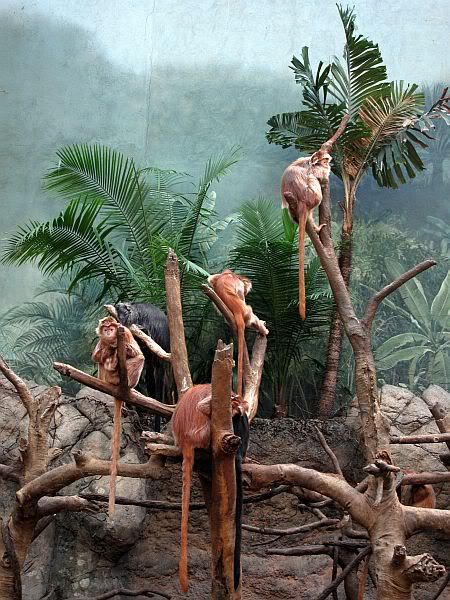 It is always nice to stand out in a room full of monkeys. There's that winter acknowledgment again.
Or not.
The Tree Kangaroo joey that was featured in my last zoo diary is almost as big as mom now.
One place where I've never had any luck is getting a picture of the ultimate acrobat, the white cheeked gibbon. They go so deep into their jungle that photographers usually don't stand a chance.
But I got lucky.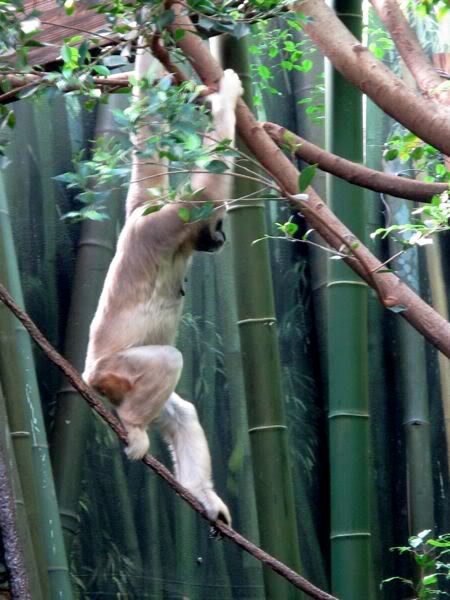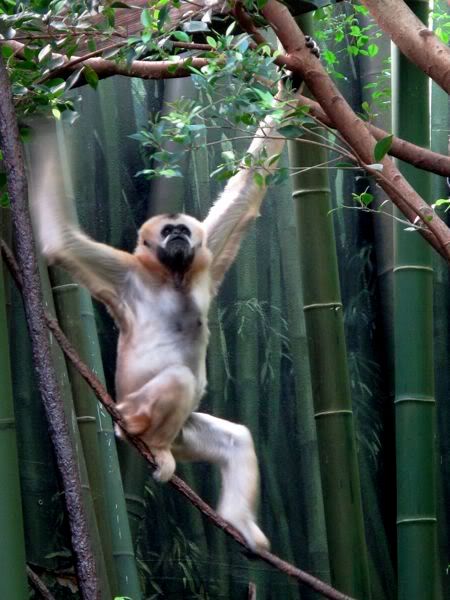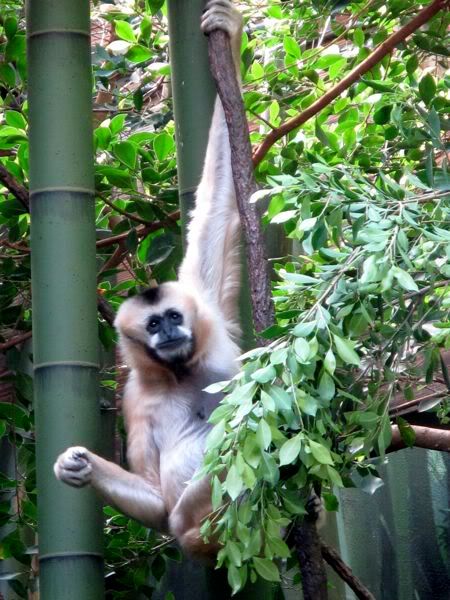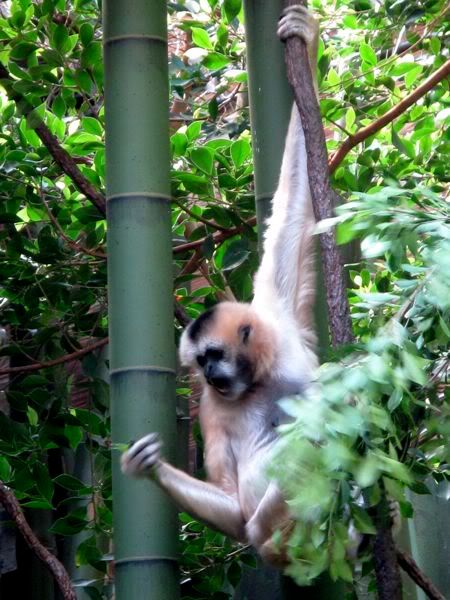 How's this for a winter retreat?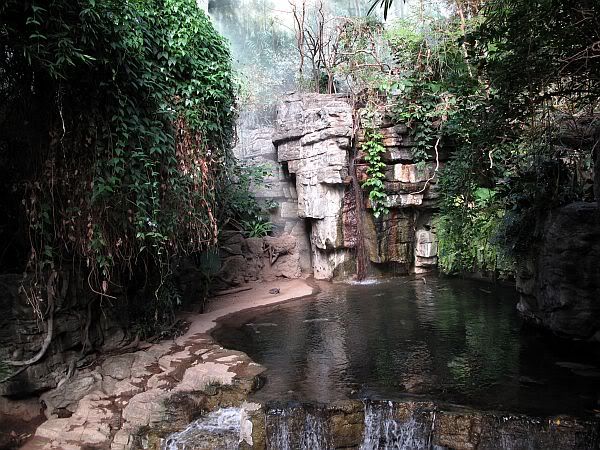 I wouldn't mind joining that turtle for a day at the beach.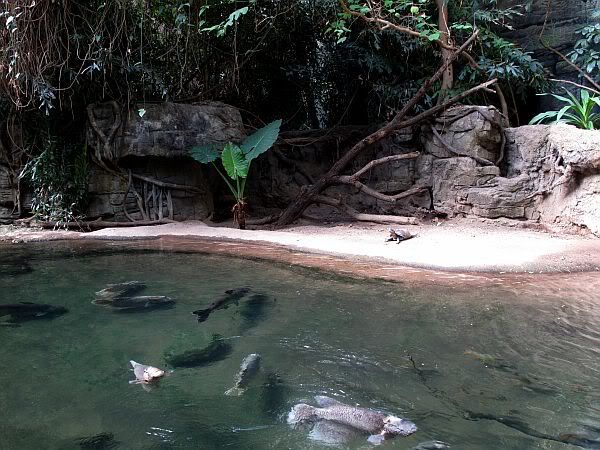 Another indoor stop at the World Of Birds. The Imperial Pigeons were getting close, a Blue Billed Curessow struck a pose and a little bird played peek-a-boo behind a Palawan Peacock Pheasant.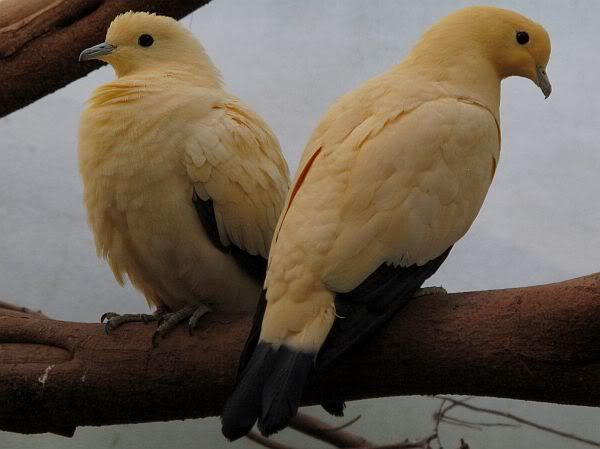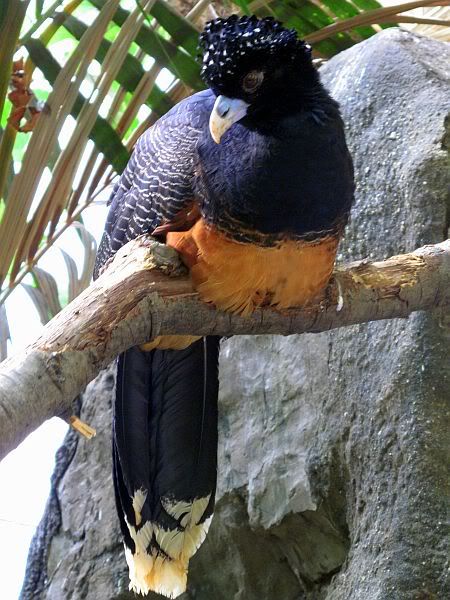 By the time I made it to Madagascar it was already siesta time.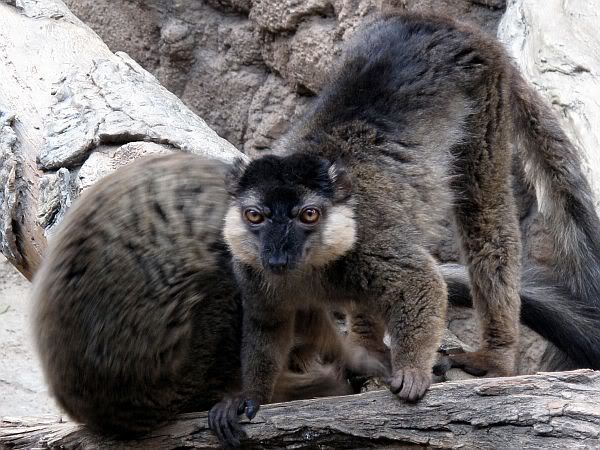 But the extremely secretive Fossa finally came out for a photo. This little nocturnal hunter is a relative of the mongoose and has retractable claws just like pootie. He looks like one nervous cat.
The highlight of the day was outdoors. Watching the Big Cat taking a walk right up to the glass was amazing. Tigers are much bigger that I thought.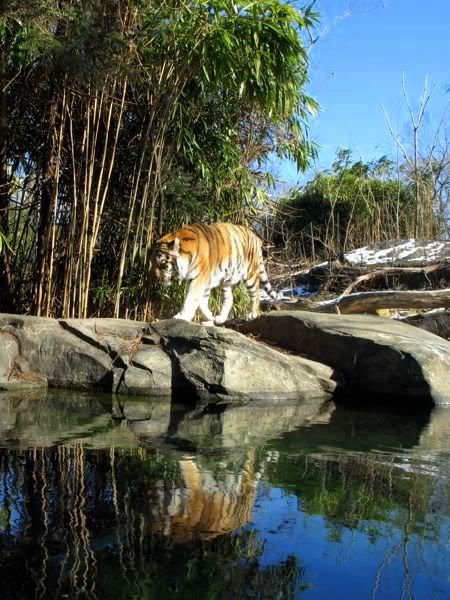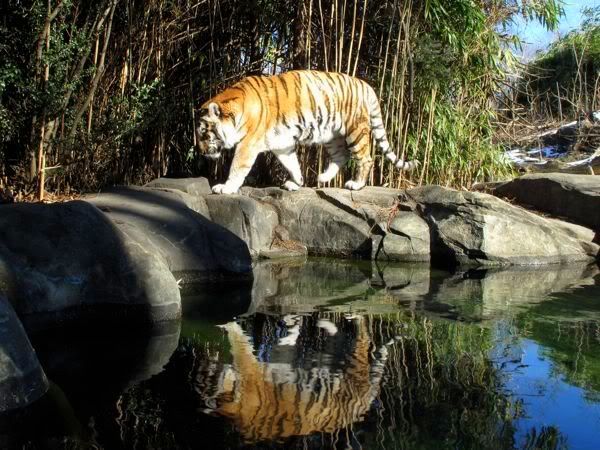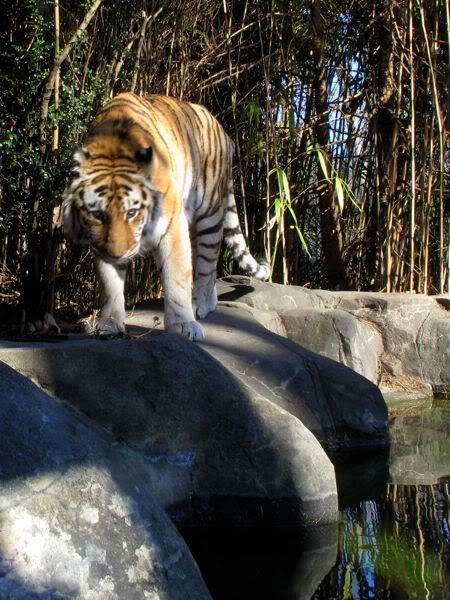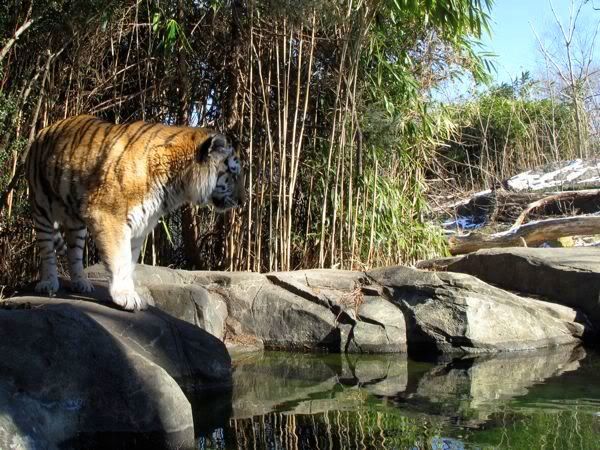 That was a pretty good three hours.
Oh one more thing. Please watch Nature on PBS with your young ones and help the next generation understand the importance of biodiversity. When you pay your public television station membership, please mention their work for wildlife. Visit and support your local zoo often and join the Wildlife Conservation Society so you will be counted as a protector of wildlife. But most of all, please harass your representatives to protect wildlife and repair the delicate imbalance that we haves caused.
Note: I will also post this series at Progressive Blue and La Vita Locavore too.
Loading ...