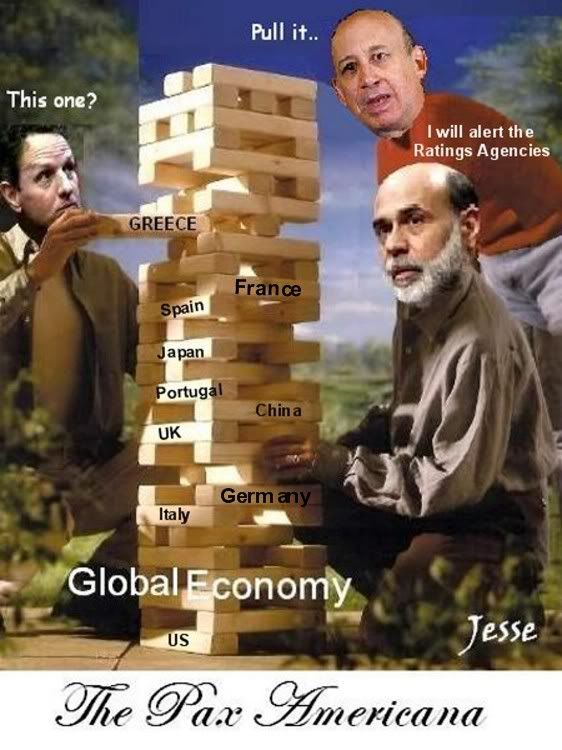 Will we have to blow up a continent again before we stop Wall Street?
Surprise, surprise: Wall Street tactics akin to the ones that fostered subprime mortgages in America have worsened the financial crisis shaking Greece, Spain, Portugal, and undermined the euro by enabling European governments to hide their mounting debts.
What can government do? Bankers own the place.
"The crash has laid bare many unpleasant truths about the United States. One of the most alarming, says a chief economist of the International Monetary Fund, is that the finance industry has effectively captured our government – a state of affairs that more typically describes emerging markets, and is at the center of many emerging-market crises. If the IMF's staff could speak freely about the U.S., it would tell us what it tells all countries in this situation; recovery will fail unless we break the financial oligarchy that is blocking essential reform." ~ The Atlantic Monthly, May 2009, by Simon Johnson
Where there is no accountability from governments for blatant fraud and financial barbarism, people will improvise.
Without commenting on whether such "blowback" is right or wrong (if the JP Morgan event is indeed blowback), it's entirely predictable. Fuck people over enough and they will retaliate by the means and opportunities at their command. How many times have we not learned that lesson?
Of course, would-be retaliators should realize that TPTB have terrorism laws firmly on their side, and accountability is a one-way street.
I expect to see a lot more of this type of thing if the out-of-control banks are not saddled and reined-in.