jeffroby has written several essays since coming to Docudharma that I think ought to have their own tag. If what he's writing about had its own unique tag, I'd tag this essay under it. But I can't even come up with a properly descriptive word so to hell with you all! Stop nagging me!
Times have changed. What worked back then won't work now. Or rather, anything at all will work if the ground we stand upon is firm.
I've seen that building a movement on quicksand isn't a very good idea. So no thank you to that!
See, I wish I could stand upon the lofty mountain of moral superiority and loftily challenge The Coalition of the Comfortable in a supremely lofty fashion.
Unfortunately, I am still in the process of extricating myself from that Coalition (thus the quicksand analogy), so my house is too glassy for that.
So much of my activism has been and no doubt will be, this process of extrication from the conditioning I have been unable to avoid but which I am now aware of and opposed to.
Buhdy's essays on this ought to be under this unnamed tag as well, come to think of it, at least his "coalition" stuff.
Isn't it an action to really dig deep to see what the ground is upon which you stand?
In the I-Ching there is the hexagram of "The Well." I could write books and books upon that one hexagram, but will limit myself to what I think is pertinent to this essay:
… there are … prerequisites for a satisfactory political or social organization of mankind. We must go down to the very foundations of life. For any merely superficial ordering of life that leaves its deepest needs unsatisfied is as ineffectual as if no attempt at order had ever been made. …
Being comfortable also means not going "down to the very foundations of life" and thus will not withstand the strong forces one will encounter as an activist that work from the opposition to shatter our solidarity.
I guess I'm saying politely that I would need something really powerful and deep to hold to when I inevitably hate my closest allies because of my own vain, antisocial and thin-skinned nature.
So that's my grail in a way — oh, I'm not asking for perfection in this quest, but something I can agree upon with my allies that will withstand any temporary disagreements or distrust.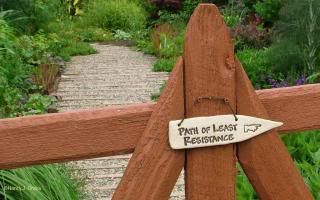 I've read several places, though I believe I first read it here at Docudharma, that someone described Obama's style as taking "the path of least resistance."
I think that's a fair assessment in some ways.
And it also leads me to believe that if we want to get Obama's attention, we have to make it so that giving that attention to us becomes, literally, the "path of least resistance."
Unlike George W. Bush, who could not be influenced no matter how much pressure was applied … for after all, he wasn't the real Decider, Obama can be influenced. I think we've seen that fairly often in this past year.
In order to accomplish this task, to create a condition where paying attention to us becomes a 'path of least resistance to the Obama Administration we will, as buhdy mentioned, have to lead ourselves because we are too individualistic to accept authority any other way.
Me? I'm no longer comfortable being comfortable.
I've tagged this essay "action" because I think finding our own inner compass for action is part of that action — perhaps we can't do that together as a group, but it is still a necessary action.