(11 am. – promoted by ek hornbeck)
Critical Condition: Are you covered in case of emergency? These families thought they were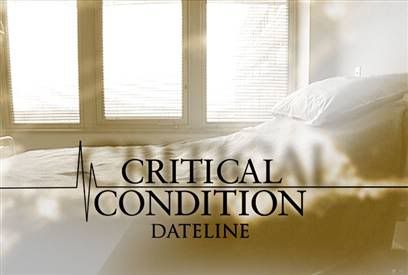 If you missed this last night, 01.24.10, you really might want to watch the whole show or even just the segments of and add them to what we already know and understand about the more then broken health care 'industry' in this country. A country once built of pride now controlled by corporate greed that is rapidly taking over everything and changing these United States rapidly into a Totally Controlled Corporate Society by the Few and spreading into other countries like our once pride filled products used to!
This aired on Dateline NBC on Sunday, Jan. 24, 2010. The full show and related web-exclusive videos here.
A few video cuts from the program.
Why do health care companies deny claims?

Susan Pisano of America's Health Insurance Plans explains what goes into the decision to deny or accept a claim.
How to avoid a health care crisis

Patient Advocate Foundation representative Beth Darnley discusses the financial struggles families find themselves in during medical emergencies.
From CIGNA executive to health care advocate

Former CIGNA spokesperson Wendell Potter reflects on what made him decide to leave his position at a health care insurance company and instead become a whistleblower, calling for insurance reform.
'Very few consumers understand what their benefits are'

Health care, close up: Three experts put health insurance under a microscope, and offer advice every consumer should know.
The Transcript By Ann Curry of the whole show and the cuts above as well as the whole show can be viewed here.