( – promoted by Nightprowlkitty)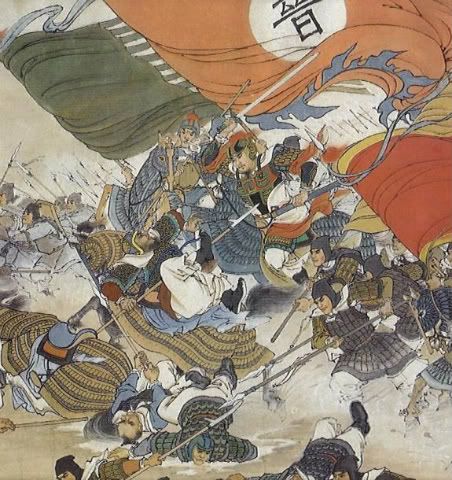 I'm reading Art of War (among sci-f (Octavia Butler), horror (Poppy Brite) and romance (Maeve Binchy) novels) and I now see my proficiency in that kind of disciplined and strategic thinking is sorely lacking. So I get sarcastic which makes me embarrassed because I really feel serious about it but I'm not in much understanding about it so I cover that with sarcasm. And so on.
Enemies.
Opposition does not always result in enmity. But sometimes it does.
All I have to say about that is:
Nothing is permanent.
So all I got at this point is I'm nice.
Ok, see now I want to be sarcastic again but I'll try to resist that impulse.
What I want for the New Year is to find a way to engage in opposition openly and honestly and a forum in which to do so.
Thus far Docudharma seems to fit the bill for me — though I make no predictions on if I am right or wrong about this.
Not that I feel I can be totally honest and open here. After all, in this new Millennium, we have no privacy. That inhibits me. I'd imagine the younger folks now aren't as inhibited because they grew up with it and found new ways to gain privacy that I haven't yet grokked from them.
Anyway.
Thus far my whole repertoire in fighting and opposition is impulse and emotion.
Now please don't mistake me, impulse and emotion have gotten me far!
So the one thing reading Sun Tzu's The Art of War did for me was to reveal very plainly there are other ways to fight effectively, other resources I can develop within myself to either avoid enmity completely or, if that is impossible, to deal with it swiftly and not let it linger.
Not that I know how to do any of that.
But the book was good, I think, in illuminating that reality.
I didn't read it in the usual way. First, I got an abridged version, translated by Thomas Cleary (not abridged Sun Tzu root text, but abridged commentary). I did not read it in consecutive pages but opened pages randomly in the form of an I-Ching coin toss.
Inevitably it would draw me in and I'd read a few pages.
In conclusion, I'd recommend reading this book and other ancient texts which have stood the test of time over the centuries — they're so easily gotten from the intertron these days. Folks like Winter Rabbit, Robyn, Buhdydharma, Meteor Blades, and more have experienced and practiced some of these ancient techniques, adapting them to their own individuality and the times we are living in. So I recommend paying attention to that kind of writing when it appears as well.
Happy New Year.
Bonus Poem!
From Open Buddha:
The Guest House, Mawlana Jalal-ad-Din Rumi

This being human is a guest house.

Every morning a new arrival.

A joy, a depression, a meanness,

some momentary awareness comes

as an unexpected visitor.

Welcome and entertain them all!

Even if they are a crowd of sorrows,

who violently sweep your house

empty of its furniture,

still, treat each guest honorably.

He may be clearing you out

for some new delight.

The dark thought the shame, the malice,

meet them at the door laughing,

and invite them in.

Be grateful for whoever comes,

because each has been sent

as a guide from beyond.