( – promoted by buhdydharma )
I just caught this and there doesn't seem to be much on it yet
U.S. to Appeal Blackwater Case Dismissal, Biden Says
There isn't a time mark on the NYT piece but the few others I found had it as about an hour ago.
This is a cut from the Times piece.
Vice President Joseph R. Biden Jr. promised Iraqi leaders on Saturday that the United States would appeal the dismissal of manslaughter charges against five Blackwater Worldwide security contractors involved in a deadly shooting here that has inflamed anti-American tensions.

Mr. Biden, tasked by the Obama administration to oversee policy in Iraq, made the statement after a day of meetings with Iraqi leaders that dealt, in part, with a political crisis that has erupted over the March 7 parliamentary elections. American officials view the vote, a barometer of the durability of Iraq's political system, as a crucial date in American plans to withdraw tens of thousands of combat troops from Iraq by the end of August.

Snip

"This is great news," Abdel-Amir Jihan, who was wounded in the shooting, said after hearing of Mr. Biden's announcement. "The court was not fair to us. We felt great injustice when we heard the verdict. It was not right to drop the charges against them."…>>>>>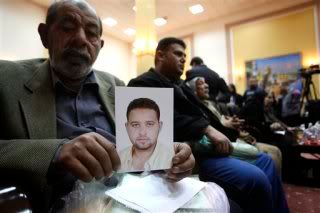 Sahib Nasir holds a picture of his son, Mehdi Sahib, who was killed in 2007 by Blackwater security guards, at the prime minister's office in Baghdad, Monday, Jan. 18. 2010. Iraq's government has started collecting signatures for a class-action lawsuit from victims who were wounded or lost family in incidents involving the U.S. private security firm formerly known as Blackwater.(AP Photo/Hadi Mizban)
This would be great news, Especially for the families and friends of those killed, as well as sending a message of Real Justice coming for the Iraqi's people out of all we've put them through and their great losses. Minimizing the potential from blowback that had already taken place but will haunt this Nation now for decades, possibly.
Biden in Iraq says US to Appeal Blackwater Ruling
Biden announced the government's plan Saturday, following meetings with Iraq's leaders in Baghdad.

Five guards – employees of the company Blackwater – were charged with opening fire on unarmed civilians at a Baghdad intersection, killing 17 people.

A U.S. judge dismissed charges against the guards, saying the U.S. government had violated their constitutional rights.

The decision angered many Iraqis, and the Iraqi government had been preparing legal proceedings in the United States against the company, now called Xe Services….>>>>>
All they've asked for is their day in Court, in a Court of a Country that calls itself A Nation of Law and who condemn other Countries who do Not proceed in a Humanitarian Nature and especially bringing the accused before their peers for judgment!
Biden assures Iraqis that US will appeal dismissal of Blackwater case
Attorneys for two of the guards are calling the move political. Attorney Steven McCool says the U.S. is pursuing an innocent man, not justice….>>>>>
Politics? If they committed crimes, especially of blatant murder, there's no politic about that. But what about this invasion and occupation under a number of false claims, was that Political?!
While in Iraq this announcement was also made:
US Marine Corps ends role in Iraq
Vice President Joe Biden (C) poses for the media with top U.S. military commander in Iraq General Raymond Odierno (L) and U.S. Ambassador Chris Hill at the U.S. Embassy in Baghdad January 22, 2010. REUTERS/Thaier Al-Sudani

The U.S. Marine Corps wrapped up its role Saturday in Iraq, handing over duties to the Army and signaling the beginning of an accelerated withdrawal of American troops as the U.S. turns its focus away from the waning Iraqi war to a growing one in Afghanistan.

Snip

If all goes as planned, the last remaining Marines will be followed out by tens of thousands of soldiers in the coming months. President Barack Obama has ordered all but 50,000 troops out of the country by Aug. 31, 2010, with most to leave after the March 7 parliamentary election.

The remaining troops will leave by the end of 2011 under a U.S.-Iraqi security pact….>>>>>