(crossposted from The Free Speech Zone)
This is the story of the Bad Thing. It's scary. Don't read this without your mommy.
Don't say I didn't warn you.
Once upon a time there were a bunch of happy people in Happyland.

Well, except for the Bad Thing.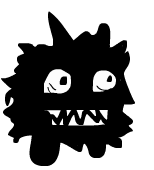 The happy people had always known there was a Bad Thing. Sometimes this thing, sometimes that thing, but the Real True Happy People (who were different from your average run-of-the-mill happy people) knew that all of that was really all the same Bad Thing.
Now, the RTHP knew very well that this state of affairs could not go on indefinitely. Something must be done about the Bad Thing.
But how oh how were they to find the Bad Thing and do it Justice?
The RTHP had a meeting. They met long, long into the night, until they had an Idea.
"We will lure the Bad Thing unto us!" they declared. "We will write unto the sky Posters about the Bad Thing and how the Bad Thing must be destroyed! And thus we will lure the Bad Thing unto us, and destroy it, perhaps after beating upon it a bit, and then all will be good in Happyland."
And they did, they made many fine posters about the bad thing. And the run-of-the-mill happy people (ROTMHP) were truly afeared of this bad thing of which they had been apprised, and did search for it mightily over the land for many years, but never could they find the Bad Thing, though they did a fair amount of beating on other, smaller things.
But one day, a terrible calamity fell upon the land. A Monster arrived! and it did truly wreak havoc upon the ROTMHP, and wreaked a bit upon the RTHP as well. Then it died.
"Arise!" cried the RTHP. "The Bad Thing has come! You must find its spawn!"
And the people did. The people did arise, and they did indeed look for the spawn of the Bad Thing, and of all the other things they'd beaten on in the past, just in case. They looked in the woods, and they looked in the towns, and they looked in closets and basements and probably in your emailbox too. Ya never know where the Bad Thing might be.
But they never found the Bad Thing. I guess it was just too tricky (I warned you this was a scary story).
It's probably out there still, waiting to get you.
You better get another baseball bat.
Just in case.
Loading ...