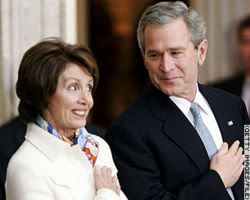 Hand me one of those airsick bags, will you please? Seriously. Things like this worry me.
The Hill's Blog Briefing Room reported yesterday that "Nancy Pelosi (D-Calif.) is among the seven finalists chosen for Time magazine's annual "Person of the Year," according to media reports on Monday. Other finalists in the realm of politics include last year's winner President Barack Obama, Afghanistan commanding Gen. Stanley McChrystal and Federal Reserve Chairman Ben Bernanke."
Time's managing editor Richard Stengel in an appearance on NBC's Today show praised Pelosi as "the strongest Speaker of the House in decades", said that she had "piloted what is probably the most important legislation in decades through the House" and called her "a really, really pivotal lawmaker".
In other news, Police in Panama City, Florida tasered a man who was choking to death on a baggie of pot, apparently calling his flipping and flopping "resisting arrest":
[23 year old Andrew Grande] was rushed to hospital by paramedics and pronounced dead at Bay Medical Center, in the early morning hours of Friday. The Panama City News Herald reports that paramedics had been able to remove a baggie of marijuana from Grande's throat, but not in time to save his life. Officers described the marijuana baggie as "large."

Medical officials have listed Grande's cause of death as asphyxia due to obstruction of the airway. The tasering is not mentioned as a cause of death.
Don't the Capital Police have tasers they could use to quell flipping and flopping and resistance in the house and senate?
Mama Told Me Not To Come