(noon. – promoted by ek hornbeck)
Chalk One up for Science, as if Science, were subject to Popular Vote …
(If that were true, guess who would of won in 2000?)
NBC's Andrea Mitchell interviews Al Gore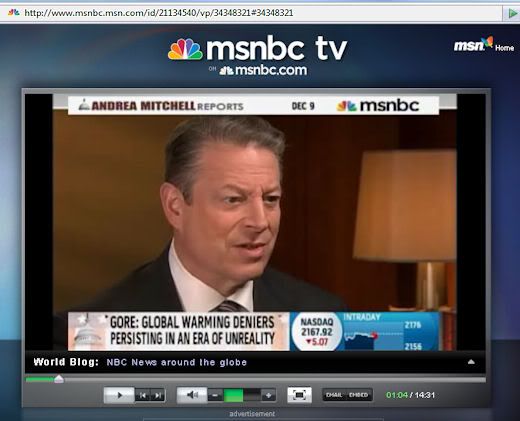 http://www.msnbc.msn.com/id/21…
MITCHELL: Palin calls it "junk science." She says, "The agenda-driven policies being pushed in Copenhagen won't change the weather, but they would change our economy for the worst."

What's your response to that?
GORE: Well, you know, the — the global warming deniers persist in this air of unreality. After all, the entire north polar icecap, which has been there for most of the last 3 million years, is disappearing before our eyes. Forty percent is already gone. The rest is expected to go completely within the next decade. What do they think is causing this?

The mountain glaciers in every region of the world are melting, many of them at an accelerated rate, threatening drinking supplies — drinking water supplies and agricultural water supplies. We have these record storms, drought, floods, fires, three deaths in the American West, climate refugees beginning now, expected to rise to the hundreds of millions unless we take action.

These effects are taking place all over the world exactly as predicted by the scientists, who have warned for years that, if we continue putting 90 million tons of global warming pollution into the atmosphere every day, the accumulation — that's going to trap lots more heat, raise temperatures, and cause all of these consequences that are already beginning.

MITCHELL: Well, one of the things that she has written recently on Facebook is that this is doomsday scare tactics pushed by an environmental priesthood that makes the public feel like owning an SUV is a sin against the planet.

GORE: Well, the scientific community has worked very intensively for 20 years within this international process, and they now say the evidence is unequivocal. A hundred and fifty years ago this year was the discovery that CO2 traps heat. That is a — a principle in physics.

It's not a question of debate. It's like gravity; it exists.
http://www.msnbc.msn.com/id/34…
It's a Matter of Science, NOT Opinion, or belief.
Do we argue about Gravity?
Do we debate anymore, whether the World is Flat or Round?
So when will certain people, quit denying the obvious, that the planet's ice caps are melting, at unprecedented rates …
Scientists world wide say the evidence is overwhelming — just like the evidence for Gravity. It's something we can firmly stand on. Like the sun rising tomorrow in the east — it Exists, it's a Fact.
Debate over.
The Science has been weighed, and it was NOT found lacking. (although the rationalizations of the skeptics, certainly has been grasping at straws.)
The IPCC report summarized for non-specialists
Intergovernmental Panel on Climate Change (IPCC) — Reporting Process



Intergovernmental Panel on Climate Change (IPCC) Wiki Page
Hmmm? … maybe it's just a "warm spell", eh Sarah?