(9:00AM EST – promoted by Nightprowlkitty)
Veterans group VoteVets.org is paying for a locally broadcast radio ad, in conjunction with Operation FREE, calling on PA Rep. Daryl Metcalfe (R-Butler) to resign over remarks he made that veterans who are fighting for energy security are "traitors."

Radio Ad



Transcript: Found Here
Over at VetVoice, the interactive blog of Vote Vets a post was put up by rickeagle real early this morning with some coming news on just this, especially as to this Rep Metcalfe, that he probably won't enjoy hearing:
Vet Hating Pennsylvania Rep. Daryl Metcalf Now Has Challenger

Grab the popcorn!

This story is just beginning…

Looks like Pennsylvania State Rep. Daryl Metcalf has not only started a firestorm among veterans over inflammatory statements he made last Friday, but pushed one candidate into running against him in his next reelection campaign….>>>Rest Here
Richard Allen Smith of VoteVets has a front page post up with their press release as well: Vets Call for Resignation of State Rep Who Called them "Traitors" over at VetVoice with a transcript and link to audio ad.
I caught the above this morning as well as the following article of the Operation FREE Bus Tour as it visited a couple of stops in North Carolina,
Veterans travel to promote renewable energy

When Ed May deployed to the Middle East as part of Desert Shield in 1990, the former soldier said he knew the conflict was about oil and predicted the U.S. would be back there in 10 years.

"I, as a soldier, knew then as long as America was dependent on oil, it was going to be that way," the 53-year-old veteran from Indiana said Wednesday in downtown Fayetteville.

May was among the veterans traveling this month on a 21-state bus tour called Operation Free to highlight the importance of cleaner, renewable energy that weans the country from foreign oil. The group pulled into Freedom Memorial Park just before noon in a biodiesel bus painted blue for the trip. The bus had stopped in Raleigh before Fayetteville and was headed to Greensboro afterward…>>>Rest Found Here
before making a stop this morning in Charlotte, at the Mecklenburg County Vietnam Veterans Momorial Wall, as a number of us were there to greet the Bus as they arrived around ten this morning. I'm still waiting on at least one, possibly two, video reports, to be posted on their visit here in Charlotte. In the mean time here's a few pics I took: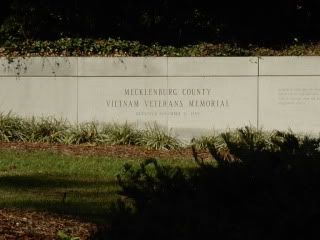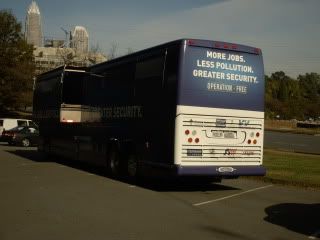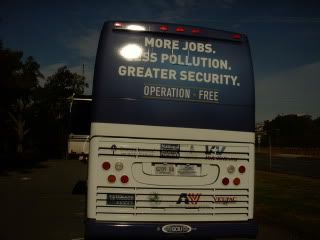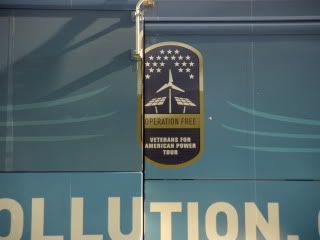 And some may recognize this fellow in the following, remember Harry Taylor, who spoke down at bush on a visit to Charlotte a few years back, he spoke at todays visit as did some of the Vets from Operation FREE and a few others.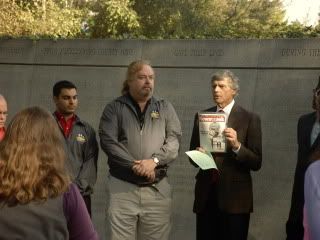 They were then headed down to I believe Columbia South Carolina to a VFW hall for another stop.