( – promoted by buhdydharma )
Here's a little candid photo series about something some consider not so fun. Losing hair while undergoing chemo. At least, most folks seem sad about it as regards a few of the responses I've gotten when I've mentioned the passing (temporary?) of my hair.
In preface to those who don't understand the chemo reference, here's how I got here:

Roy Rogers is riding tonight. Cancer and me
And I thought to myself, how odd that a couple of months ago, when it was summer, I drove with the windows down and my hair was blowing, but I had two feet of it then and it was such a hassle because it was blowing across my face and getting in the way and I had no hair tie in the car and it was hot, hot, hot. Today, the bits of hair flying were not a hassle; the sensation was rather oddly liberating.

That's how I still feel. Will I still feel this way as time progresses? Don't know. Don't care.
(crossposted at Dailykos)
Call this one a "vanity diary", but I thought perhaps it might be interesting to some of you to see some of the visible progression from one "normalcy" to another "normalcy" – and how my daughter and I had some fun with it. As I mentioned in my previous diary, we are "grabbing all the joy" we can right now.
After all, I started nearly bald and wore hats 51 years ago. Over the decades until around 2004, I kept my hair pretty short. (There was that shag cut when I was fifteen…)

I had a longer "fro" perm in college, but alas, that picture is long gone.

By Netroots Nation 2008, at fifty years of age, I'd grown my hair long.
Hair, hair, hair, hair, hair

Hair, hair, hair. Flow it, show it, long as I can grow it, my hair.


By last Saturday night, I realized I was developing a rapid front and side "pattern" baldness. The real clue was waking up Saturday morning to find that I had a mouth full of hair after tossing and turning in my sleep. At this point, I began to consider a hair graft if my hair continued to fall out in my sleep at this rate. Of course, part of that was my lovely pug-a-pom (Porkman's) ear…she'd crawled up to share my pillow and somehow I had inhaled her left ear. But most of it was my own hair; hanks of it had rubbed out in the night.
I was beginning to develop a "Bozo the Clown" tonsure "do". The first picture shows the receding front hairline; the subsequent two pictures show a couple of attempts on Sunday at "combover" and "comb-around".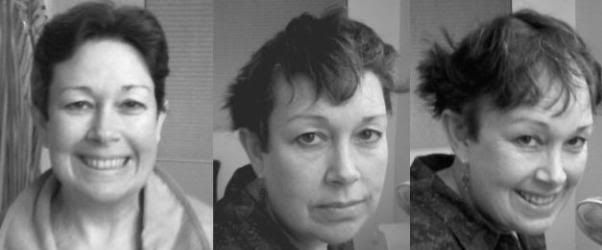 We started pulling hair Sunday night. And graduated to the clipper about half an hour later.
My daughter took these pictures on her LG cell phone. Pretty decent for a cell phone, eh?

Of course, it got itchy. Some hair fell down my shirt front (which had been happening all day).
After recently helping my niece clean out the basement of her parent's house, we found a couple of old trunks that we were forced to break the locks on. One was full of vintage linens and small stitched flour sack bags of old hair stored there by my older sisters' grandmother. Grandma Antles had used hair clippings for stuffing in pin cushions and pillows, and there were several bags of what must have been my oldest sister's hair – dark blond clumps of curls. It's a bit startling to find the hair of a long dead sister in a old forgotten trunk.
I'm not recycling this batch of hair. There are some things I find I can't bring myself to re-use, much as it might match tradition. There are some things I just don't have time for anymore.

In one of the pictures below, I'm rolling my eyes. This is after my daughter mentioned that she had already broken the touchscreen on her phone…
Technology, such a marvelous thing. I have to admit that I find myself wondering if technology will someday improve the prognosis of patients with this kind of cancer I have. Ah, you know, random thoughts on a strange journey.

"All right, Mr. DeMille, I'm ready for my close-up."

I thought about glueing it back on. Just wasn't gonna work.

As a mother, I can tell you it always helps to have an extra set of ears handy.
Of course, the requisite display of my new wardrobe of hats…gangsta momma, beanie mom, the MJ look, the Floppy Mother, etc.
At the end of the day (journey?), losing one's hair during chemo is actually a good thing. At least I take it that way. It means the chemo is working on something that grows fast in the body and in my case, I hope it means that the "red death", as they sometimes call the doxirubicin that I'm being massively dosed with, is eating away at the angiosarcoma cells in my lungs and shrinking the "banana slug" tumor in the right atrium of my heart.
Frankly, the most miraculous thing of all is that I have insurance. I didn't have insurance four years ago. I'd have no hope of anything if this had been discovered then; though it is unclear when my tumor started to grow, I guess one could say that I'm a lucky gal, a lucky insured gal. And that just sucks. It would suck worse if I were still uninsured.
Life and death, dispensed on a dollar basis. How ridiculous and fatally stupid, in what is still the richest country on earth?
On Tuesday, I asked my oncologist at Seattle Cancer Care Alliance, again, what the optimistic outcome of all this is – remission, surgical resection and repair of the heart, what?.  I simply needed her to state again that small chance of survival I might have for a few more years. I knew it all anyway from previous discussions and my own internet research, but sometimes one just has to hear it out loud from an "expert". Teh "Google" can only give up so much, and pretty much all of it is simply bad news.
My best case scenario is that I experience a complete remission of the lung metastasis of the angiosarcoma neoplasms that have spread to both right and left lobes, that the heart tumor shrinks and remains stable for a lengthy period of time, that the wall of the right atrium doesn't weaken and tear, causing hemorrhage into the pericardium, that I'll be put on a heart-lung transplant list.
All of these are possibilities. The probabilities? I have no idea. Exceedingly rare means exceedingly grim.
And this country has experienced a significant decrease in heart-lung transplant procedures over the last ten years – due to many factors, not the least of which is that there are so few combination heart-lung donor organs available. I'm not sure I'd choose that route anyway. There are many others out there who have a better chance at survival and, ultimately, a better quality of life if they get a chance at transplantation than I have. How far does one go to extend a damaged body, especially at the risk of someone else's life and at the expense of another? Both are questions that I might continually have to try and answer as I travel through this, unless things go south rapidly.
Insurance has a lot to do with the availability of transplantation as you would suspect. The kind of transplant recipient they'll pay for is commonly not someone with a previously metastatic cancer; someone who may experience cancer recurrence due to undetected systemic, errant, malignant cancer cells. I'm possibly in that subset. Many/most insurance companies will not pay for a risky procedure with a patient who has a lower chance of long term survivability. Many docs will not attempt to try this procedure on someone with my disease and prognosis. Understandable. Inevitably damning? Perhaps.
Who knows? The future is now, and I've started the journey down the road. Wish me luck.
And please, please, please, submit your comments and donations if you can to the wonderful quilt for Moe99being constructed by SaraR and instigated by Dem in the Heart of Texas.
I got my beautiful work of art quilt yesterday from SaraR and I will take it into the hospital today as I go in for my second chemo adventure.
Remember to grab all the joy you can.
Not so many lyrics tonight, but I did embed the above amusing pseudo Pink Floyd video. Other than that, for those with slower dial-up, apologies for the number of photos – I did my best compression and resize.