(noon. – promoted by ek hornbeck)
The Center on Budget and Policy Priorities economists just confirmed the trends of the last 8 years — Most of the the Economic Gains went to the very Wealthy, while the rest of us struggled to just get by
TOP 1 PERCENT OF AMERICANS REAPED 2/3 OF INCOME GAINS In last Economic Expansion,

Income Concentration in 2007 Was at Highest Level Since 1928, New Analysis Shows

By Avi Feller and Chad Stone – September 9, 2009
Two-thirds of the nation's total income gains from 2002 to 2007 flowed to the top 1 percent of U.S. households, and that top 1 percent held a larger share of income in 2007 than at any time since 1928, according to an analysis of newly released IRS data by economists Thomas Piketty and Emmanuel Saez.

During those years, the Piketty-Saez data also show, the inflation adjusted income of the top 1 percent of households grew more than ten times faster than the income of the bottom 90 percent of households.
Some key charts from that Center on Budget and Policy Priorities (CBPP) report:
What about inflation? It effectively wiped out any meager increases in wages, you might of seen — Unless of course you were in that Top 1%, then your average Raise of $60,000 would have have tided you over just fine:
Average Income in 2006 up $60,000 for Top 1 Percent of Households, Just $430 for Bottom 90 Percent: Income Concentration at Highest Level Since 1928, New Analysis Shows

By Chye-Ching Huang and Chad Stone – October 22, 2008
Average pre-tax incomes in 2006 jumped by about $60,000 (5.8 percent) for the top 1 percent of households, but just $430 (1.4 percent) for the bottom 90 percent, after adjusting for inflation, according to a new update in the groundbreaking series on income inequality by economists Thomas Piketty and Emmanuel Saez.
But didn't the Bush Tax Cuts lead to a Booming Economy? (cough, cough)
Center on Budget and Policy Priorities takes on those "Talking Point" Myths that ONLY Tax Cuts lead to a Booming Economy
Tax Cuts: Myths and Realities

Updated May 9, 2008
Congressional Budget Office data show that the tax cuts have been the single largest contributor to the reemergence of substantial budget deficits in recent years. Legislation enacted since 2001 added about $3.0 trillion to deficits between 2001 and 2007

Tax Cuts and Deficits

Myth 1:

Tax Cuts "Pay for Themselves."

Myth 2:

Tax cuts boosted revenues and lowered deficits between 2005 and 2007.

Tax Cuts and the Economy

Myth 3:

The economy has grown strongly over the past several years because of the tax cuts

Myth 4:

The Capital Gains and Dividend Tax Cuts Turned the Economy Around in 2003

Myth 5:

Extending the Tax Cuts Is Important for the Economy's Long-Run Health

Tax Cuts and Fairness

Myth 6:

The Tax Cuts Have Made the Tax System More Progressive

Myth 7:

The Tax Cuts Have Made the Tax System More Fair to Small Business Owners

Myth 8:

Taxpayers Across the Income Spectrum Have Benefited From the Tax Cuts
This last graph of theirs, is perhaps the most telling:


The biggest Driver of the huge Deficit that the Bush Regime left us was … drum roll …
The BUSH TAX CUTS!
(according to the Bush Administration's CBO)
So much for that "rising tide" that would lift all boats, that "Supply Side" Reaganomics promised us — that GOP Myth went out to Sea, never to return, like so many other Empty Promises from the Ruling Class.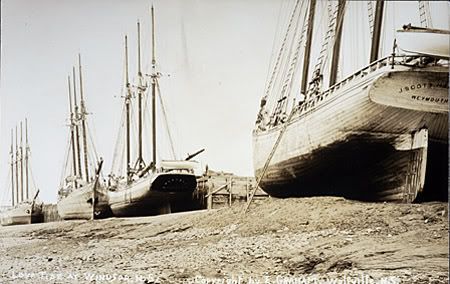 It's been a silent Class War, and the American Economy, and OUR Future Opportunities, have been the primary resources that have been pillaged and plundered.
Hopefully their Ship is about to hit the rocky reef too — that sleeping giant, otherwise known as the ire of the American People.
also posted on dkos