Using their now standard and nearly perfected tactics and strategies of Lies, Damned Lies, and Statistics, The Powers That Be are once again manipulating The People. And using The People to manipulate the Traditional Media, and thus public opinion at large.
Using their private media army of the Rushes and Becks and Hannity's, they gin up rage, at times murderous rage, in the populace at will. A rage that they have planted and tended to and nurtured for years and now are ready ….and willing…to harvest.
The Ruling Class manufactures and produces an unfair society, our society …that profits them.
This produces an unhappy People, outraged at the unfairness of society and culture. Then their private media tells the People why they are unhappy. Using their carefully crafted and emotionally resonant Lies, Damned Lies, and Statistics. They blame and spin and manipulate until they are able to set one group of The People against another group of The People. Telling them that THESE are your real enemies.
And they fool at least Some of The People all of the time.
We are all living with a burden of shame and fear and anger, and in every single moment of your life, in every action, you invite decency and grace, or you invite violence and hate. Sometimes, sometimes, you get the violence and hate anyway. But if you feed it…that is always what you will get. That doesn't make it right or deserved. But if progressivism is about anything to me, it is about the very long fight for human dignity.
This is the Human Condition.
It takes VERY little to fire the impulses of violence and hate, when you have created an unfair environment, an unfair soiciety. It is a resource you can tap into at any given time. Mostly what keeps it at bay is Bread and Circuses. But in hard times, when the bread is scarce and the circuses don't quite fill the void….
And when because of the Hard Times the hegemony of the Ruling Class is threatened….
The waiting, tended and nurtured and engineered impulses are tapped into. Ramped up, ginned up, stoked…and harvested.
The unfairness and the bitterness and lurking impulses that The Ruling Class have created as part of creating an unfair and bitter society that profits them…..are finally activated and tapped…..somewhat ironically and in a hugely cynical way….to protect The Ruling Class.
It is no surprise that they are able to manipulate The People. This IS a Class War. And the Rules of War, any kind of War, are always the same…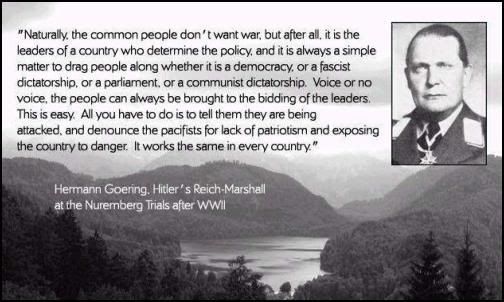 The People, and at this poinjt it must be said, the stupidest of The People, are easily manipulated into fighting against their own interests. Just as they have been manipulated into voting agaianst their own interests for generations.
It must be said because The Ruling Class can only stay in power if they fool Some of The People into supporting them…
And use and manipulate Some of The People into fighting the very people who are trying to help them. The People, Liberals, who are trying to create a more just and equal and dignified world.
They do this by preying on and manipulating Human Nature….and by flat out lying.
They take basic human nature and manipulate it to their ends. They point out, highlight and engineer differences between us. The differences that THEY have helped create, and that they continuously foster. They use the animal part of our minds to continously emphasize and stimulate that part of us that long ago, at the beginning of Human Evolution out there on the savannah, feared one thing more than anything else….The Other. That looming unkown entity out there in the dasrkness just beyond the fire.
The Other, the tribe over the hill, wants to take your tribes food and kill your children….and elders..and rape your women and kill YOU.
ARE YOU GOING TO LET THEM DO THAT?
The Ruling Class asks them, through their private media/propaganda outlets.
And, it must be said, the stupidest, the poorest, the very ones who have suffered most at the hands of The Ruling Class rise up.
They rise up, they think…to protect their tribe. But they have, once again been manipulted into protecting the Ruling Class. In this case, haha, the Insurance and Health Care Industry tribe of the Ruling Class!
The Ruling Class fights against education. They fight against information dispersal…that they don't control, they smear, marginalize, and label Other, (Kenyans, lol) or destroy leaders who threaten to unite The People.
They demonize and create fear and division. And it works, because there is part of us that is still wired to believe it, believe that we are somehow different from each other….even though we are not.
We cannot truly know how deliberate this is. We cannot know what level of conscious conspiracy is involved. We cannot know how much of this is THEIR animal programming from the days back on the savannah. They are a tribe too. And the Liberal Others are threatening their tribe. They….we…are threatening the Insurance and Health Care Industry tribe of the Ruling Class. They truly see this as a war … us trying to destroy them.
We have now seen that they will use the poor folk that they have already hurt the most….by keeping them confused and ignorant and dependent…as a mob to attack those they see as attacking them. Us. Just as The Ruling Class has always used the populace to fight the wars, that profit only them, throughout human history.
The only question left on their side of the ledger is….how far will they go?
The question on our side is….how do we fight back?
Will we be tempted into obetying our lower, animal instincts? Or will we find a new way, a better way, a more evolved way?
There can be no doubt, we ARE divided. Denying that, and keeping silent about it, or pretending the divisions don't exist merely widens the divisions ….by keeping them stuffed down onto the animal parts of us where they can act without us fully knowing it.
Denying the divisions and denying that there is indeed a Ruling Class that fosters and maintains them does not help either.
We HAVE to talk about it.
Even if we do it stupidly, and even, sad to say, if we hurt each other a bit while doing it. While learning how to talk about it well.
Because not talking about it and facing it means we will NEVER overcome those differences….and thus will always be at the mercy of the Ruling Class maniopulating it.
We must overcome the differences between We The People…
And then we can start to overcome the differences between We The People and The Ruling Class.
And then, only then, can we TRULY create a just, equitable, peacful and prosperous and dignified world.