(noon – promoted by Nightprowlkitty)
This is a SNEAK PREVIEW for all you Dharma Bums who want action and accountability for 8 years of War Crimes, High Crimes and Crimes against Humanity.

If you want to host a War Crimes Accountability series diary let me know. I will be posting these myself until someone wants me to pass the baton to them. E-mail me at [email protected] if you are interested, or say so in the comments below.

Let me know if you think this is an effective course of action, or if you have any other thoughts or ideas to share.

Cheers
This diary will be published at 10a.m. tomorrow morning on Orange. Please be there to rec it up, as well as to call for Justice!
Dear Dharma Bums, I submit for your consideration and approval a plan to bring the Bush/Cheney Administration to justice.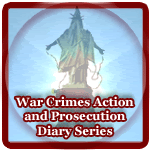 If you don't support warrantless wiretapping, The Patriot Act, torture or any of the other high crimes and War crimes committed by the Criminal Bush Junta, please use the contact information below to demand justice for War Crimes. Contact Speaker Pelosi and the Representatives of the House Rules Committee today and ask them to support H.Res 383.
H.Res 383 was introduced by Rep. Barbara Lee (D-CA9) and is designed to act as a Congressional oversight bill that would establish a select committee to review national security laws, policies, and practices. Better yet, this committee would have power of subpoena.


Below the fold you can find the Contact Information for Speaker of The House Nancy Pelosi and the members of the House Rules Committee to which H.Res 383 has been referred, as well as the AG's Office and White House. Call or write to let them know that you support H.Res 383 and accountability for Bush/Cheney era War Crimes.
This bill has been overlooked for a while now, having been first introduced on April 30th. My hat tip goes to slangist who first brought this House Resolution to my attention in a diary titled Help Congress Bite Back On Torture. We should not let this bill die quietly in committee.
H.Res 383 has been referred to the House Rules Committee since first being introduced. The House Rules committee currently has 9 sitting Democrats as oppossed to 4 Republicans, so there should be no reason that we cannot get this H.Res put into effect soon.
The question is if our Legislative branch is up to the task. That is where we come in.
If formed, the committee will consist of 4 members of the House chosen by the Speaker and 3 members chosen by the minority leader. The Speaker of the House shall determine who will chair this committee
You can view H.Res 383 in full here at Govtrack.com
Why is this committee proposed?

Whereas the Patriot Act gave the Government the authority to spy on and collect information about innocent Americans;

Whereas the National Security Agency spied on Americans for seven years without a warrant in violation of the Foreign Intelligence Surveillance Act and the Fourth Amendment;

Whereas the FISA Amendments Act authorized the Government to collect the content of communications coming into and out of the United States without an individualized order and without any suspicion of wrongdoing;



Whereas Congress has amended our surveillance laws many times since the tragedy of September 11 yet has not received meaningful information about how these new authorities have been used;

Whereas there is no public information about how any of these powerful surveillance tools are currently being used;

Whereas the three provisions of the Patriot Act will be sunsetting on December 31, 2009, and Congress will need to review and amend the surveillance laws this year;

Whereas the United States has Federal laws, including Federal criminal laws, that prohibit the torture, or cruel, inhuman, or degrading treatment of any person in the custody of, or under the control of, the Federal Government;

Whereas in contravention of Federal laws against torture and abuse, and beginning as early as spring of 2002, the Federal Government began to use torture and abuse during the detention and interrogation of its detainees, and to transfer detainees to countries that historically have used torture and abuse during interrogation and detention;

Whereas important decisions on the development and implementation of United States policy on interrogations and detention were made by top White House officials, including presidential directives to set up CIA detention practices, attempting to bar the application of the protections of the Geneva Conventions to certain detainees, and former President George W. Bush's public acknowledgment that he knew his top advisors were meeting to plan and approve interrogations and that he 'approved it';

Whereas despite the deliberate efforts by top Government officials to hide the use of torture and abuse by barring the International Committee of the Red Cross from visiting detainees held in a secret CIA prison network, destroying 92 videotapes of interrogations, and refusing to provide, even to important standing committees of Congress, key legal memorandums that reportedly were written to try to justify torture and abuse, more than 100,000 pages of already released Government interrogation and detention documents show a deliberate and systematic program of Government-ordered torture and abuse.
Do you really need anymore reasons to Loudly support this Resolution?
What do you think we mean by Yelling Louder? It's the only way to be heard!
Well, now I'm going to ask you to Yell Better, and Smarter too.
So, what would this committee do?
The select committee is authorized to–

(1) require by subpoena or otherwise the attendance and testimony of any person (including at a taking of a deposition by counsel or consultant of the committee), and the production of such things; and

(2) adopt a rule regulating the taking of depositions by a member, counsel, or consultant of the committee, including pursuant to subpoena.

~snip~

The select committee shall report to the House from time to time the results of its investigations and studies as it may deem advisable. At least one public report shall be filed with the House not later than December 31, 2009, and shall include legislative recommendations based on its findings.
Subpoena's you say? A public report you say?
So, what can the House Rules committee do with H.Res 383?
H/T to Casual Wedsnseday

Often called the "Speaker's Committee" the Rules Committee effectively functions as an extension of the House leadership. The Rules Committee is unique in that the Speaker hand selects her party's members of the committee. This means that the Speaker essential has almost total control over the committee.

~snip~

The special rules also allows for bills to come up for consideration out of turn. According to chamber rules, bills are considered in the chronological order that they are listed on the House calendar. Because of this rule, important bills might not be considered before adjournment. The Rules Committee has the power to give a bill priority, effectively moving it to the front of the queue.
Since this committee is not only closely connected to Speaker Pelosi but also in charge of the order to which bills appear before the body of the House, we should urge the Rules Committee Loudly to push this legislation forward in order to fully investigate the Bush/Cheney Administration and their policies.
How badly do you want to see George W. Bush, Dick Cheney, Condeleeza Rice, Don Rumsfeld, Alberto Gonzalez, John Yoo, Jay Bybee and Karl Rove, among other War Criminals, issues subpoenas to answer for their Crimes against our nation, this world and Humanity itself?
If you would like to see practices such as warrant less wiretapping end, if you would like to make sure that the Patriot Act is not renewed, and if you think that there should be FULL INVESTIGATIONS leading to PROSECUTION, please, contact the Democratic Members of the House Rules Committee and tell them to support H.Res #383 and bring it before the floor of the House for a full vote.



Contact Speaker of the House Nancy Pelosi [D-CA8] by E-Mail here

Or Call (202) 225-0100

Contact House Rules Committee chairman Rep. Louise Slaughter [D-NY28] by E-Mail here

Or Call (202) 225-3615



Contact Rep. Michael Arcuri [D-NY24] via E-Mail here

Or Call (202) 225-3665


Contact Rep. Dennis Cardoza [D-CA18] via E-Mail here

Or Call (202) 225-6131


Contact Rep. Alcee Hastings [D-FL23] via E-Mail here

Or Call (202) 225-1313


Contact Rep. Doris Matsui [D-CA5] via E-Mail http://

Or Call (202) 225-7163


Contact Rep. James McGovern [D-MA3] via E-Mail here

Or Call (202) 225-6101


Contact Rep. Ed Perlmutter [D-CO7] via E-Mail here

Or Call (202) 225-2645


Contact Rep. Chellie Pingree [D-ME1] via E-Mail here

Or Call (202) 225-6116


Contact Rep. Jared Polis [D-CO2] via E-Mail here

Or Call (202) 225-2161
This is the contact information for the four Republican members of the House Rules committee. WARNING: You should only contact these Congressional representatives if you are a voter in their districts.
Contact Ranking GOP committee member Rep. David Dreier [R-CA26] via E-Mail here

Or Call (202) 225-2305

Contact Rep. Lincoln Diaz-Balart [R-FL21] via E-Mail here

Or Call (202)225-4211

Contact Rep. Virginia Foxx [R-NC5] via E-Mail here

Or Call (202) 225-2071

Contact Rep. Peter Sessions [R-TX32] via E-Mail here

Or Call (202) 225-2231

You can Contact President Barack Obama's White House to demand accountability here
CALL The White House at 202-456-1111 and E-Mail the WH here
You can Contact Attorney General's Eric Holder's office to demand accountability here
BY MAIL

U.S. Department of Justice

950 Pennsylvania Avenue, NW

Washington, DC 20530-0001


BY PHONE:

Department of Justice Main Switchboard – 202-514-2000



Office of the Attorney General – 202-353-1555

BY E-MAIL

E-Mail the Attorney Generals Office at [email protected]

Disclaimer: THIS E-MAIL ACCOUNT IS NOT AVAILABLE FOR SERVICE OF OFFICIAL, CASE-RELATED OR LEGAL DOCUMENTS AND IS NOT MONITORED FOR SUCH SUBMISSIONS OR FOR OTHER TIME-SENSITIVE COMMUNICATIONS. E-mails with attachments will be deleted because they may contain viruses.