( – promoted by buhdydharma )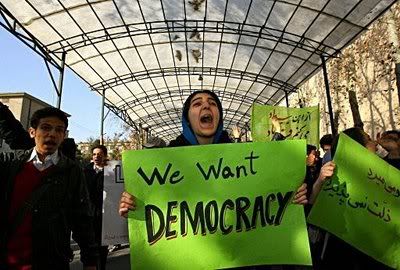 The movement for democracy in Iran persists. The New York Times reports that demonstrations have again erupted in the streets of Tehran, and that to no one's surprise, the Government has repressed them:
Iranian security forces fired repeated rounds of tear gas, and militiamen wielding batons moved in quickly to try to disperse thousands of protesters who massed in the streets of central Tehran on Thursday evening, witnesses said, defying government warnings and resuming a strategy of direct confrontation with the police nearly a month after Iran's disputed presidential election.

The protesters set trash alight and threw stones. Motorists honked horns in solidarity, as shopkeepers closed for business but opened their doors to offer refuge to demonstrators fleeing from the militia forces, witnesses said.

There was no immediate word on arrests or injuries.

Throwing aside admonishments of a "crushing response" by the state security forces, the demonstrators gathered on the 10th anniversary of violent confrontations at Tehran University, both to mark that event and to commemorate the demonstrators who were killed in the turmoil after the June 12 election, which the protesters say was corrupt and invalid.
The Times says that the protest was initially "festive," even though police in riot gear had shut down the streets. But then, as was threatened by the regime:
…the effort to halt the protest quickly turned violent, people at the scene said. A middle-aged woman ran through the crowd, her coat covered with blood stains. Trash fires burned, cloaking the streets in black smoke, as protesters lobbed rocks at security forces. Two men held a huge floral arrangement of yellow and purple flowers on green leaves in commemoration of those killed last month and in 1999, a witness said.

"Tell the world what is happening here," one 26-year old engineering student demonstrator said. "This is our revolution. We will not give up."

Asked what he wanted, he said, "We want democracy."
And so, phoenix like, the demonstrations for democracy in Iran continue. The press embargo continues (the Times article was datelined from Cairo). The Government was not reported to fire bullets at demonstrators. However, reports of detention of large numbers of demonstrators and also their lawyers continue, as do reports of torture and disappearance. It was not reported what opposition leaders say about the current demonstrations, but their web sites continue to contest the election. And it appears that there may be a split in the clerical backbone of the Government.
The Twitter feed for #iranelection is still active, though the volume seems lower than last week. It continues to report the democracy movement.
I am delighted by the news. I was afraid that the democracy movement had been snuffed out. That it was over. But I see now that was not the case. The movement hasn't given up, and it is still asking us to stand in solidarity with it.
cross-posted from The Dream Antilles