Yesterday I asked for your help. I was concerned because many poor people from Honduras have been fleeing the country, passing through Guatemala, and landing in shelters in Oaxaca and Chiapas, Mexico. These shelters are ill equipped to deal with a large influx of refugees. I wanted to help those who will help the refugees. I have now found two reliable organizations in Mexico that do just that.
Please join me below to help these refugees.
The military coup in Honduras is providing an unexpected test of Mexico's immigration and refugee policies. On Friday, July 3, dozens of Honduran nationals arrived at a church-run migrant shelter in the southern state of Oaxaca seeking refugee status because of the political situation in their country.

Alejandro Solaline Guerra, spokesman for the Mexican Episcopal Conference, said a group of Hondurans sought assistance at the House of Mercy in Ciudad Ixtepec on the Tehuantepec Peninsula. The migrant advocate said the bishops' organization will contact the National Migration Institute to request refugee status for the Hondurans under international law.

"Migrants from a country in a state of war should not be denied refugee status," Solaline declared.

The Honduran political crisis could aggravate an already conflictive situation in Mexico's southern border region. Despite the international economic crisis, thousands of Central Americans and other Latin migrants continue to cross the country's southern border en route to the United States. Along the way, migrants remain a favorite target of corrupt Mexican officials and bands of organized criminals.
I think that as the golpe de estado continues in Honduras and as the instability and repression grow, and the economy continues to be disrupted, more and more poor Hondurans will have to pick up and leave, fleeing across Guatemala and into Mexico. And I suspect that those who are running shelters all along the well traveled route from Honduras and across southern Mexico could help these refugees if they had money to do so.
The trip from Central America to the North has always been a difficult and dangerous one. The migrants often ride without shelter on the tops of trains.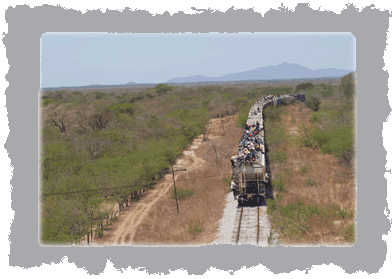 (photos from migrantearriaga.org.mx)
This is extremely dangerous. Many are killed or maimed by falling off the train because of lack of sleep or by trying to re-board the train if they have left it. And the migrants are routinely preyed on as they travel by gangs like Mara Salvatrucha and Mara's many rivals, corrupt police, coyotes, and others who routinely abuse, assault or rape them and steal their meagre possessions.
The trip is difficult even when it's planned in advance. It's more difficult when people are forced to drop everyting and leave because of political instability, Honduras's isolation from other nations, the end of aid, repression, and the withdrawal of civil rights.
I've found two organizations that run shelters for those fleeing Honduras in Chiapas and Oaxaca, Mexico. I believe both are reliable. Both are run by the Catholic Church and have been providing sanctuary services for many years.
I think it would be wonderful if we could send small donations to these two organizations. Large donations aren't necessary. Remember that this is the internet and that many people sending small donations will be extremely helpful to those now struggling to provide assistance to people fleeing Honduras.
Hogar de la Misericordia, "Home of Mercy" is in Chiapas. They explain what they do:
"I was a stranger and you gave me shelter" (Mt 25, 35) The Church has always seen, in the migrant, the image of Christ.

Due to the great need to support our Central American brothers and sisters that pass through the parish of The Sacred Heart of Jesus in Arriaga, Chiapas, Mexico, the Casa del Migrante "Home of Mercy," opened its doors on October 7, 2004. Migrants are given shelter, food, clothing, medical attention, spiritual support and information regarding the dangers of their journey, thus reducing their vulnerability. The Home of Mercy is supported financially by the Social Pastoral of this parish.

We must remember that extreme poverty is the reason for migration. Every person has the right to live and today there is an imperative for those who live in extreme poverty: Migrate or die! These individuals have the right to migrate so that they and their families a dignified life

The migrants, like any person, regardless of their migratory situation must have their human dignity respected. The immigrant experience is one of fear and loneliness, as migrants leave behind their families and their homelands. Here we can show that the Church is in solidarity with, the suffering.
COMI, Centro de Orientación del Migrante de Oaxaca (Center for Orientation of Migrants of Oaxaca), is in Oaxaca. It, too, has a difficult mission:
Our objective is to support our migrant brothers and sisters from Oaxaca and Central America who feel compelled to leave their homes in search of a better future for their families.

Embracing Christian values, we welcome each migrant with compassion and respect, offering them an orientation about the risks, consequences, rights and obligations associated with emigration from Central America, Mexico and Oaxaca….

The COMI Office and the Good Samaritan House offer migrants:

* Housing and meals for three days and nights;

* An orientation about the risks, consequences, rights and responsibilities associated with international migration;

* Medical assistance through a collaboration with The Clinic of the People (La Clínica del Pueblo);

* Telephone calls;

* Assistance collecting a money order.

Other Activities:

* COMI operates as a communications center between the family and the migrant in times of crisis, offering a network of contacts with other institutions in the case of a family member´s death or in legal cases.

* COMI presents workshops about migration in regions of high levels of emigration throughout the Antequera-Oaxaca Archdiocese.

* COMI offers presentations to individual visitors and immersion groups about the economic, social and political causes of migration.

* COMI is a member of the migrant support network in Mexico and collaborates with the Mexican Episcopal Commission for Human Migration.

* COMI annually celebrates the Day of the Migrant in January.
Both deserve our support.
To contribute to COMI go here and scroll down to "To Make a Financial Donation".
To contribute to Casa de la Misericordia go here.