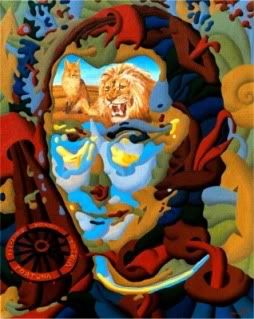 (Image taken from The Institute of World Politics advertising their course, "Political Warfare: Past, Present and Future")
I got the real estate for this short time, so I'm gonna put meta on the front page. Oh, the thrill of power! Oh, the temptation to abuse it and then … the sweet surrender!
Heh.
There's personal blog enemies and then there's the blog political opposition and sometimes the two overlap.
Personal blog enemies smear your character, challenge your honor, try to bait you into swerving from your topic! Oh noooooooo!
It's a test of character to have these kinds of enemies.
And these are the enemies that are most difficult to deal with when it comes to political opposition. They will take the side of Hitler rather than agree with you! Yeah, breaking Godwin's law, yeah, I'm edgy.
And this is part of politics, sometimes I think it's ALL of politics. It's so personal.
How many of our politicians make public decisions based on personal pique? Yeah, they have their lobbyists, they're bought and all, but there's times they do have some discretion even with their overlords, but they're so pissed off at us DFHs that they just vote against us because they don't like us. I think of Senator Feinstein's recent remarks, stuff like that.
Well at least it factors into things, I'm sure it does.
So, blog enemies, a good test of character.
On most community blogs it's considered bad form to "get personal," but the fact is it happens all the time and "getting personal" is always in the eye of the beholder.
It's also considered bad form to call out posters (other than famous ones like Digby, et al.) on other blogs or in other essays, in other words, carrying on a fight to many venues, sometimes known as hijacking, other times known as big fat flame wars!
Yet it happens anyway. The personal becomes the political. The dynamic of communications becomes the political issue itself. And I imagine what that must be like if you actually have real power, like if you're a Congressional Representative or a Senator or a Supreme Court Judge or the President or the Attorney General, on and on all the way down the hierarchy to the petty bureaucrat who can mess up your day if they don't like the looks of you.
My two cents? I think it's a bad idea to call out posters by name, but it will happen just the same. I think it's less bad to bring up particular egregious attitudes or positions of individual posters as representative of a political obstacle and expound on that (i.e., gossip).
The difficulty is maintaining the balance, as none of us want this blog to be a reactionary rather than creative force.
I am being selfish, too, in this view, as I find it enormously irritating when, as I'm fighting, my personal enemies play the smear of the cabal at Docudharma and try to paint me a rabid slavering goon who has no individual identity as a blogger. I am beginning to think that's a silly thing to be irritated over, though. There is a certain cachet in being thought of as rabid and slavering. At this point I may as well accept that to some I shall always be a DFH and stop taking it personally.
So this is my meta, inspired not just by recent events but by my growth here at Docudharma. I find the community here to be extremely individualistic when it comes to meta — I've rarely seen any huge consensus on "civility" or anything like that, and that always kind of amazes me.
*****
A perfect breezy day in the Big Apple, lots of tourist families walking about midtown. Happy weekend to all.