crossposted from Daily Kos … comments there after the "recent diary list" deadline has passed are also welcome.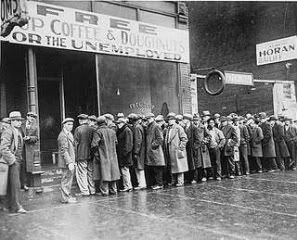 Bonddad has YERRD (yet another reclisted Rosenberg diary) up, on the issue of whether the recession is coming to an end, or the sky is falling and we face an unending recession from now through to the visible horizon.
But the Great Depression was not made of a recession that did not end for ten years. It was, indeed, made up of one and a half complete business cycles … the post-Crash Recession, from late 1929 to 1932, the New Deal Recovery, from 1932 to 1937, the Roosevelt Recession of 1937/38, and then the recovery that merged with the start of WWII, which was the government spending program substantial enough to actually bring us back to a full employment macro equilibrium.
So the question of whether or not we face another Depression is not, "will this Recession ever end?" … but rather, "After this recession, what comes next?"
So over the fold, I turn to that, far more urgent, question.
But first, an Action Note: Transportation for America reminds us that its not too late to tell your Congressmen to increase support for clean transportation.