( – promoted by buhdydharma )
On the way to Baghdad in 2003, in the aftermath of "prolonged, ferocious combat" in the Euphrates Valley around Najaf, General David Petraeus talked about the invasion with journalist and historian Rick Atkinson. When the interview was over, Petraeus hooked his thumbs into his flak vest and adjusted the weight on his shoulders. "Tell me how this ends," he said.
The English poet Percy Bysshe Shelley could have told him how it ends. It ends in death and desolation, it ends in ruin. No ruler, no matter how powerful, no matter how arrogant, can escape the judgment of history. It does not redeem tyrants, it exposes them as posturing frauds . . .
I met a traveler from an antique land,

Who said: Two vast and trunkless legs of stone,

Stand in the desert. Near them, on the sand,

Half sunk, a shattered visage lies, whose frown,

And wrinkled lip, and sneer of cold command,

Tell that its sculptor well those passions read.

And on the pedestal these words appear:

"My name is Ozymandias, King of Kings:

Look upon my works, ye Mighty, and despair!"

Nothing beside remains. Round the decay,

Of that colossal wreck, boundless and bare,

The lone and level sands stretch far away.
Round the decay of that colossal wreck Dick Cheney, the boundless crimes of his torturers are being exposed and laid bare. But with a sneer of cold command . . .
he has told America to look upon his mighty works, and despair that Obama will not keep America "safe" like Dick Cheney did, with rape and sodomy and torture.
Apparently, General Petraeus has finally realized that Dick is out there operating without any decent restraint, totally beyond the pale of any acceptable human conduct. Dick loves the smell of torture in the morning, it smells like . . . victory to him. But it seems that Petraeus isn't in Dick's fucking army anymore. He seems to have concluded that Dick's methods are unsound.
John Byrne at Raw Story . . .
The head of the US Central Command, General David Petraeus, said Friday that the US had violated the Geneva Conventions in a stunning admission from President Bush's onetime top general in Iraq that the US may have violated international law. "When we have taken steps that have violated the Geneva Conventions we rightly have been criticized, so as we move forward I think it's important to again live our values, to live the agreements that we have made in the international justice arena and to practice those," Gen. Petraeus said on Fox News Friday afternoon.
That's nice. But we can't again live our values if the leaders who betrayed them are not held accountable. We can't live the agreements that we have made in the international justice arena or practice them only when it's convenient. Those agreements are binding. They stipulate that investigations and prosecutions of war criminals are not optional, they are mandatory.
At TPM, Eric Kleefeld reports that Senator Levin . . .
spoke last night at a dinner of the Foreign Policy Association, where he lambasted former Vice President Dick Cheney's speech last week for dishonestly claiming that the interrogation techniques he approved were not torture, and were not connected to Abu Ghraib — saying that Cheney "bore false witness". The Senate Armed Services Committee's 18-month investigation into the abuse of detainees in U.S. custody, which produced a 200-page bipartisan report, gives the lie to Mr. Cheney's claims," said Levin.
So what are you going to do about that, Senator Levin? War crimes snake through the past eight years like a main circuit cable plugged straight into Cheney. If he is not a war criminal, there is no such thing. If the war crimes of the Bush/Cheney administration are not prosecuted, our moral decline will continue, there will be no stopping it, it will destroy us and there will be nothing left but memories of what America might have been.
General Petraeus wants to know how this ends. History proves that when a nation abandons the rule of law, when it believes that "self-defense" justifies wars of aggression, when its government turns its back on justice in order to protect the powerful, there can be only one end. If war crimes and torture are not investigated and prosecuted, our moral decline will accelerate and intensify, and this is how it will end for America . . .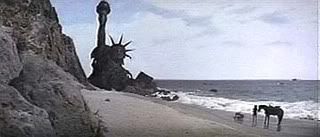 Half sunk, a shattered visage will lie,

Nothing beside will remain. Round the decay,

Of that colossal wreck, boundless and bare,

The lone and level sands will stretch far away.