( – promoted by buhdydharma )
Digby observes that the American economy is essentially in the hands of the High Priests of the Federal Reserve, who do not answer to anyone, least of all to the great unwashed masses who allegedly aren't equipped to handle something so important as money.
Considering the fact that America's banking system has become the Clusterfuck of All Time, it seems to me that the High Priests of the Temple of Bernanke are the ones who can't handle money. Or keep track of it. Or reveal how many trillions of dollars they've printed and who they're handing all those trillions of dollars to.
Congressman Grayson:
The Federal Reserve has refused multiple inquiries from both the House and the Senate to disclose who is receiving trillions of dollars from the central banking system. The Federal Reserve has redacted the central terms of the no-bid contracts it has issued to Wall Street firms like Blackrock and PIMCO, without disclosure required of the Treasury, and is participating in new and exotic programs like the trillion-dollar TALF to leverage the Treasury's balance sheet. With discussions of allocating even more power to the Federal Reserve as the 'systemic risk regulator' of the credit markets, more oversight over the central bank's operations is clearly necessary.
Even more oversight than there already is???
Wow. I didn't know it was possible to have even more oversight over that Temple of Secrets and its Branch Temples on Wall Street than we already have. But I know this much. . .
The High Priests will be very offended. They'd already ordained themselves as Supreme High Pontiff Systemic Risk Regulators and now some heathen asshole in Congress is suggesting that they should be subject to even more blasphemous oversight.
As Digby notes, this heresy will also offend the plutocrats "who are about to launch a huge campaign to not only curtail any more domestic spending but cut deeply into 'entitlements.' And they will do this without ever even looking at the massive amount of money that's flowing out of the Fed right now, completely unaccountable to anyone. They will say that the little old ladies must eat cat food, but nobody can breach the temple of the Federal Reserve because it must remain 'independent.'"
William Greider, the author of Secrets of the Temple and Come Home America, discussed the political implications of the banking crisis with Bill Moyers recently . . .
I think politics is going to change fairly dramatically. The Federal Reserve, accompanied by the Treasury Department and by the Congress, has crossed a very dangerous line in their bailout. They have essentially said, "We will put money on the table, taxpayers' money on the table, for any financial institution or business that is too big to fail. And we've got a list now of maybe 30, 40, depending on how you count them, that we will be there to save you. I regard that as profoundly dangerous for the American Republic, because once you cross that line and you have this special club that's privileged, that has benefits from government that nobody else can get, where do you stop it?
Don't ask these guys . . .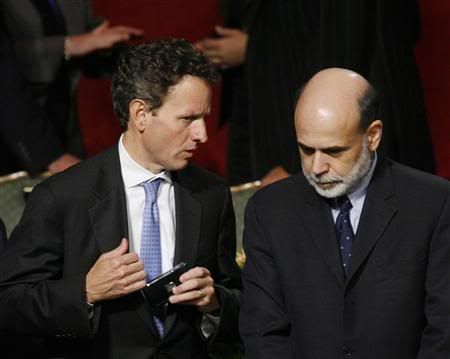 They're the ones who crossed that dangerous line, they're the ones who set up that special club for the privileged plutocrats of Wall Street, they're the ones who turned every American citizen into an ATM machine for CitiGroup and Bank of America and Goldman Sachs.
It's time to stop being We the ATM Machines.
It's time to start being We the People.
William Greider . . .
We have an opening in this crisis for a deep transformation in American politics. I don't say it happens this year, next year, or it's going to take a number of years. But we are in the shock of reality. And people get it everywhere and see the blood in the streets. And you tell them how this worked and who did what to whom, and that's a basis for a new politics.

But it requires people – this is the hard part – to get out of their sort of passive resignation to, "Well, we follow the Democrats" or "we follow the Republicans" or "we let this group or that group tell us how to think" and engage among themselves in a much more serious role as citizens. And when, as they do that, they have to be willing to punish the political powers, in smart ways or crude ways, however they can, first, to get a place in the debate. But, secondly, to force the system to change.

I think in the next year, two years, five years, you're going to see both political parties floundering. What do we believe about all this stuff? We've told folks this, you know, lovely story for 20, 25 years about the magic of the marketplace. Do we still want to kind of prop that up? That's where they are now. They're still trying to prop up the marketplace vision and make it work again.
But it's over.
Events will demonstrate that. If the politicians are not willing to change, then we need to change the politicians.
As Greider explains, we have an opening in this crisis for a deep transformation in American politics. That transformation is not going to be led by blogs that are locked into supporting the Corporate Democratic Party or the Corporate Republican Party. As those parties lose membership and support, the blogs that keep clapping louder for them will lose membership and support.
Here at Docudharma, we have an opportunity to help make that deep transformation in American politics happen. We are the among the Americans William Greider is talking to. We have to be willing to punish the political powers, in smart ways or crude ways, however we can, so we can get a place in the debate, so we can force the system to change.
Every post on Docudharma affirms that our voices matter, that we deserve to be heard, that we will be heard. Every time a new voice is heard here, every time they are welcomed and encouraged, we grow stronger. We are the leaders we've been waiting for. So make every essay count. Shake the windows and rattle the walls of Washington. Move that Overton Window. Then move it again. And keep on moving it.