( – promoted by buhdydharma )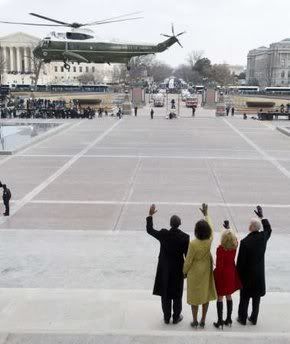 Almost a month ago, the world heaved a huge sigh of relief when we joined the Obamas and the Bidens in saying goodbye to the presidency of George Bush. But we hardly had time to catch our breath because the work that followed that moment is so overwhelming. For progressives, there is not only the task of cleaning up the countless messes left by the Bush administration. Even if all of that is accomplished, we only go back to fighting the old battles that progressives have always waged against the MIC, US hegemony, the shortcomings of capitalism, and all the "isms" that plague our politics and culture (just to name a few).
The interesting thing is, blogging was born during the Bush administration and therefore has no history with what it means to take on these issues now that the solidifying force of opposition to the worst president in our history is over. Is it any wonder that there is conflict over how to move forward now?
You can see and feel these strains all over the blogoshpere. There are heated battles to be observed on blogs, between diarists, in comment sections and even between blogs. I think its worth it to not only experience these tensions, but to talk about them and try to understand what we can about why they exist.
Toward that end, I've been following one of the clashes that is taking place inter-blog between David Sirota from Open Left on the one hand and Nate Silver of FiveThirtyEight and BooMan on the other.
This has been going on almost since the election was over, so its hard to capture all the twists and turns as it has played out. But yesterday Nate wrote a diary titled The Two Progressivisms that I think at least begins the process of understanding the different factions that are developing. He calls them "rational progressivism and radical progressivism" and offers this chart of the difference.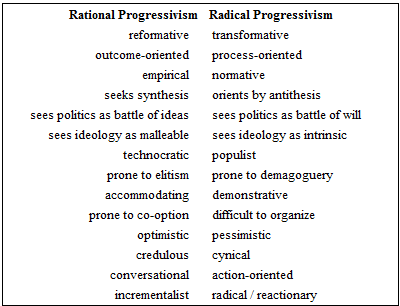 Here's a bit more about how he defines the two.
Rational progressivism tends to be trusting, within reason, of status quo political and economic institutions — generally including the institution of capitalism. It tends to trust these institutions because it believes they are a manifestation of progress made by previous generations. However, unlike conservatism, it also sees these institutions as continuing works in progress, subject to inefficiencies because of distorted or poorly-designed incentives, poorly-informed or misinformed participants, and competition from 'irrational' worldviews like religion. It also recognizes that certain persons who stand to benefit from preserving the status quo, particularly elected officials but also corporations, may seek to block this progress to protect their own interests. The project of rational progressivism, then, is to propagate good ideas and to convert them, through a wide and aggressive array of democratic means, into public policy…

The second type of progressivism is what I call radical progressivism. It represents, indeed, a much more radical and comprehensive critique of the status quo, which it tends to see as intrinsically corrupt…

Radical progressivism embraces the tradition of populism and frequently adopts a discourse of the virtuous commoner organizing against the corrupt elite. It is much more willing to make normative claims than rational progressivism, and tends to view conservatism as immoral and contemporary American liberalism as amoral (at best). Its project is not reform but transformation.
If you want to see Sirota's response to this, you can read it in his diary titled Dangerous and Paul Rosenberg of Open Left writes Progressive Confusion. As of this writing, BooMan has weighed in with a short one titled I'm With Nate Silver but promises more later. I'll keep an eye out for that and update when its published.
Whether you agree with Nate's characterization or not (I find these kinds of things almost always miss alot), it can be useful in at least beginning to understand the schisms that develop on the left. Overall, I find it helpful to think in terms "reform vs. transformation." And I think the question of how incremental change either helps or hurts the long-term ideals to be a challenging one.
As one who often finds common cause with both sides, my one wish is that we could talk about all of this out in the open without the need to disparage those who take an opposing view. In my perfect world, the radicals would be the champions of the ideals and the rationals would be the ones making the everyday steps in that direction. I know that's nirvana and the real world rarely plays out that way. But I also believe that history tells us that, while there was serious tension between Martin Luther King, Jr. and Malcolm X, both of them were necessary to finally get the job done.
Almost three years ago, a blogger named leftvet had it just about right I think in his diary titled On Moderates and Radicals.
Radical leftists fulfill another role, also. We can make the proposals of the liberal leftists look appealing to the moderates. We spout revolution; they offer reform. Their proposals for "change" look "moderate" when compared to ours. Some of the great pieces of social legislation of which the Democratic Party is justifiably proud started out as the revolutionary ideas of the radical left that were "reformed" down by the liberal left, and ultimately accepted by the moderates.

My message in all this? Do not silence your radicals. Do not be ashamed of them. Welcome them to the discourse, engage them in constructive debate, listen to their challenges, and challenge their assumptions. That is what democracy is fuckin all about.

This country has been – and will be – the better for it.
emphasis mine