( – promoted by buhdydharma )
From RawStory Tuesday morning…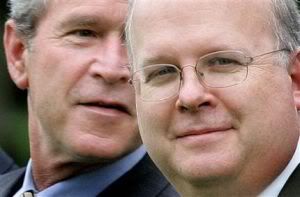 Obama, not Bush, now seeking delay of Rove deposition

John Byrne, Tuesday, February 17, 2009
Former Bush Deputy White House Chief of Staff Karl Rove has a new president urging Congress not to force him to testify next week.

President Barack Obama.

In a court brief quietly filed Monday, Michael Hertz, Obama's acting assistant attorney general, said it was necessary to delay an effort to force Rove to be deposed in a congressional investigation into the firing of nine US Attorneys and the alleged political prosecution of a former Alabama governor.

Hertz said an effort was underway to find a "compromise" for Rove, and requested two weeks to broker a deal before proceeding in court.

"The inauguration of a new president has altered the dynamics of this case and created new opportunities for compromise rather than litigation," Hertz wrote in the brief released late Monday by McClatchy's Washington, D.C. bureau. "At the same time, there is now an additional interested party – the former president – whose views should be considered."

The House Judiciary Committee sued the Bush Administration to force Rove to testify last year, saying that Rove shouldn't be covered by executive privilege. They won. But their case has been held up by an appeal, and Hertz's filing was the Obama administration's first legal weighing-in on the matter. Obama's Justice Department has supplanted the role of Bush's Justice Department in the case, and their position will likely inform the terms under which Rove is questioned by Congress.

Hertz's statement mirrors a statement from Obama White House Counsel Gregory Craig published Saturday.

"The president is very sympathetic to those who want to find out what happened," Craig told The Washington Post. "But he is also mindful as president of the United States not to do anything that would undermine or weaken the institution of the presidency.
*emphasis added