( – promoted by buhdydharma )
After a long day of projecting confidence, after reassuring Americans that we can deal with all of these crises, once that's been done, once you reach the sanctuary of the White House family quarters and you're alone, Mr. President, are you frightened?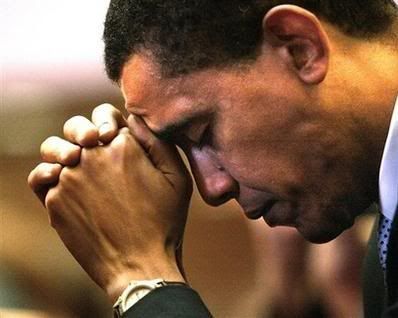 You're an intelligent man, you see what's happening so you must be frightened.
But I don't think you're frightened enough. I know what hunts you.
In their hearts, millions of Americans walked beside you down Pennsylvania Avenue on Inauguration Day, but one cannot simply walk into Mordor and call it change we can believe in. Bush and Cheney have burrowed their orcs into every agency of the federal government. Their uruk-hai still infest the Pentagon and the NSA. They have 55 million Gollums, they still have more than 200 Wormtongues in Congress and five Nazgul on the Supreme Court. They want their Precious back, their Ring of Power, if they have to destroy what's left of America to get it back, they will.
No. One does not just walk into Mordor. There is evil there that does not sleep. The great eye is ever watchful.
You've had some accomplishments, Mr. President, but this long struggle for economic and social justice has only begun. The power of Mordor has not been broken, it hasn't even been seriously challenged.
Moria . . .
You fear to go into those mines. The Dwarves of Capitalism delved too greedily and too deep. You know what they awoke in the darkness of Khazad-dum . . . shadow and flame . . .
The Shadow and Flame of Economic Meltdown
What this crisis reveals is a broken financial system. Normal monetary policy is not able to get money flowing. The trouble is that, even with all this intervention and protection, the market is not moving again. Leading up to this has been leveraging in the economy beyond imagination, and nobody was saying we need to do something.

It's now payback time, and business spending is in meltdown. And the same is true for maxed out consumers. Market Watch columnist Paul Farrell sees depression ahead and lists 30 reasons why. Here's a sampling:

America may lose its AAA credit rating; it already exists in name only; growing numbers of companies need bailouts; Treasury sneaks corporate tax credits into the bailout giveaway, shifting costs to states; sinking state revenues and rising debts signal trouble; state, municipal, and corporate pensions lost hundreds of billions on derivative swaps; consumer debt is way up, now at $2.5 trillion, it's the next area for credit meltdowns; Fannie Mae, Freddie Mac, AIG, the big banks and other companies are bleeding cash and want more taxpayer dollars; bailout costs will be in the many trillions; all asset classes are sinking and signal a global meltdown; retailers are failing, mall sales are in free fall; unemployment is skyrocketing; and government policy is dictated by 42,000 myopic, highly paid, greedy lobbyists, exceeded only by Wall Street's level of greed and corruption.

The Shadow and Flame of Global Warming
As the Arctic's sea-ice cover decreases, less and less sunlight will be reflected back into space. And as tundras heat up, more and more of their carbon dioxide and methane content will be released into the atmosphere. Thus each added ton of carbon will trigger greater rises in temperature as the years progress. The result will be massive ice cap melting and sea-level rises of several meters: enough to devastate most of the world's major cities.
The Shadow and Flame of Resource Wars
As famine, disease, and weather-related disasters strike due to abrupt climate change," a Pentagon report notes, "many countries' needs will exceed their carrying capacity"–that is, their ability to provide the minimum requirements for human survival. This "will create a sense of desperation, which is likely to lead to offensive aggression" against countries with a greater stock of vital resources.
Thank you, Dwarves of Capitalism. You've always believed Wall Street is a source of wealth to be mined. But it's not a mine. It's a tomb.
And this whole world is going to be a tomb unless its corporate masters stop poisoning it and start respecting the rights of workers. Working people have always been the real source of whatever wealth and prosperity have been generated. Help them, Mr. President, and then help them some more. If you do that we just might get through this.
The world's future stands upon the edge of a knife. It will stand upon the edge of a knife throughout your Presidency.
Can we end this nightmare? Can we deal with such a contagion of crises?
By rights we shouldn't even be here. But we are. It's like in the great stories. The ones that really mattered. Full of darkness and danger, they were. And sometimes you didn't want to know the end. Because how could the end be happy? How could the world go back to the way it was when so much bad had happened?
But in the end, it's only a passing thing, this shadow. Even darkness must pass. A new day will come. And when the sun shines it will shine out the clearer. Those were the stories that stayed with you. That meant something, even if you were too small to understand why. But I think I understand. I know now. Folk in those stories had lots of chances of turning back, only they didn't. They kept going. Because they were holding on to something.
What are we holding onto?
That there's some good in this world. And it's worth fighting for.
I see people losing their jobs and their homes, while Wall Street criminals award themselves billions of dollars in bonuses. In their eyes, in the eyes of the victims of those criminals, I see fear that would take the heart out of me. Fear of even worse days ahead, fear that no one will care, that no one will help them. Well a day may come when the courage of progressives fails, when we forsake those who need our help and break all bonds of fellowship with them . . .
But it's not going to happen this day.
An hour of woes and shattered shields may come, when American democracy comes crashing down and a thug far worse than Bush takes power . . .
But it's not going to happen this day.
This day we fight. Tomorrow we'll fight. Every day, we'll fight.
We're in a great story, full of darkness and danger. We are the story, we will decide how it ends, we will decide if justice and the rule of law are restored. It's our story, so let the truth be told, from every progressive blog, until it rings out across this land and echoes through the corridors of power. Let the Day of Reckoning come, let the Lords of the Black Land come forth! Let Justice Be Done Upon Them
Let it be written that they were held accountable for what they've done, let it be written that Mordor was consumed to ashes, so a New Age could begin . . .
From the ashes, a fire shall be woken.

A light from the shadow shall spring.

Renewed shall be blade that was broken.

The crownless again shall be king.