( – promoted by buhdydharma )
This essay probably has no redeeming social value. It might not even be interesting to most folks unless you enjoy watching the circular firing squad that has now become the Republican Party. But I've been noticing some interesting discussions taking place and thought I'd chronicle them.
Of course, as I write, I plan to drown my sorrows with a little of this.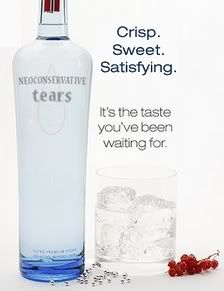 So, here we go. First of all, are you ready for a rumble between Kathleen Parker and James Dobson?
As a disclaimer, I am no fan of the usually idiotic Kathleen Parker. But you'll remember that she's the one that suggested back in September that Palin drop out of the race. Well, she hasn't quieted down much since then. Recently, she wrote an opinion piece in the Washington Post titled Giving Up On God. Wowza, them's fighting words!!!
As Republicans sort out the reasons for their defeat, they likely will overlook or dismiss the gorilla in the pulpit. Three little letters, great big problem: G-O-D.

I'm bathing in holy water as I type.

To be more specific, the evangelical, right-wing, oogedy-boogedy branch of the GOP is what ails the erstwhile conservative party and will continue to afflict and marginalize its constituents if reckoning doesn't soon cometh.
Did she just say "the gorilla in the pulpit"???? As you can imagine, Mr. Dobson doesn't like that one bit!!! And I expect Ms. Parker is getting some really interesting emails lately.
So, Kathleen Parker has determined that getting rid of social conservatives and shelving the values they fight for is the solution to what ails the Republican Party. Isn't that a little like Benedict Arnold handing George Washington a battle plan to win the Revolution?

Whatever she once was, Ms. Parker is certainly not a conservative anymore, having apparently realized it's a lot easier to be popular among your journalistic peers when your keyboard tilts to the left. She writes that "armband religion" – those of us who "wear our faith on our sleeve," I suppose, or is it meant to compare socially conservative Christians to Nazis? – is "killing the Republican Party." Lest readers miss the point, she literally spells it out. The GOP's big problem? G-O-D.

N-O-N-S-E-N-S-E…

Do you have something you'd like to say to Kathleen Parker about her recent column criticizing socially conservative Christians and their involvement in matters of government and public policy? You can send her an e-mail – please be respectful – through our Action Center.
If you'd like to see your brawling with a little more meat on the bones, there's an interesting exchange between Jeffrey Hart and Rod Dreher.
First up, Mr. Hart.
The Republican Party in defeat faces an acute identity crisis. If they try to move in the direction of the successful Eisenhower presidency, making themselves a common sense, problem-solving party, they would probably precipitate the formation of a breakaway third party representing the religious right, perhaps called the Christian Party…

The lethal problem for Republicans is that while religion of a particular kind is central to their party today, it is also toxic to moderate, independent, suburban, young and, more inclusively, educated voters.
Now Mr. Dreher didn't like that at all. And he has a very (shall we say) interesting take on the remedy.
McCain lost because the economy is collapsing on the watch of an unpopular Republican president, and he had no idea what to say about it. McCain lost because his party is incompetent. McCain lost because his choice of Sarah the Unready cast doubt about his judgment. And McCain lost because Barack Obama ran a great campaign.

Where is Jesus in any of that?…

Times change. Today, the greatest threats to conservative interests come not from the Soviet Union or high taxes, but from too much individual freedom. Look around you: Americans have been poor stewards of our economic liberty, owing to cultural values that celebrate unfettered materialism. Our families and communities have fragmented, in part because we have embraced an ethic of extreme individualism. Climate change and a peak in oil production threaten our future because we have been irresponsible caretakers of the natural world and its resources. At best, the religious right stood ineffectively against these trends. At worst, we preached them, mistaking consumerism for conservatism.

All political problems, traditional conservatism teaches, are ultimately religious problems because they result from disordered souls. In the era now dawning, Americans will learn again to live within limits – and together.
I'm not sure what to make of any of that. On the one hand, the idea that our biggest problem is that we have too much individual freedom – especially coming from a religious conservative – scares the hell out of me. But on the other hand, I like the fact that he's calling out materialism and talking about needing to work on climate change. My head is spinning!!!!! No wonder the Republicans are in trouble.
And finally, how about the Republican bloggers? One of the things I found was a website called Rebuild the Party. Their take is interesting because they don't even talk about policies and I assume that's because they think policies have nothing to do with the Republican defeat. Instead they think the key is to develop a grass and netroots 50 state organization. Sound familiar?
Anyway, I guess I have to admit to a certain level of "teh giggles" when reading all this. Hope it takes them years to figure it all out!