(8:00PM EST – promoted by Nightprowlkitty)
I'm sitting in a cozy little study on Seattle's Capitol Hill. A warm halogen desk lamp, four computers, several piles of books, a shelf full of my favorite and beloved tomes beside a comfortable chair. A pot of earl grey. Outside, it looks kind of like this: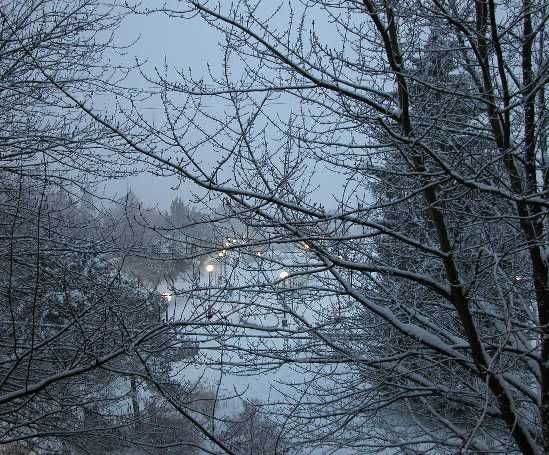 Well, OK…exactly like that, since I just took it five minutes ago from the window above my right monitor. It is cold as hell and the snow just won't stop, which is unusual for this part of the world. Everyone I talk to has gotten sick of the holiday magic of it all, and just wants it to go the hell away. I have gone from resenting the impact on my daily habitrails, to taking eight perimeter laps around the park you see…exactly 5.3 miles. It makes my teeth hurt, but it's better than letting the carbohydrates win. And it's a thrill to see the vast machine of the city come to a softly falling halt. Anyway…that's only part of what this is about.
For the last few days, I've been reading diary after diary by people upset with the Warren choice. I may or may not repost this in the context of most of those diaries…I'm kinda tuckered out. But I've learned some things I didn't know. I wanted — insofar as a short diary can manage…to share them here.
We have a lot of liberal folks, a few queer folks, a whole bunch of people who find Obama's choice of Warren to be repellent. Some are outraged, and some are just a little squicked but are willing to extend the benefit of the doubt. All very well and good, albeit it can get old rather fast.
In almost every diary I visited on the subject (albeit not the one here at DD), there have been at least one or two African American folks pointing out that Gay Rights and African American rights struggles aren't the same thing, and that it isn't terribly wise to start with that comparison. Rather like Tim on Home Improvement, my first response has been "hwoouh???" I mean, civil rights leaders of the last generation (Coretta Scott King among them) have made that comparison explicit, over and over. And the people who have said "they aren't the same" in the past — well, those statements have ususally been followed be something really mean and awful, so that the basic, homophobic frame was not in doubt.
But there aren't too many African American folks on the liberal blogs. Who have the priviledge of sitting here. So I figured…to spite the thrill of hearing queer voices yell all around me…I'd better listen up.
The thing is….the thing is…I was wrong. Not completely wrong. But I missed a couple of important things. Not just the obvious: you, over there…you may find the idea of a transsexual having surgery really physically disgusting, and repellent. And I…well, my anscestors captained slave ships, and one of them held the continent's first native american slave. But…mostly…we can get past that. Hey, it's cool. We're fighting for the same thing now! But I think perhaps that fighting for the same thing…and hearing each other…are not the same thing.
A long time ago I posted a diary on here about the politics of dignity. It ran straight to what I believe most deeply about what inspires revolution, change, growth…the point where Havel's greengrocer, in Power of the Powerless, takes down the communist party sign. The ways in which people finally throw off generations of oppressive rhetoric, the agreed upon lie, to live in truth. And there's this thing about living in truth…it usually starts from the specific. What you can touch and feel, or imagine so clearly you can smell it. And what I've touched and smelled and done…that's my story. You can't know it. You can't have lived it. And what you have touched and smelled and fought for and loved…I can't know it. I wasn't there. It is our histories, our specific, lived histories, which make up the understandable distance between I and It and I and Thou, between sharing something of each of us, and telling you How It Is.
I cannot make someone else's story my own without telling a lie. I can't appropriate the specifics of your struggle. It is nice to feel like we are all sharing the same goal, but that's a little like eating the pumpkin pie before the green beans. We don't get to say "oh yes, we're all on the same side" until we have _heard_ the other side. We are in a terrible hurry to find a common ground, and we all know what it looks like and feels like. We've all read things, and marched in things, and fought for things which serve the best in people. But there is no shortcut to hearing the specifics. The generalization of how bad you have it, or they have it, or I have it…is false coin. What is true is what happend. What you understand in the moment, standing there, being born there, growing up there, and can only communicate with a true accounting.
And so…finally…this mediocre and overlong essay winds back to the beginning. The priviledge of sitting here, warm and dry, in front of a computer. And telling my story, and the stories that I remember and can tell with truth. But for each person like me, or you, there are a thousand without that computer, without that access. Whose stories you haven't heard, and I haven't heard. So…in general homily like terms…I think we have to be careful about how we generalize, and how we tell stories that are not our own. Are they broad, cozy stories that make us feel virtuous and caring? Or uncomfortable in a way we know like the trip from the kitchen to the car? Or does the story have narrative truth, the detail and specifics of what is, in every story, the truest evidence? Does it relate to a lived life, or is it borrowed for our purposes?
And now, indeed, I have gone on too long. Thanks for reading…