( – promoted by buhdydharma )
This essay is cross-posted from dKos and The Dream Antilles
Maybe this is the beginning of another love story. People come from all over the world to the Mayan Riviera in Mexico as tourists, stay in Riviera Maya house rentals and fall in love with it, and return over and over and over again. The Mayan Riviera is the area south of Cancun, Mexico, and north of Tulum, on the Caribbean. You get there by flying to Cancun. After that, you travel south on Route 307, to Playa del Carmen, and then Akumal, and Puerto Aventuras, past Xel-Ha and on to Tulum. You can make the trip by rental car, bus, taxi, or collectivo. If you are traveling alone, you may want to click here to check out some solo travel tips, and see what to do if you want to look outside the standard tourist attractions.
Join me on the beach.
When I first traveled this route, Route 307 was a two lane highway and tall vegetation grew up to the very side of the road. There was one Pemex gas station between Puerto Morelos in the north and Felipe Carillo Puerto in the south. Really, there wasn't much there. There were romantic beach resorts that had no electricity. That was about 20 years ago. Ms. ds and I fell in love with the place. Maybe it was initially because there just wasn't much there. It was a great place to hang out on the beach and do nothing. And we've stayed in love with it since. We have a home there on a beach just north of Tulum in Bahia Soliman.
Our home is called "Nah Yaxche." "Nah" is Mayan for "house of", "Yaxche" is the Mayan tree of paradise, the first tree, the ceiba tree, under which good people dance in the afterlife. We chose a Mayan name, because this part of Mexico is Mayan. And not Spanish.
When we're at Bahia Soliman (just 10 minutes north of Tulum), we do, well, pretty much nothing. The idea is to relax, eliminate the lingering affects of sleep deprivation and work stress, do some yoga, meditate, eat some good meals, think, hang out, day dream. I wrote most of my novel, The Dream Antilles, here. And I've devoured dozens and dozens of books here. We have a siesta. We watch the sun rise. Sundays we and our neighbor pick up whatever plastic the sea has deposited on the beach and walk the community's many beach dogs. We don't wear wrist watches here. We're beach people. And to us, this really is paradise.
I'm writing about it, because if you're a beach person or would like to be one, and you haven't been here, you're really missing something special. But the beach isn't the only thing here: there are also lots of things to do.
Some of the sights in the area are quite well known. There are the Mayan ruins at Tulum, overlooking the ocean from a cliff. The temple walls have murals depicting descending gods (dios decendentes), which some folks think are actually drawings of extraterrestrials:


El Castillo el las Ruinas de Tulum
There are dozens of other, smaller ruins dotting Quintana Roo, the best of which might be the small ruins at Muyil (just south of Tulum) and the large ruins at Coba (about an hour west of Tulum). A few hours' drive to the northwest is Chichen-Itza, but it's close enough that you can make it a day trip if you start early.
The thing to remember about Mayan ruins in the jungle: they get hot mid-day and the mosquitoes are voracious. Hot in Mexico means extremely extra very hot. Go early in the morning, be there when the site opens, and wear bug spray and a hat. Drink water. The views from the top of the pyramid in Coba or from the top of the Castillo in Tulum are unbelievable.
Some of the best beaches in the world are on the Boca Paila Road that runs from the Tulum Ruins through the Sian Ka'an Bioreserve to Punta Allen. Playa Paraiso is world famous. You can walk for hours on the beach. The water is turquoise, and calm, the sand is wide and white, and the barrier reef that runs from Cancun to Panama, the second largest in the world, protects the beach and makes for a fertile, green turtle and marine habitat: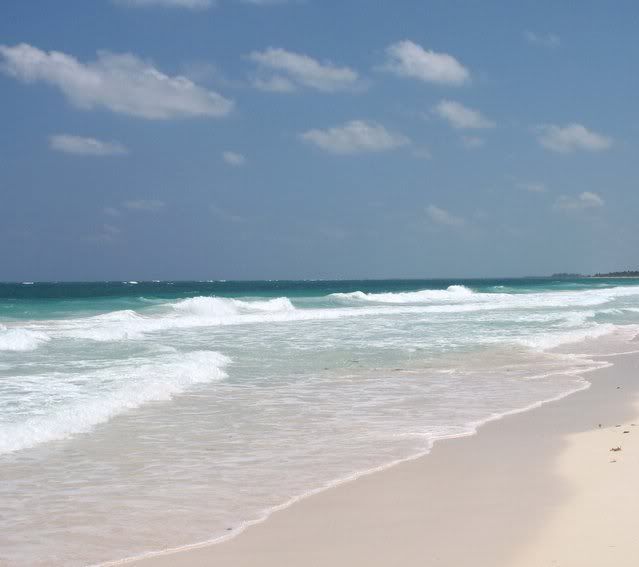 These beaches are unbelievably gorgeous. If you are of fair, northern European extraction, you must wear SPF 30+ sun screen. You can be mercilessly sauteed on these beaches in no time at all. I have seen some of the worst sunburns here. A squirt of SPF 30 (or 50 or total block) avoids a ton of misery later.
In fact, you can probably find your own stretch of beach somewhere between the ruins in Tulum and Punta Allen that will be completely deserted and beautiful. That's a way of saying that if you want your own private beach all to yourself you can find it. Some have some detritus on them from hurricanes and prevailing winds from the east, but many others are pristine. What drifts onto the beach depends entirely on what's been dropped in the water and the wind, since there is so far no concerted community effort to pick up after storms.
A literary word about this beach. In his now out of print book, The Lost World of Quintana Roo, Michel Peissel records his solo, 1962 walk from what would become Cancun a decade later to Belize on these very beaches. At the time there were no roads. The beaches were coconut farms (cocals), the interior was local Mayans and those who were harvesting chickle (chicleros). There were no welcoming parties for Gringos. This book is the perfect beach read when you sit on Mayan Riviera beaches, because you're sitting on the path Peissel walked.
The reef remains quite healthy, and it makes for fantastic snorkeling and diving and swimming and kayaking. Those of us in the area go out of our way to keep nitrogen from waste away from the reef by building special septic systems. The large all inclusive hotels have all followed suit. We're on a mission to preserve the ecology of the area. We want our ocean and the reef to remain alive, healthy, and pristine. We don't fish inside the reef, we don't take shells or shellfish out of the water, we turn off lights so that turtles are not disoriented at night, we don't touch the coral, we try not to get sunscreen or anything else in the water, we pick up whatever drifts in.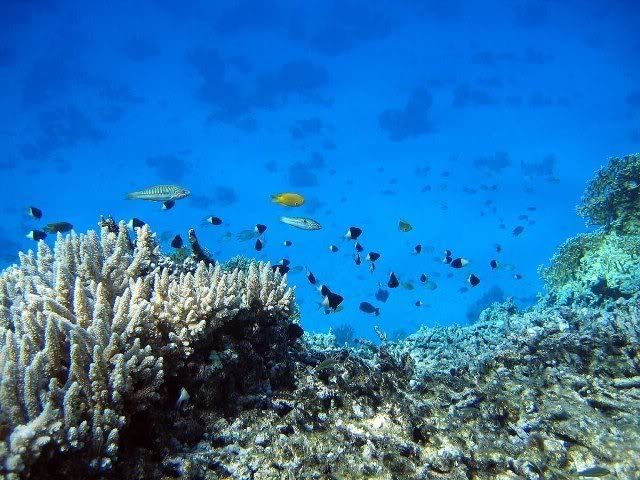 The National Park at Xel-Ha, and the Yal-ku Lagoon in North Akumal are well known spots for snorkeling. These are well worth a visit, but there are better, less populous places to snorkel up and down the coast. Lots of people swear by Akumal, Tankah 3, and Xpu-Ha. I like the reef in Bahia Soliman, where my house is. The reef is only 200 yards or so from shore, so, if you have no kayak, you can swim to prime snorkeling without great effort. In the mornings, the water is sometimes like a mirror. Not a single wave. This is especially the case in summer. But even when there are waves, they're small, and the snorkeling is best when there's bright sun to light up the coral and the fish. In lots of places, if you have a kayak, you can tie up at the reef. We've put "tie ups" in the bay.
Oftentimes, when snorkeling, we see eagle rays. These fly through the water like huge butterflies. We also have seen dolphins, huge barracuda (they are not hungry inside the reef, but we don't wear jewelry because we don't want to look like dinner), two kinds of turtles, lots of schools of purple angel fish. You get the idea. The sea is healthy, and it's alive.
There are also many cenotes, limestone sink holes with fresh water, that are part of the world's largest underground river system. These were sacred to the Maya and are still used for ceremonies. And, best of all, you can swim in the cool freshwater as they do. That is really refreshing on hot days. The water is surprisingly clear. And the cenotes make for wonderful entrances for exciting cave diving. Great cave diving and cenote snorkeling is available at dos Ojos and Hidden Worlds. dos Ojos also has a jungle zip line.
This is Manatee Cenote in Tankah 3, right across the road from Café Cenote:
And then there's Tulum Pueblo itself, a Mayan town I really love. Until 1935, Tulum was still fighting the War of the Castes and refusing to recognize the Mexican Central government. The Mexican troops gave up the war in 1911, in a moment that must have resembled the 1975 evacuation of Saigon, but the Mayans understand timing. It wasn't until 1935 that they finally held a ceremony acknowledging the central government. Now Tulum is growing rapidly. Is it growing as rapidly as Playa del Carmen to the north? Probably not. But then again, nothing has grown as fast as Playa del Carmen, which is rumored to be the fastest growing city in the Northern Hemisphere.
About Playa del Carmen. Playa del Carmen has 5 or 6 times as many people now as it did when I first went there. Then it was a sleepy fishing village. It had one independent espresso bar. Now it's a city with an incredible collection of bars, restaurants, shops and discos. It's a magnet for Euro travelers. Cruise ships stop there. It has some unbelievably great restaurants I always recommend (The Glass Bar (Italian, expensive), Yax Che (Mayan, expensive), John Gray's (continental, expensive) for special occasions. There's an incredible shrimp taco place (La Floresta) on the highway. The shopping is great. But I only like Playa del Carmen in small doses: it's fun for an evening of partying, but then, for me, it's time to move on to something more remote, something less populated.
About Akumal. Akumal is pretty completely gringoized. It has good restaurants (La Lunita is a favorite), great beach bars (Lol Ha), good snorkeling (easy to find turtles), two excellent dive shops (I prefer Dive Akumal), Internet, a gym, etc. It is a great place to spend an evening, or to have breakfast (Turtle Bay Cafe), or to have lunch (Lucy's Tacos). Lots of folks swear by Akumal, because you don't really need a car there and can walk to anything. Akumal, too, has grown over the years, but it has a nice feeling and is a lot of fun.
But mostly I love Tulum. Tulum mixes funk with shine. It mixes rundown with spiffy. It mixes Mexican with Mayan. It mixes European and Mexican and US. It mixes old and new. It has some great shopping and a wide variety of excellent restaurants. These range from Pollo Asado places on the main drag, where you can get a fantastic roasted chicken for cheap, to my favorite restaurant, Cetli, with its high Mexican cuisine worthy of Mexico City. And, of course, there are dozens of places in between including La Nave, a Pizzeria on the main drag that is a favorite with me and most of the ex-pat community. Also, there are two wonderful palaterias in Tulum where you can get ice pops in about 100 different flavors. The current fave: chocolate with strawberries and cocoa crispies on the outside. Seriously. What more could you ask for?
Tulum is expected to grow. The current economic situation may be delaying that, but the signs of growth are already appearing. There's a 7-11 (Siete Once? Seven Once? Seven Eleven? Siete Eleven?) and a Subway. I recently found a Starbucks cup in the gutter (probably from Playa del Carmen). There are some fantastic, stainless steel store fronts now. Empanada Joe's, for example, is right out of Mexico DF. And there's a Gelateria (with great murals). And we've had a supermarket (San Francisco de Assis) for a few years now (where you can find US apples and Bordens milk products because of NAFTA, but that's a different diary). But you can still buy fresh tortillas on the main drag, and mangos and papayas, for incredible cheap and tons of local fruits and vegetables. The town retains its incredible sweetness, and its simplicity. I just love it.
What about accommodations? There are all kinds of places to stay. Absolutely the best site for finding villas and houses to rent on the beach, and small hotels, and small resorts on the Tulum beach as well as larger all inclusives (if you like that) is loco gringo. This is THE place to find a small palapa cabana on the Tulum beach. Or a dramatic villa overlooking a beautiful bay. Disclosure: loco gringo rents my house when I'm not there, and I love them. There are other sites for villa and hotel rentals you can find by Googling "mayan riviera rentals".
This is the most fantastic area for a winter vacation. Lots of people swear by other places in the vast Caribe. Fine. I'm sure those are great places, too. At one time or another I've been to many of these, but I kept returning to Tulum. Over and over again. Why? Maybe it's the beauty of the sea, the diversity of the jungle. Maybe it's because this is some kind of frontier. Maybe it's because of the influence of Mayan culture. Maybe it's because the people I've met here have been so wonderful. It's hard to explain. Maybe its just love and inexplicable.
Flights from Cancun are not overwhelmingly expensive. And right now the peso is way down, so once you arrive you get a lot of pesos for a dollar (on Friday you got almost 14 pesos per dollar) so your dollar goes really far. This makes almost everything seem like a bargain. The high season has already begun, but you can still find wonderful accommodations throughout the area.
While I was writing this diary, I put up a notice on a Riviera Maya bulletin board asking folks what I should say. The overwhelming response was that I should lie and say the area was terrible, dirty, poisonous, dangerous, etc. so that it would remain pristine and unpopulated and unnoticed. Some people correctly pointed out that what will keep things healthy here are simple ecological steps: not stepping on coral, taking garbage off the beach, and the like. What emerges is this: people love the Mayan Riviera. And some of these folks would like to keep it for themselves and hidden from others.
If I can provide additional information about the Riviera Maya or any of the Yucatan, please email me or leave a comment. I'll try to answer the questions. Also, in my profile you can find my email, so if you're going to the area, I'm happy to provide help, ideas, suggestions, etc.