(10 am. – promoted by ek hornbeck)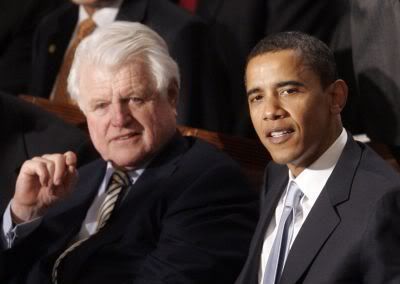 According to Boston.com's Political Intelligence Senator Edward Kennedy, who has been being treated at his home in Massachusetts for the past six months for a dangerous malignant brain cancer, returned to his second home in Washington D.C. Tuesday and will continue his treatment there.
"His doctors are very pleased with his progress, and he will receive his treatments here," Kennedy spokeswoman Melissa Wagoner said yesterday. The senator plans to remain in his northwest Washington home and return to Massachusetts for Thanksgiving, she added.

Aides declined to speculate on when Kennedy might return to his duties in the Senate, which is in recess for the rest of the year. But his return to Washington for the next several weeks could coincide with Democrats' plans to call a special session of Congress after the Nov. 4 election. Kennedy is also a strong supporter of Barack Obama, and left Massachusetts to deliver a keynote speech on his behalf at the Democratic National Convention in Denver two months ago.

Since his diagnosis, Kennedy has returned to the Senate just once, in July, to cast a tiebreaking vote on long-delayed Medicare legislation. He was briefly hospitalized last month after suffering a mild seizure, which doctors attributed to a change in his medication.
Kennedy has apparently been secretly working from his hospital bed in Massachusetts the past few months to develop and "introduce a universal health care bill as soon as the new Congress convenes next year and to push quickly for its passage", says the Washington Times, and he has been getting support for his plan from across the political spectrum:
"There is a serious process moving forward and that augurs well," said Ron Pollack, executive director of Families USA, a nonprofit health care advocacy group. "There really is a sea change that should not be underestimated in terms of attitude."

Among those who are receptive to a bipartisan plan and who have participated in the initial talks is Sen. Michael B. Enzi of Wyoming, the ranking Republican on the Senate health committee, which Mr. Kennedy leads.

The meetings "are a testament to how people feel about him," Enzi spokesman Michael Mahaffey said. "Senator Enzi is looking forward to working with Senator Kennedy on this issue."

Mr. Kennedy's goal, his aides say, is to introduce a universal health care bill as soon as the new Congress convenes next year and to push quickly for its passage – a much-accelerated timetable compared with the last time that a health care overhaul was on the agenda, at the start of the Clinton administration.

"Senator Kennedy has spent the last several weeks laying the groundwork for reform so that we can be ready to go in 2009," said his spokesman Anthony Coley. "This is and has been the cause of Senator Kennedy's life."
Medical News Today provides a bit more detail:
The "wide-ranging talks," which Kennedy has monitored through telephone updates from his staff, have included 14 roundtable meetings attended by Kennedy aides and staffers for both Democrats and Republicans in the Senate Budget Committee, Senate Finance Committee and Senate Health, Education, Labor and Pensions Committee, chaired by Kennedy. The talks also were attended by representatives from a "panoply of interests groups with stakes in the cost and availability of health coverage," including the AFL-CIO, Business Roundtable, National Federation of Independent Business, the National Retail Federation, Federation of American Hospitals, the American Medical Association, America's Health Insurance Plans, Families USA, AARP and Consumers Union, according to the Times. In addition, Kennedy aides have started meeting regularly with consumers and small groups of people representing each area of the health care industry.
Let's hope Mr. Kennedy's treatment continues to be successful and that he has many more years of life left in which to continue working for the "cause of his life".