First of all, unless you are over the John McCain line of the Middle Class ….Five Million Dollars a Year, the Class War is NOT directed at you. The term Class War tends to make folks nervous if they are doing okay. The propaganda is that the poor want to wage war on the Middle Class. That is NOT true. Class War is the Middle Class and the Lower Class against the Ruling Class
So, relax! Well, come to think of it, you can only really relax if you are on the side that is winning The Class War. If you do happen to make less than $5Mil….you aren't. If you make less than $5Mil….you are losing The Class War.
It was very nice of Dear John to delineate the dividing line of The Class War that is currently occurring so succinctly!
The Bush Administration came into office with one overriding, clear, and definite objective: Make the Rich richer. To insulate and inoculate the Ruling Class from the pesky yammering of the Middle and Lower Classes that vexed them under the tenure of Democrats. Yammering like…paying taxes… regulations that were inconveniently forcing them to be responsible stewards of the economy…and of course, yammering about egalitarianism in America. The idea that we are all equal, no matter how much we earn. The idea that our democratic system of government is for the benefit of ALL Americans, not just the Ruling Class.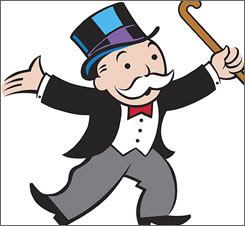 But they have gone too far at exactly the wrong time and THEY have made this a Class War election. Us regular Americans who think that this is the America of our forefathers, the America of the patriotic myths we were brought up on, the America that exists to benefit ALL Americans….vs…Them. The ones who think that the only function of America and its government is to make them richer, and now to bail them out when they fail. It is OUR job to save THEM? I don't think so.
THAT is why Obama is going to win this election, and quite possibly, win it in a landslide.
They have declared that America only exists, that we taxpayers only exist, that our government only exists for their benefit. THEY have declared Class War on us. And we are about to strike back at them by electing Barack Obama. Can we afford to stop there? Or do we need to find other ways to defeat their plans to dominate and exploit the Middle and Lower Classes?
We have been in an all out Class War since George Bush was selected in the year 2000. Now the full implications of that Class War and what it really means are hammering the general populace like the financial equivalent of the London Blitz of WW2.
WE, the vast majority of Americans who are not super rich did NOT start this Class War…THEY did. We have gone past the point where we can afford to not fight back. It is time….my friends, < wink > ….to take America back from the plutocrats, back from the new aristocracy that the Republicans have worked so hard to create.
All we want to do is live our lives. In peace and with a decent level of comfort, a decent lack of fear. WE did not want to invade a country that was no threat to us for its oil, they did. WE did not want to create new, blatantly shady and risky ways to get super rich by risking the entire national and world economy. WE did not want to shirk our responsibilities by offshoring our profits to avoid paying even MORE taxes. WE are not the ones who are willing to screw everyone else as long as we get ours.
That is what The Ruling Class has done, that is what they want America to be.
But as they always do eventually, they have gone to far. They have gotten too greedy. They have gotten too arrogant. They got too damn smug, and thought they could do whatever they want, at our expense. They let their greed and arrogance trump their intelligence and tried to take to much. They have made their attacks on the rest of us too obvious. They have screwed up the one thing that was causing them to win The Class War. Stealth. If they had contained their greed and arrogance just a bit more, we, the little guys would have probably let them continue to fleece us. WE don't want to fight, they have forced us to.
Our first salvo in this War is throwing them out of our government and electing Obama.
The big question though, is what we do next, after Obama is elected. Do we go back to our lives and let them fleece us some more? Or do we find new ways to fight, new ways to defeat them and take our country back?
Like it or not, The Class War is on. How do we fight back?