( – promoted by buhdydharma )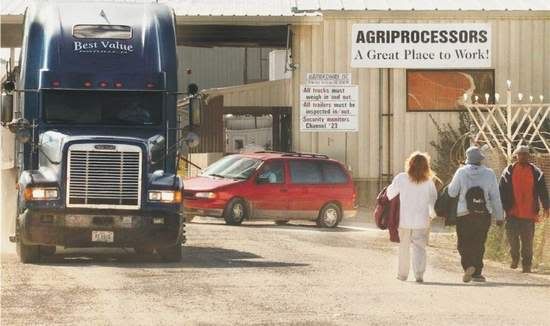 Finally, some action is being taken against the management of the Agriprocessors meatpacking plant in Postville, IA, the site of one of the largest raids of undocumented workers in U.S. history when 389 people were arrested on May 12th of this year.
Federal immigration agents arrested Sholom Rubashkin, the former CEO of the plant, on Thursday. Rubashkin is being charged with conspiracy to harbor undocumented immigrants for financial gain, aiding and abetting document fraud, and aiding and abetting aggravated identity theft. He resigned shortly after the May 12th raid. If convicted on all counts Rubashkin faces up to 22 years in prison and $750,000 in fines.
The affidavit in the Rubashkin case says that about two weeks before the May 12 raid, supervisors at the plant were scrambling to buy new identification documents for workers.

Two plant supervisors allegedly met with Sholom Rubashkin on May 8 and May 9 and asked for $4,500 in cash to buy new identification papers for a group of workers.

The proposed scheme involved a loan, with Rubashkin fronting the cost of the new papers for the plant's workers.

According to the affidavit, Rubashkin agreed to lend the workers the money. On May 9 one of the supervisors was given $4,500 in $100 bills.

The money was then doled out to individual workers who allegedly gave the cash to a plant foreman who was making arrangements to buy the fraudulent papers.

Court records indicate that in addition to the cash, the workers also supplied the foreman with new names they wanted to use, as well as new birth dates and photographs of themselves.

Two days later, the foreman and one of the supervisors allegedly handed out the newly purchased documents to about 40 workers.
On Wednesday the plant was fined nearly $10 million for repeated violations of Iowa's wage laws between Jan. 1, 2006 and June 30, 2008. The charges include:
• $339,700 for illegally deducting "sales tax/miscellaneous" costs 3,397 times. The state said that 1,073 Agriprocessors employees were affected by the unauthorized deductions reducing their pay by $72,189.09.

• $9,643,600 for illegally deducting a charge for frocks. State officials said this deduction occurred in 96,436 separate incidences. State officials said that 2,001 workers had their wages illegally reduced by $192,597.

• $4,900 for failing to pay 42 workers their last paychecks on May 16 and May 23 following the U.S. Immigration and Customs Enforcement raid in early May. In addition, seven workers were shorted two paychecks because of the overlapping nature of pay periods, the state said.

Also on Wednesday, an employee in the Human Resources department, Laura Althouse, pleaded guilty to conspiracy to harbor undocumented immigrants for financial gain and one count of aggravated identity theft. Sentencing is being negotiated for Althouse, and will require her to cooperate with further investigations into the plant's operations. No specific connection has been reported yet between Althouse's plea deal and the arrest of Rubashkin on Thursday, but it seems quite possible they are related.
The town of Postville continues to struggle with the raid and its aftermath. The local economy would suffer greatly if the plant closed, but the emerging picture of working conditions and worker exploitation has some residents wishing it would close for good:
Some Postville residents remain angry that the company and its owners haven't faced more punishment. Yet that emotion is tempered by the fact that the plant is the town's major employer and is partly responsible for one of the highest percentages of growth of any Iowa town from 1990 to 2000 – 54 percent.

(snip)

Yet people travel halfway around the world to work here.

Among Postville's population are people such as Lyubov Tavyanskaya, who moved to town from Ukraine about 10 years ago, learned the English language, and worked at Agriprocessors.

"You know why people come to America?" she asked. "For a better life and job."