(8 am. – promoted by ek hornbeck)
The very idea is beautiful — just say the words and it is like poetry, "Snow falling on Mars."
Mars Craft Detects Falling Snow

By Marc Kaufman

Washington Post Staff Writer

Tuesday, September 30, 2008; Page A02

Icy snow falls from high in Mars's atmosphere and may even reach the planet's surface, scientists working with NASA's Phoenix lander reported yesterday.

Laser instruments aboard the lander detected the snow in clouds about 2 1/2 miles above the surface and followed the precipitation as it fell more than a mile. But because of limitations with the technology, it was unclear whether any of the powdery stuff made it all the way to the surface.
It's apparently real snow — made of water.
'Nothing like this view has ever been seen on Mars,' said Jim Whiteway, of York University, Toronto, lead scientist for the Canadian-supplied Meteorological Station on Phoenix. 'We'll be looking for signs that the snow may even reach the ground.'
Right now, on this day, Mars is about 222.6 million miles away from the Earth. It is on roughly the opposite side of the Sun. Near Mars's north pole, the temperature varies from minus 112 degrees Fahrenheit in the morning to minus 22 degrees Fahrenheit in the afternoon.
The Phoenix lander arrived there on May 25, 2008. Since then it has been collecting soil samples, taking pictures and temperature readings. Measuring wind and air pressure.
And, just yesterday, Phoenix noticed that it was snowing. No pictures (the snow is way far up) but here is a picture of the area: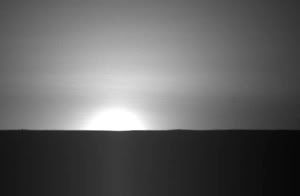 Image taken by the Surface Stereo Imager on NASA's Phoenix Mars Lander shows the sun rising on the morning of the lander's 101st Martian day after landing. (c) NASA, JPL-Caltech, University of Arizona, Texas A and M University
A few light taps upon the pane made him turn to the window. It had begun to snow again. He watched sleepily the flakes, silver and dark, falling obliquely against the lamplight. The time had come for him to set out on his journey westward. Yes, the newspapers were right: snow was general all over Ireland. It was falling on every part of the dark central plain, on the treeless hills, on the Bog of Allen and, farther westward, softly falling into the dark mutinous Shannon waves. It was falling, too, upon every part of the lonely churchyard on the hill where Michael Furey lay buried. It lay thickly drifted on the crooked crosses and headstones, on the spears of the little gate, on the barren thorns. His soul swooned slowly as he heard the snow falling faintly through the universe and faintly falling, like the descent of their last end, upon all the living and the dead.

— James Joyce, "The Dead"
I hardly know what to say. The universe, which is to say the whole great everything, feels a little closer than it did before.