(noon. – promoted by ek hornbeck)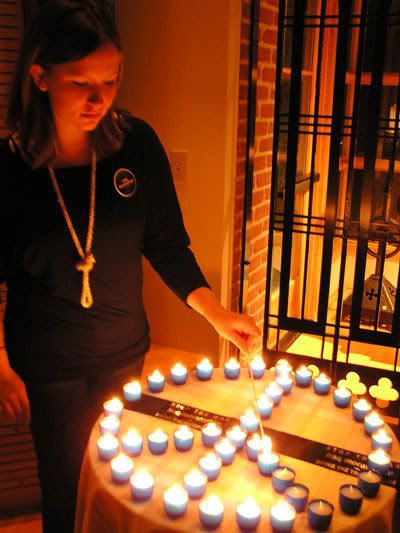 Those striking photos from the Peace and Justice Center at St. Norbert College in DePere, WI which held a Candlelight Prayer Vigil for peace in Iraq as part of Friday's nationwide Iraq Moratorium actions, were submitted by Patti Cole.
Reports are coming in now from across the country — New York City, San Francisco, and points in between, like Wisconsin, which remains in the forefront of the movement, along with California.
You'll find reports, photos and an occasional video on the Moratorium website, which serves as a clearinghouse for activists to exchange ideas and inspiration. Check it out.
While you're there, tell us what you did on Moratorium day to stop the war and occupation. And if you're willing and able to do so, put something in the Moratorium tip jar.
Next event, the Third Friday, as always: October 17.