(11 am. – promoted by ek hornbeck)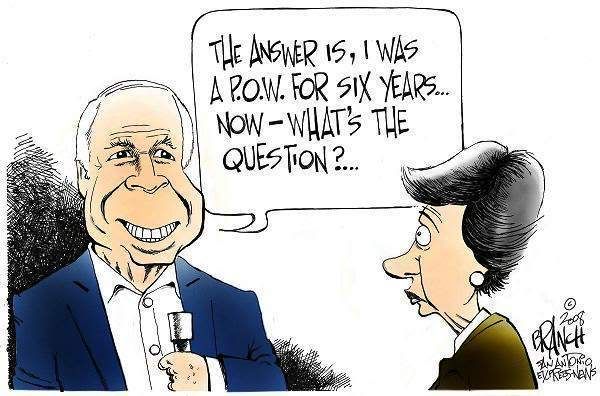 The megamedia seem to be catching on that McCain was a POW…cause that answer comes up again and again and again with McCain.
But McCain is supposed to be hesitant to invoke his POW status:
So it's hard to believe that John McCain is now in danger of exceeding his credit limit on the equivalent of an American Express black card. His campaign is cheapening his greatest strength – and making a mockery of his already dubious claim that he's reticent to talk about his P.O.W. experience – by flashing the P.O.W. card to rebut any criticism, no matter how unrelated. The captivity is already amply displayed in posters and TV advertisements.
Yet, McCain pulls out his POW card on the Jay Leno show…
After their opening segment together on the stage, Leno came back from a commercial break to ask McCain, "For $1 million, how many houses do you have?"

McCain answered by first citing his time as a POW in Vietnam.

"Could I just mention to you, Jay, that, at a moment of seriousness," McCain began, "I spent five-and-a-half years in a prison cell. I didn't have a house. I didn't have a kitchen table. I didn't have a table. I didn't have a chair. And I didn't spend those five-and-a-half years because, not because I wanted to get a house when I got out."
And to answer question about his houses posed by Katie Couric:


And McCain invoked when rebutting criticism about his health care plan:
McCain also uses POW status to explain his music tastes:
As Sam Stein notes in The Huffington Post: "The senator has even brought his military record into discussion of his music tastes. Explaining that his favorite song was 'Dancing Queen' by Abba, he offered that his knowledge of music 'stopped evolving when his plane intercepted a surface-to-air missile.' 'Dancing Queen,' however, was produced in 1975, eight years after McCain's plane was shot down."
And why he was not at Woodstock:
This must be why McCain does not have an effective policy to address global warming, environmental pollution, the economy, healthcare, political corruption, civil rights, human rights, education, benefits for vets, ending Iraq war, preventing Iran war, fighting terrorists, ….because some how all roads lead back to being a POW decades ago.