(10 am. – promoted by ek hornbeck)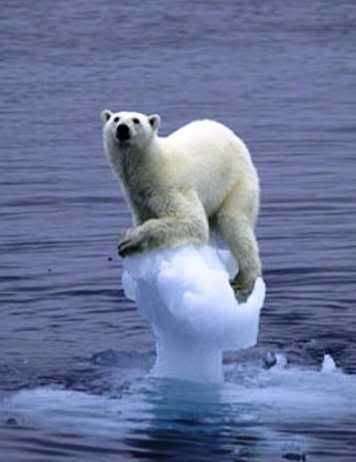 The first questions I asked when I came to Docudharma for the first time last October 2007 were…
Are we at the beginning of the end?
Or are we at The End Of The Beginning?
Billmon in September of [2006] posted a story about

British scientist James Lovelock and his warning that catastrophic global climate change is both imminent and unstoppable:

Within the next decade or two, Lovelock forecasts, Gaia will hike her thermostat by at least 10 degrees. Earth, he predicts, will be hotter than at any time since the Eocene Age 55 million years ago, when crocodiles swam in the Arctic Ocean.

"There's no realization of how quickly and irreversibly the planet is changing," Lovelock says. "Maybe 200 million people will migrate close to the Arctic and survive this. Even if we took extraordinary steps, it would take the world 1,000 years to recover."

It would be easy to view this as just another kooky end-of-the-world theory, if it weren't for the history of some of Lovelock's other kooky theories — like the time in the late '70s when he hypothesized that chlorofluorocarbons wafted high into the stratosphere would eat great big holes in the ozone layer, exposing first the polar regions and then the rest of the earth's surface to increasingly harmful ultraviolet radiation. What a nut.

As far as I can tell, Lovelock's latest crackpot (or should I say "crockpot"?) idea is still the minority opinion among climatologists, most of whom seem to believe we have perhaps 70-100 years before the seriously disastrous greenhouse effects kick in — although Jim Hansen, the NASA scientist, has suggested that unless major cuts in Co2 emissions are made within the next decade, the process will become every bit as irreversible as Lovelock claims it already is.

If we break it, if we disrupt its integrity, we die. We die. It is as simple as that.

It now appears that we are on the verge of breaking it, if we have not already done so. It is my hope that we haven't yet, but also my opinion that we are dangerously close to doing so. So close in fact that there is no more time to waste. The next year or two may very well be the turning point, if we have not already passed it.

Many say that security of the nation is most important because without it nothing else can happen.

Our environment, our entire world, is immeasurably larger, and the problems we face are immeasurably larger than national security in the context of the arguments about it over the past few years.

Nations cannot and will not exist if the planet is killed.

Our backs are to the wall this time. We are painted into the proverbial corner. There is no escaping it. There is only life, or death, for all of us. We have only ourselves to fault, and only ourselves to rely on. No invisible being is going to come down from the sky and save us from ourselves.
Last week both McCain and Obama talked about climate change.
Real News: Who Will Face Up To The Climate Change Crisis?
The Democratic and Republican presidential hopefuls put forward their respective energy and environmental platforms last week, addressing offshore drilling, coal, nuclear energy and fuel efficiency . Both John McCain and Barack Obama have said that Global warming is a problem and would make it a top priority. But would they go as far as NASA's Dr. James Hansen says is necessary before reaching what he calls the tipping point? The Real News spoke with Ben Wikler of Avaaz.org and Professor Catherine Gautier about the promises and shortfalls of the candidates' plans.

August 24, 2008 – 7 min 15 sec

Ben Wikler is a campaign director for Avaaz.org, a global version of MoveOn.org, where he oversees efforts on climate change, global health, and other issues. Previously, he worked as press secretary for Congressman Sherrod Brown's US Senate campaign in Ohio, and was a founding producer of The Al Franken Show on Air America Radio.

Catherine Gautier is involved in educational aspects of climate change science and policy. Originally from Paris, France, Gautier directs the Institute for Computational Earth Systems Science at the University of California Santa Barbara. the book 'Facing Climate Change Together' was compiled and edited by Catherine Gautier and Jean-Louis Fellous.
Does anyone feel confident that either McCain or Obama will make any effort beyond mere words to deal with climate change? Or are we going to simply get song and dance and more hot air from both of them as the climate collapses around us?