(9 am. – promoted by ek hornbeck)
Cross posted from The Dream Antilles
Its name is Gustav. And nobody is entirely sure where it's going. But the 5 day forecast map from Weatherunderground.com makes an alarming prediction: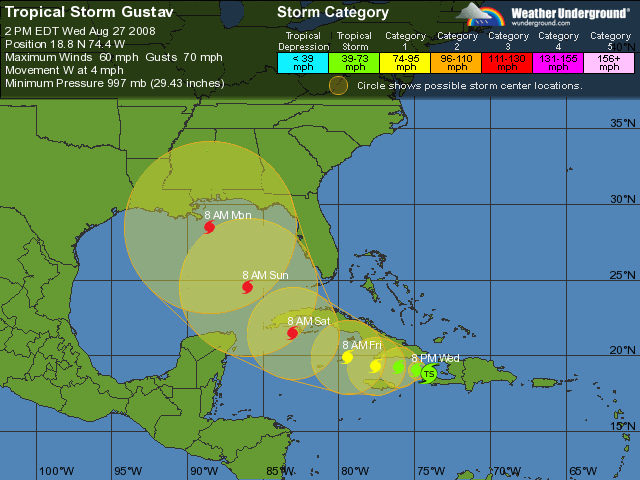 And that prediction is that this storm could grow in intensity and travel to New Orleans and the Mississippi Gulf Coast.
Join me in the City that Care Forgot.
AP reports:
On the cusp of Hurricane Katrina's third anniversary, nervous Gulf Coast residents watched Wednesday as a storm threatened to strengthen and crash ashore, testing everything the city has rebuilt.

Forecasters warned that Gustav had the potential to grow into a perilous Category 3 hurricane and approach the Gulf Coast by Monday morning – though cautioned that a storm's track and intensity are extremely difficult to predict several days in advance.

"We know it's going to head into the Gulf. After that, we're not sure where it's heading," said Rebecca Waddington, a meteorologist at the National Hurricane Center. "For that reason, everyone in the Gulf needs to be monitoring the storm."

City officials were taking no chances, and drawing blueprints of how to evacuate the city if necessary. New Orleans plans to institute a mandatory evacuation order should a Category 3 or stronger hurricane be within 72 hours of the city.
Unfortunately, repairs made to the levee system since Katrina aren't complete, and the Army Corps of Engineers is already talking about the possibilities for another disaster:
Since (Katrina), the Army Corps of Engineers has spent billions of dollars to improve the levee system. Though experts say the city and surrounding region are safer from hurricanes, the improved levee protection is incomplete and holes remain.

Floodgates have been installed on drainage canals in New Orleans to cut off storm surge from entering the city, and levees have been raised and in many places strengthened with concrete.

Robert Turner Jr., the regional levee director, said the levee system can handle a storm with the likelihood of occurring every 30 years, what the corps calls a 30-year storm. By comparison, Katrina was a 396-year storm.

"There's always the possibility if it comes from the right direction, and if it is large enough to create storm surge in the realm of Katrina, that there could be overtopping" of levees, Turner said.
A "30-year" storm? A "396-year" storm? These are engineering measurements, the probabilities and statistics that spell potential disasters. There is no comfort here. "30-year" storms can occur more frequently than every 3 decades. There is no real prediction of what category hurricane Gustav can become. There is nothing but uncertainty.
This leaves me feeling a deep and pervasive sadness. Yes, it looks like Gustav will avoid my home near Tulum, in Quintana Roo, Mexico, and I'm very thankful for that. But that's not really my point. I just can't bear the thought of yet another flood in New Orleans. NOLA and her citizens deserve something better:
Update: (8/27/08, 10:15 pm ET) The New York Times talks about preparations getting underway in New Orleans:

"I'm panicking," said Evelyn Fuselier of Chalmette, whose home was submerged in 14 feet of floodwater when Katrina hit. Fuselier said she's been back in her home one year this month, and called watching Gustav swirl toward the Gulf of Mexico indescribable. "I keep thinking, 'Did the Corps fix the levees?,' 'Is my house going to flood again?' … 'Am I going to have to go through all this again?"'

Taking no chances, city officials began preliminary planning to evacuate and lock down the city in hopes of avoiding the catastrophe that followed the 2005 storm. Mayor Ray Nagin planned to leave the Democratic National Convention in Denver to return home for the preparations, as did U.S. Sen. Mary Landrieu. Gov. Bobby Jindal declared a state of emergency to lay the groundwork for federal assistance, and put 3,000 National Guard troops on standby.

If a Category 3 or stronger hurricane comes within 60 hours of the city, New Orleans plans to institute a mandatory evacuation order. Unlike Katrina, there will be no massive shelter at the Superdome, a plan designed to encourage residents to leave. Instead, the state has arranged for buses and trains to take people to safety.

It was unclear what would happen to stragglers. Jerry Sneed, the city's emergency preparedness director, said officials are ready to move about 30,000 people. Nearly 8,000 people had signed up for transportation help by late Wednesday.
Update (8/28/08, 4 pm ET): AP says:

With Gustav approaching hurricane strength and showing no signs of veering off a track to slam into the Gulf Coast, authorities across the region began laying the groundwork Thursday to get the sick, elderly and poor away from the shoreline.

The first batch of 700 buses that could ferry residents inland were being sent to a staging area near New Orleans, and officials in Mississippi were trying to decide when to move Katrina-battered residents along the coast who were still living in temporary homes, including trailers vulnerable to high wind. ..snip..

As the region prepared to mark [Katrina's] anniversary Friday, officials said they were confident those blueprints made them ready for Gustav.

"There are a lot of things that are different between now and what we faced in 2005 when Katrina came ashore," said U.S. Homeland Security Secretary Michael Chertoff, who flew to Louisiana to meet with New Orleans Mayor Ray Nagin and Gov. Bobby Jindal. "We've had three years to put together a plan that never existed before."

With Gustav still several days away, authorities cautioned that no plans were set in stone, and had not yet called for residents to leave. Projections showed the storm arriving early next week as a Category 3 storm, with winds of 111 mph or greater, anywhere from the Florida Panhandle to eastern Texas. But forecasts are extremely tentative several days out, and the storm could change course.
Update (8/29/08, 9:10 am ET): The storm has left death and devastation in its wake in Jamaica. It is headed for the Cayman Islands. AP reports:

Energy companies evacuated offshore workers and prepared for the most serious storm since the devastating 2005 Atlantic hurricane season to threaten the 4,000 platforms that produce a quarter of U.S. oil and 15 percent of its natural gas.

"After the storm moves away from Jamaica, significant intensification is possible," the U.S. National Hurricane Center said.

The Miami-based hurricane center forecast that Gustav would strengthen into a minimal Category 1 hurricane on the five-step Saffir-Simpson scale as it passed the wealthy Cayman Islands on Friday and then grow into at least a Category 3, or "major" hurricane, just after passing the western tip of Cuba.

By 8 a.m. EDT, Gustav was located at the western end of Jamaica, about 100 miles west-northwest of Kingston. It was moving west-northwest at 8 mph (13 km per hour) on a track that would take it out over water and toward the Cayman Islands.

Its top sustained winds had dipped to 65 mph (100 kph), below the 74 mph (119 kph) threshold at which tropical cyclones become hurricanes, but they were projected to rise to 127 mph (204 kph) within 72 hours, making it a strong Category 3.
Meanwhile, the Republicans are thinking about delaying their convention. Why? According to the WaPo:

Republican officials said yesterday that they are considering delaying the start of the GOP convention in Minneapolis-St. Paul because of Tropical Storm Gustav, which is on track to hit the Gulf Coast, and possibly New Orleans, as a full-force hurricane early next week.

The threat is serious enough that White House officials are also debating whether President Bush should cancel his scheduled convention appearance on Monday, the first day of the convention, according to administration officials and others familiar with the discussion.

For Bush and Republican presidential candidate John McCain, Gustav threatens to provide an untimely reminder of Hurricane Katrina. A new major storm along the Gulf Coast would renew memories of one of the low points of the Bush administration, while pulling public attention away from McCain's formal coronation as the GOP presidential nominee.



Senior Republicans said images of political celebration in the Twin Cities while thousands of Americans flee a hurricane could be dubious.
"Dubious?" That's not the right word. How about, "Emblematic?" Or how about, "Embarrassing" or "Awkward."