(10:30PM EST – promoted by Nightprowlkitty)
cross posted from The Dream Antilles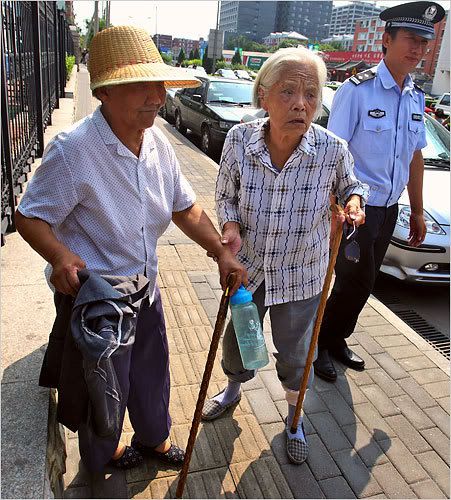 The Chinese Government is very afraid of these two women.
Seventy-nine-year-old Wu Dianyuan, on the right, and her neighbor Wang Xiuying, 77, followed the law. They applied for a protest permit. They wanted to protest inadequate compensation for the taking of their homes in preparation of the Olympics. They asked for the permit five times. They didn't get it. They ended up instead being sentenced to a year of "re-education through labor."
According to NY Times:

Two elderly Chinese women have been sentenced to a year of "re-education through labor" after they repeatedly sought a permit to demonstrate in one of the official Olympic protest areas, according to family members and human rights advocates.

The women, Wu Dianyuan, 79, and Wang Xiuying, 77, had made five visits to the police this month in an effort to get permission to protest what they contended was inadequate compensation for the demolition of their homes in Beijing.

During their final visit on Monday, public security officials informed them that they had been given administrative sentences for "disturbing the public order," according to Li Xuehui, Ms. Wu's son.

Mr. Li said his mother and Ms. Wang, who used to be neighbors before their homes were demolished to make way for a redevelopment project, were allowed to return home but were told they could be sent to a detention center at any moment. "Can you imagine two old ladies in their 70s being re-educated through labor?" he asked. He said Ms. Wang was nearly blind.
Join me in Beijing.
The Chinese government's suppression of all public protests at the Olympics is a disgrace. The details:
At least a half dozen people have been detained by the authorities after they responded to a government announcement late last month designating venues in three city parks as "protest zones" during the Olympics. So far, no demonstrations have taken place.

According to Xinhua, the state news agency, 77 people submitted protest applications, none of which were approved. Xinhua, quoting a public security spokesperson, said that apart from those detained all but three applicants had dropped their requests after their complaints were "properly addressed by relevant authorities or departments through consultations." The remaining three applications were rejected for incomplete information or for violating Chinese law.

The authorities, however, have refused to explain what happened to applicants who disappeared after they submitted their paperwork. Among these, Gao Chuancai, a farmer from northeast China who was hoping to publicize government corruption, was forcibly escorted back to his hometown last week and remains in custody.

Relatives of another person who was detained, Zhang Wei, a Beijing resident who was also seeking to protest the demolition of her home, were told she would be kept at a detention center for a month. Two rights advocates from southern China have not been heard from since they were seized last week at the Public Security Bureau's protest application office in Beijing.
And so, tonight on TV in the US, you will doubtless see some wonderful running, in fact, an incredible world record in the 200 meter sprint. And some incredible volley ball. And some remarkable soccer. And panoramic views of the "birds' nest" stadium. And you will hear the touching stories of those who have overcome extreme hardship to excel at their sports. Some of this will bring tears to your eyes, and some of it will make you marvel that anyone could achieve such heights. Some of it will stir feelings of nationalism and pride.
But there's something lurking just beneath the surface. It's the Olympics as Potemkin Village, the Olympics as propaganda, the Olympics as police state. And you've seen it all before. In the 1936 Olympics:
Leni Riefenstahl, a favorite of Hitler's, was commissioned by the IOC to film the Games. Her film, entitled Olympia, introduced many of the techniques now common to the filming of sports.

By allowing only members of the "Aryan" race to compete for Germany, Hitler further promoted his ideological belief of racial supremacy. At the same time, the party removed signs stating "Jews not wanted" and similar slogans from the city's main tourist attractions. In an attempt to "clean up" Berlin, the German Ministry of Interior authorized the chief of police to arrest all Romani (Gypsies) and keep them in a special camp. Nazi officials ordered that foreign visitors should not be subjected to the criminal strictures of anti-homosexual laws.
Isn't Berlin Beijing wonderful? Isn't this all about peace, and unity, and brother and sisterhood? Isn't this all about fun and peaceful competition? Isn't this all about entertainment and sport as a unifying force? Isn't this beyond politics? Well, no, it isn't. The protests for human rights, for Freedom for Tibet, for free speech, for an end to the genocide in Darfur have all been suppressed in China.
But, folks, we're not in China. And we need to raise a ruckus. We need to call on China to free Wu Dianyuan And Wang Xiuying, and everyone else they are holding to keep Berlin Beijing and its Olympics beautiful.