( – promoted by buhdydharma )
According to Stephen C. Webster at Raw Story:
"Former CIA officer Ray McGovern states that he believes 'a perfect storm seems to be gathering in late summer or early fall,' when the Bush administration and allies in Israel will launch attacks against Iran. "This time it will be largely the Air Force's show, punctuated by missile and air strikes by the Navy," writes McGovern. "Israeli-American agreement has now been reached at the highest level; the armed forces planners, plotters and pilots are working out the details."
In his editorial at Anti-war.com Ray McGovern warns:
Emerging from a 90-minute White House meeting with President George W. Bush on June 4, Israeli Prime Minister Ehud Olmert said the two leaders were of one mind: "We reached agreement on the need to take care of the Iranian threat. I left with a lot less question marks [than] I had entered with regarding the means, the timetable restrictions, and American resoluteness to deal with the problem. George Bush understands the severity of the Iranian threat and the need to vanquish it, and intends to act on that matter before the end of his term in the White House."
Americans need to understand the severity of the Bush/Cheney threat, they need to understand the necessity of vanquishing it, they need to be ready to resist martial law, they need to understand the complicity of most members of Congress in BushCo war crimes and massive violations of the Constitution, they need to understand that Beltway fascists, their corporate media stooges, and Democratic enablers are the greatest threat to peace.
Iran didn't invade Iraq, Bush and Cheney did. Iran isn't killing American soldiers, Bush and Cheney are. Iran doesn't have 800 military bases all over the world, Bush and Cheney do. Iran hasn't sold weaponry to dozens of countries, Bush and Cheney have. Iran has no nukes, Bush and Cheney do.
20,000 of them.
So who's the threat to world peace?
Ray McGovern:
So far it has been a handful of senior military officers that have kept us from war with Iran. Senior officers trying to slow the juggernaut lumbering along toward an attack on Iran have been scandalized watching what can only be described as unconscionable dereliction of duty in the House of Representatives, which the Constitution charges with the duty of impeaching a president, vice president or other senior official charged with high crimes and misdemeanors.
The Commander Guy desperately wants a war with Iran, he thinks that would salvage this flat-lined, brain-dead clusterfuck of all clusterfucks he calls a "presidency", but as Steve Clemons noted at Salon, Bush was told by the Joint Chiefs of Staff "that our intelligence inside Iran is very sketchy. There is no way to be sure that we could take out all of Iran's nuclear facilities. Furthermore, the Chiefs warned, the Iranian response in Iraq and, quite possibly, in terrorist attacks on the U.S. could be devastating."
The corporate masters of this country don't give a damn about that, another 9/11 or two would slam the last nail into democracy's coffin, Bush would declare martial law, and the corporate media would praise his "courageous leadership in a time of national crisis."
Ray McGovern:
The corporate media is already well embarked, a la Iraq, on its accustomed mission to provide stenographic services for the White House to indoctrinate Americans on the "threat" from Iran and prepare them for the planned air and missile attacks.

I would argue that perhaps the most effective way to prevent air and missile attacks on Iran and a wider Middle East war is to proceed as Elizabeth Holtzman urges – with impeachment "forthwith." Does Conyers not owe at least that much encouragement to those courageous officers who have stood up to Cheney in trying to prevent wider war and catastrophe in the Middle East?

It is getting late, but this is due largely to Conyers' own dithering. In October 1974, after he and the even younger Elizabeth Holtzman faced up to their duty on House Judiciary and voted out three Articles of Impeachment on President Richard Nixon, Conyers wrote this:

"This inquiry was forced on us by an accumulation of disclosures which, finally and after unnecessary delays, could no longer be ignored…Impeachment is difficult and it is painful, but the courage to do what must be done is the price of remaining free."

Someone needs to ask John Conyers if he still believes that; and, if he does, he must summon the courage to "do what must be done."
Someone also needs to ask this guy when he's going to start walking the walk instead of just talking the talk.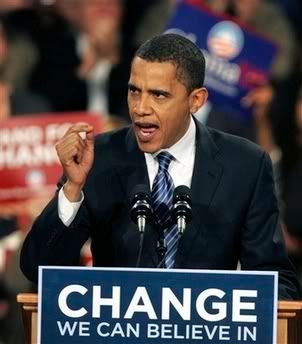 BushCo is going to attack Iran unless Obama, Conyers, and Democrats in Congress stop them. That doesn't seem likely, but if they actually take a stand, if they stop behaving like craven cowards and start behaving like American lawmakers, THAT would be change we can believe in.