(please forgive my recent absence — a combination of the flu and the flood have kept me away from the computer)
Last week I had started on a diary about how flooding in the Midwest was likely to affect food prices, as the corn crop suffers and farmers get too deep into the growing season to re-plant their crops. Articles like this one and this one described how the flooding would decrease the number of acres planted with corn, and decrease the yield for corn that was planted. But the rainfall from this weekend made those stories old news. Up to 10″ of rain fell in some areas, and widespread areas received between 2″ and 6″ of rain. The situation grew exponentially worse over the weekend as flash flooding hit first from the heavy rainfall, and now sustained flooding will occur as that water works its way through rivers already flooded.
Some of the most immediate problems are in Mason City, IA, a town of 27,000 residents, where the flooding has breached the water treatment plant. They have been without drinking water since Saturday, and much of the town has no electricity. The Winnebago River flows through Mason City and crested about 3 feet over its previous record level, and was more than 11 feet over flood stage.
In Iowa City, the Iowa River is expected to flow over the emergency spillway at the Coralville Reservoir. Substantial flooding has already started in Iowa City, and if water goes over the emergency spillway…well, there is a good reason they call it an "emergency" spillway. The increased outflow of water will create an emergency in Iowa City.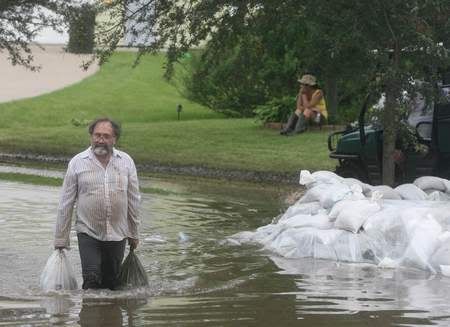 (sandbagging efforts in Iowa City)
This page on the Des Moines Register website has links to many flood stories around Iowa. The MSNBC webite has an article about the worsening flood conditions around the Midwest. In addition to Iowa, severe flooding is affecting Wisconsin, Illinois, Indiana, Minnesota, and Missouri.
I lived in Des Moines during the Great Flood of 1993. That's where the massive flooding overwhelmed the water treatment plant, and 250,000 people were left with no water at all for about 10 days, and no drinkable water for about 20 days. The 1993 flood has since been referred to as a "once in 500 years" event. All floods in Iowa are now measured against the 1993 flood. Some rivers have already crested higher than their 1993 record. The Des Moines River is expected to crest on Thursday about 3 feet below its 1993 record, but that assumes no more rain.
Will it stop raining any time soon? The following map is from the National Weather Service's Hydrometeorological Prediction Center, showing a forecast of rainfall amounts (in inches) expected from June 10th Through June 15th: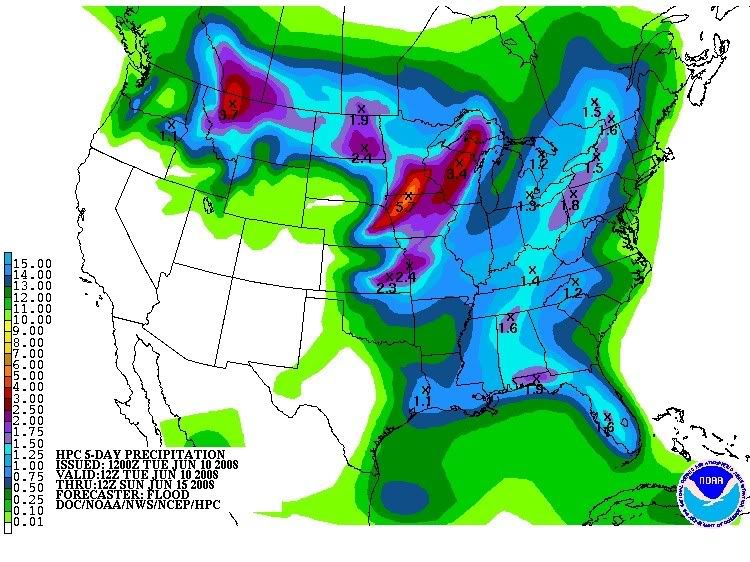 It shows that widespread areas of the Midwest (especially Iowa) can expect 2″ to 6″ of rain in the next five days. Because the ground is so saturated already, another few inches of rain could turn this from a pretty bad flood to a situation that rivals 1993. And it's still relatively early in the season — June and July are typically the wettest months in Iowa.
I've been pretty lucky myself. Just some water in the basement that has to be cleaned up daily. So I've had some time to help others clean up wet basements and fill sandbags. But a similar situation to 1993 is now in place. Heavy runoff from melting snow this spring, plus widespread heavy rainfall, has filled the water tables over several states. Almost all that water has to work its way to the Mississippi River and then to the Gulf of Mexico. Once the Mississippi starts rapidly filling, the rate of drainage from other rivers will slow substantially, making the areas around them even more susceptible to the expected heavy rains of June and July.
I'll try to put together a more substantial diary if the situation worsens next week as I think it will.
UPDATE 1: The Army Corps of Engineers now estimates that the Saylorville Lake north of Des Moines will overflow its dam sometime today into the Des Moines River. Major downtown bridges are being closed in Des Moines as the water is expected to cover them.
UPDATE 2: The Army Corps of Engineers will close a 250-mile stretch of the Mississippi River to barge traffic later this week due to the flooding. No barge traffic will be allowed between Fulton, IL and Clarksville, MO for up to two weeks.
UPDATE 3: The downtown area of Waterloo, IA is being evacuated. Traffic is being diverted around the city to keep motorists away from bridges that cross the Cedar River. The river depth is approaching 25 feet and still rising. The previous all-time record level was 21.86 feet. Two smaller towns near Waterloo are also being evacuated — Washburn, where a levee broke; and Nashua, where the water treatment plant has flooded.