One of the most profound questions regarding Obama is his approach and tenor towards those most of us around here consider the scum of the earth, the war criminals and torturers at the top of the Republican Party. John McCain is not much more than a replacement part for their Reign of Terror to continue unabated. And of course he is as full of shit as a row of portapotty's after a three day rock concert and has held more positions than the KamaSutra.
An aggressive, attacking campaign posture will destroy his credibility, despite his protectors in the Merde Stream Media. The question is….will Obama attack? Or play the post-partisan, "reasonable" (in the face of Repub madess) nice guy?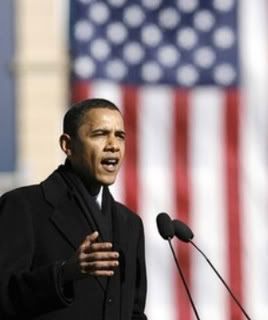 We got a clue last night. These lovely words did NOT come out of Obama's mouth, but from Obama spokesman Bill Burton.
"What's reckless is continuing the Bush-McCain foreign policy that has cost us thousands of lives and a trillion dollars in Iraq, strengthened Iran, enabled Hamas to take Gaza, took our eye off al Qaeda, failed to capture Osama bin Laden, failed to finish the job in Afghanistan, and left us less safe and less respected in the world. No amount of utterly predictable fear-mongering and tough talk can change the fact that John McCain is running to continue the most disastrous foreign policy in recent American history," said Obama campaign spokesman Bill Burton.
The press release of course, came in response to McCain coat-tailing Bush on his despicable "Nazi Appeasers" remarks in Israel:
Earlier today, Sen. Obama made a few remarks I would like to respond to. I welcome a debate about protecting America. No issue is more important. Sen. Obama claimed all I had to offer was the 'naive and irresponsible belief' that tough talk would cause Iran to give up its nuclear program. He should know better. I have some news for Sen. Obama: Talking, not even with soaring rhetoric, in unconditional meetings with the man who calls Israel a 'stinking corpse' and arms terrorists who kill Americans will not convince Iran to give up its nuclear program. It is reckless to suggest that unconditional meetings will advance our interests.

It would be a wonderful thing if we lived in a world where we don't have enemies. But that is not the world we live in, and until Sen. Obama understands that reality, the American people have every reason to doubt whether he has the strength, judgment and determination to keep us safe.

The Rev. Wright fiasco (as overblown and media driven as it was) pointed up once again a real challenge the Obama candidacy faces. Right or wrong…Obama can NOT appear too angry during the campaign. Though the Wright brouhaha proved to have no significant traction in the polls or in the special elections where R's used it in attack ads, the disgusting meme of the "Angry Negro" has been established now and is open for trading. Both by actual racists and those who will merely (and reprehensibly) use race to attack his candidacy.
Fortunately, Obama plays the role of reasonable reserve well and it does not look too weak on him, for the most part. And if played correctly it can be used greatly to his advantage as a contrast to one of McCain's weak points, his legendary temper. It seems as if America is tired of bloviating tough guys and may be ready for someone reasonable, calm…and intelligent. Iow, not McCain!
But to make this work, Obama will need a bulldog, or a team of bulldogs, to issue the kid of press release we see above… and attack, attack, attack McCain. Hmmm, I seem to see a constructive role for the stinging vitriol blogosphere has exhibited during the candidate wars! (In addition to more prominent surrogates,) McCain needs a 100 Year War waged on his sorry ass, will the Obama team find a way to do it without Obama himself playing into the racist trap that has been set for him? His surrogate bulldogs will be one of the keys to this election.