Subtitle: Thoughts on effectively changing the media.
Thought One: Calling a campaign to change/reform the media a 'media war' is not the way to effectively change the media! Frontal attacks on massive egos are rarely effective…..by themselves. Of course we desperately need voices such as the inestimable Monsieur hornbeck telling it like it is…


What these Beltway Butt Kissing Access Whore Media MORANS don't get is that people don't buy their bullshit anymore.
……to keep up the bad cop pressure. But the blogosphere has bee railing against the antics of Pumpkinhead and Tweety for years now.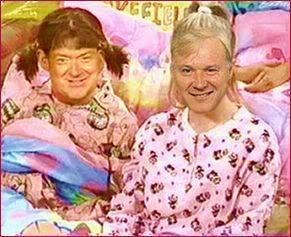 Without much effect. The punditroids expect and are used to the blogosphere attacking them, they have vaccinated themselves with rationalization and denial and are very good at ignoring all but the most strident attacks. But! When the blogosphere united on the specific issue of Matthews' sexism it did have an effect, and elicited a near apology! But it didn't really change the Uber-narrative.
So…maybe more good cop? Maybe it is time to try massage them….massaging their narrative?
Though they most likely do not realize it themselves, the narrative they are still playing from is the Fox News created narrative. The success of Fox 'journalism,' smearing and sensationalizing and 'subtly' slanting was adopted and mimicked by all of the news 'industry' in response to Fox bursting on the air successfully. ALL of the networks and cable outlets changed in order to compete. As Fox's ratings and influence starts to fade along with the Repubs, perhaps their is a real chance to help establish a new model of media narrative. And perhaps the way to do that is not just attacking them on every point, but also massaging the massive egos of the folks involved.
Maybe we can have some success praising folks like MSNBC's news Director Dan Abrams for his 'bold innovative new approach.'
Which brings me to an idea for a first action…and a question.
The question: How do we develop a successful internet campaign?
To put the first action into effect.
The suggestion for the first action being: A internet wide lobbying campaign to get Rachel Maddow her own show!
The narrative? Old media/punditry vs New….for instance:


News and views for the 21st century….with MSNBC leading the way!
For emphasis, compare a Rachel Maddow show to this level of drivel, currently on MSNBC. Via C&L.. Morning Joe: Scarborough and Carlson Call The Media's Love of Obama A "Ninth Grade Love Affair"
Certainly Maddow is someone the blogosphere can comfortably get behind, but that brings us to the question of….how to get them there. Which is in sooth, the larger question of how to stage a successful internet campaign. We are good here at coming up with ideas and solutions, it is time to come up with ideas and solutions for putting our ideas and solutions into action!
PS, Meteor Blades had a good column and discussion on the media last night.