Cross posted from EENR Blog
That's right. Gary, Charlotte and I went for our first precinct walk this weekend together in Aliso Viejo, California. Oh man, not a good weekend to start, it was very hot and we waited until early evening to grab walking shoes and knock on doors in our very own neighborhood. Why not start where we live? Our community is in the heart of the 33rd State Senate district.
This will be our cheapest and best way to get the word out about Gary's campaign and for now we are knocking on all the doors. Republicans, Declined to States and Democrats. We've found Republicans to be very receptive to meeting the candidate, especially when it's quite doubtful that the Republican candidate will do any walking at all.
And this is the best lesson we learned, talking to people is the best way to get them to vote for you. And we even found some lovely Democratic neighbors who want to donate and volunteer. What more can a grassroots campaign ask for?
It was a busy weekend for us all. We started Saturday with haircuts for Charlotte and Gary. It's summer here so it was the annual cut a good four inches off of Char's hair. She gets her summer bob and Gary got a nice cut as well.
I found out I talk a bit too much 🙂 But that's me and I don't just talk, I listen. Some of my favorite reactions were, "Go, go. You've got my vote, I vote Democratic down ticket, Democrat, Democrat and Democrat!" and then there was my favorite family of four. Mom was reading The Huffington Post when I came up. Her husband pointed out that they had a bumper sticker that said, "Vote Dem". But I still wanted to talk to them! We need money and we need people to help us walk these precincts. It's all good time to me when it comes to speaking to people one on one.
Then Sunday came and we went to the Kick Off Party for Loretta Sanchez who is seeking her fourth Congressional term for central Orange County. She was amazing, I was just so impressed with her humor and wit. She also walks precincts religiously. There is no such thing as a "safe" seat for Democrats in Orange County and Loretta understands how important it is to go out and talk to people. When she won her first election twelve years ago she personally knocked on 65,000 doors.
I had a chance to introduce myself and she was so happy to hear about a Democrat running for office in Orange County and a Democrat that was stepping up to get the "D" on the ballot. She held my hand while we talked, not awkward and was so involved with ME. I did not take much of her time but I just wanted to let her know that we were so honored to be there and so proud to call ourselves Democrats because of all the great work she had done on behalf of the County and her district.
Since I'm the worst campaign volunteer ever, I can't get any of my photos to upload but, I do have a photo from the Ed Chau campaign of Gary and Ed Chau, one of two Democrats running in the 42nd district (The other is well known here at Daily Kos, Ron Shepston is also running. It's a very tight race and both my husband and I have not endorsed, we are torn!). Below is a photo of Gary and Ed taken by Ed's Campaign Director (Yes, Congressional candidates have CAMPAIGN DIRECTOR, I'm so envious) Drew Cornick.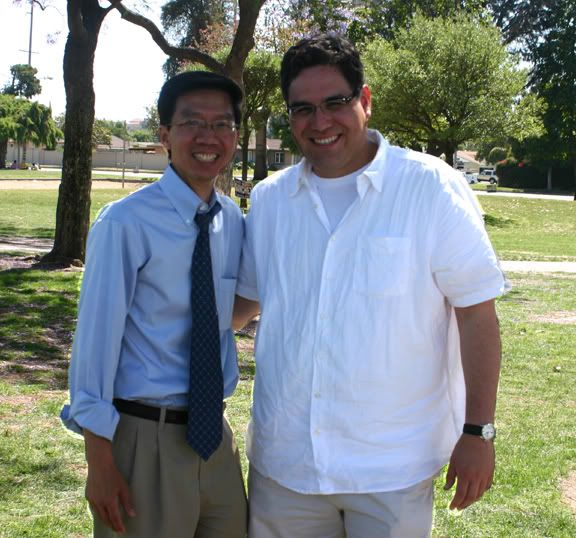 So what are the Republicans doing that are running to win in November? (There is such a thing as a safe seat for Republicans and it's assumed that whomever wins in the Primary will most certainly win in November). They are trading ridiculous claims and throwing around the word "liberal" like it was something heinous. What is the winner going to call Gary? A communist.
Below is the most egregious of the attack mailers, this one sent by Mimi Walters against her opponent Harry Sidhu. It's not subtle and it's racist, clear and simple. This race is catching eyes up in Sacramento too for being a little to nasty and locally it's getting attention for the very same reason.
I'm still trying to raise $5,000 for Gary this month. And as I speak he's working on a letter to the Fort Mojave Tribe to ask for their support (Gary is a Tribal Member) as well as sending request for donations to all the organizations that have endorsed him and the people he's personally met. This is what I do, I blog and this is how I'm trying to help Gary at least make a dent in this so called "safe" seat. He's going to work hard and knock on as many doors as he can by the November election but we need door hangers, fliers and mailers and we need to hire someone to help out his frazzled wife who has a full time job.
Please support a fellow Democrat who stepped up to put a "D" on the ballot and who is willing to go out and talk to people, face to face, to get their votes.