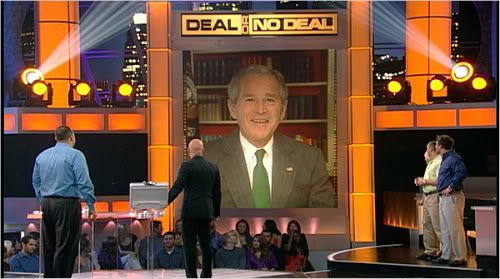 No deal.
From The Guardian, Bush appears on US game show as approval ratings hit record low.
Final confirmation that George Bush has too much time on his hands came last night.

Well into the lame-duck stage of his presidency, with his duties at the White House increasingly minimal, Bush found time to put in an appearance on the popular game show 'Deal or No Deal'.

Bush, who according to a Gallup poll today became the most unpopular president in recorded US history, said he was thrilled to be on the show. "Come to think of it, I'm thrilled to be anywhere with high ratings these days," he said.

It was for a popular cause, in support of a US war veteran taking part in the contest, which has a $1m prize.

Bush did the recording at the White House last month for the airing last night in which he wished Captain Joseph Kobes good luck.