Yesterday NLinStPaul asked (rhetorically)
You mean we can do this and have some fun?

Goddess above, I hope that's true!!
In my opinion, fun is vital!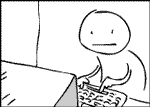 The guy who is fond of the phrase The Long War, THIS guy ….
is anti-fun….
and we are anti-That guy. Logically then, we are PRO-FUN!
It is a long war….a never ending one, as a matter of fact….
Having fun…dancing, playing, joking, resting…having sex. Is taking care of ourselves. If we don't take care of ourselves, we burn-out. If we burn-out, we can't fight, if we can't fight, they win!
So we all need mental health days. Days to recover and refresh so we can be at our best, I need one today, so I wrote this essay to tell you all that I won't be writing an essay today.
Sorry!
Take care!