( – promoted by buhdydharma )
cross posted from The Dream Antilles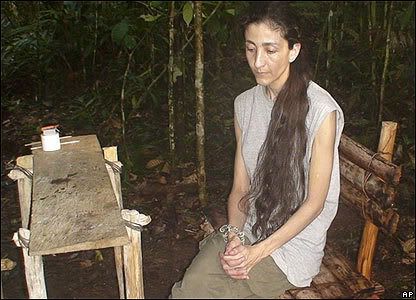 Ingrid Betancourt In Captivity (11/30/07)
Ingrid Betancourt, while campaigning for the presidency of Colombia, was kidnapped by FARC on February 23, 2002. More than six years later, she remains a hostage somewhere in Colombia. She suffers from hepatitis B and leishmaniasis, a skin disease caused by insect bites. She is also rumored to be losing the will to live. She is the public face of kidnapping in Colombia. She is the most famous of hundreds of hostages. Unlike most of the hostages, she has ties outside the country.
Please join me in the selva.
Colombia has more kidnapping than any other country in the world. The Colombian Government itself estimates that someone is kidnapped every three hours. It estimates that every year 11 politicians are kidnapped. It does not estimate how many hostages there are at this moment, nor does it estimate how many disappearances or deaths there have been. Colombia, since 9/11, emphasizes that FARC is a "terrorist" organization. It does not discuss the human toll that Colombia's US funded military, the billions in US aid for "counterinsurgency," the "war on drugs," and its many paramilitaries levy.
Colombia has a long, documented history of mass kidnapping and long term hostage holding. This apparently began in earnest with the rise of Pablo Escobar and Colombia's emergence as the hemisphere's dominant narco trafficker, and it was documented by Gabriel Garcia Marquez's 1997 News of a Kidnapping. As a New York Times review explained about those kidnappings:

The object of these kidnappings was plainly to pressure the Government of Colombia, keep it from dispatching Escobar and his fellow drug billionaires to the chains that awaited them in the north. In fact, the drug bosses, as fond of their families as anyone, had been on the receiving end of a few sequestrations themselves, carried out by rebel groups like the M-19. They had dealt with them by forming an organization called Death to Kidnappers and, by a series of ghastly murders and horrendous tortures, discouraged the practice on the part of their enemies. Nor did the dignity of the Colombian state prevent the police from employing extremely arbitrary, brutal and even fatal methods in their treatment of individuals associated with the cocaine industry. Indeed, the suspension of these methods was among Escobar's demands.
Put another way, the kidnappings Marquez wrote about a decade ago had a plainly discernible, short term, political purpose. Is the same true of Ingrid Betancourt? After more than 6 years, apparently it's not.
Last week, France sent a plane to Colombia so that a French medical team could treat Betancourt. Treatment for her conditions was said not to be otherwise available. The French team, however, is now stuck:
France said Saturday its medical mission to help French-Colombian hostage Ingrid Betancourt /snip will stay put in Bogota until the guerrillas give a response.

"We had to do something. Now we're waiting for news from FARC," French Foreign Minister Bernard Kouchner told France 2 television channel /snip

The humanitarian mission, said Kouchner, "will stay put where it is," adding that the French government was "determined" to wait it out.
Put another way, FARC hasn't indicated whether it will or will not allow Betancourt to be seen or treated or released. Evidently, nobody's heard from FARC about this, or if they have, they're just not talking about it.
The situation is complicated. According to AFP:
Oscar Lopez, Governor of Guaviare department, 400 kilometers (250 miles) south of Bogota, where Betancourt and other hostages are believed to be held somewhere in a rebel jungle camp, said the guerrillas "have given no sign" of an impending release.

[FARC] reiterated Thursday in a statement that any hostage release would come "if there is an exchange of prisoners." FARC seeks to swap its most prominent hostages, including Betancourt, for 500 jailed comrades.

Bogota has agreed to suspend military operations against the FARC to allow the deployment of the humanitarian mission, and last week it even suggested it would release some jailed rebels if Betancourt and other hostages were freed.
But according to AP:

A French-led mission to free hostage Ingrid Betancourt in Colombia may fail because officials cannot find any rebels to talk to about her release. The insurgents are in hiding, their main contact with the outside world is dead and Interpol has an arrest notice out for a top guerrilla leader.
Further, according to AP, Hugo Chavez, who negotiated releases of hostages earlier this year, now says that he has no way to contact FARC:

Venezuelan President Hugo Chavez, who received rebel-held hostages earlier this year because of his previous efforts at mediation, says he now has no way of reaching the rebel group.

Colombian Sen. Piedad Cordoba, a Chavez collaborator who this year twice escorted a total of six hostages freed by the FARC into freedom, says she wants to help the French-led mission but lacks contacts.

"All I can say is, as soon as we have a chance to resume contact with someone … we can work on this subject," she said Friday.
And so the French plane sits on the tarmac. Ingrid Betacourt remains in the selva. Hugo Chavez, according to AP says the problem is the pursuit of a FARC member, Ivan Marquez:

Chavez, the leftist president who negotiated earlier hostage releases by FARC, expressed a desire to help, but he said the United States and Colombia should first stop trying to catch Ivan Marquez, who is a member of the FARC's ruling secretariat.

"We have information which indicates that agents from governments of Colombia and the United States are hunting Ivan Marquez," Chavez said in Caracas late Thursday. He suggested the United States is using "very advanced technology … they have satellites and so on."
And the U.S. says it doesn't know what Chavez is talking about:

In Washington, State Department spokesman Tom Casey said he did not know who Marquez is. Asked about Chavez's suggestion that U.S. actions could lead to progress toward the hostages' release, Casey said: "I'm not sure what he's referring to."
Put simply, Ingrid Betancourt and hundreds of other hostages languish because there is no effective diplomacy. Sadly, it's just not clear what can be done so that Betancourt and the other hostages will finally be released.