( – promoted by buhdydharma )
I've been thinking about this for days now. Ever since my nephew told me he thought that winning was the reason one plays baseball.
And I thought::: has our obsession with winning turned us into losers? Our family routines, our learning curves, and just plain old having fun all seem to take a beating from the prevailing ends justify the means American mindset.
Is winning market share or baseball games or presidential races more important than how one plays the game, the quality/efficacy of products one puts on the market, or the policies/integrity of candidates?
Winning is only an outcome, isn't it? What happens to all the stuff that needs to happen to get to the winning? Isn't all the in-between stuff, those small moments, where we get our life lessons?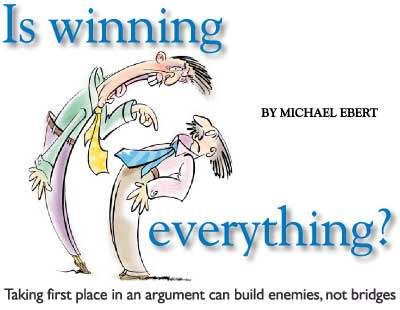 Take baseball… it's not even like you need big hulking muscle-bound linemen. Guys hit the ball. They catch the ball. They run around bases. Why do they need to take steroids? Isn't that cheating? To ramp yourself up through drugs when other guys are playing straight? Isn't it supposed to be about one's skill… the ability to play the game? Or is it simply one's skill at winning… and doing whatever it takes, without regard for the game? Pete Rose, the greedy prick, went so far as to bet against the baseball team on which he both played and managed. Charlie Hustle??? How about Charlie Hustler.
I loved baseball for its mythic nuances… it's constellation-like outfield, the heroic deeds of men, and the love of the game passed from parent to child… spanning generations. Little League, rites of passage, spring, renewal. A common thread in a modern world. But now? Now, baseball has been objectified by million dollar contracts, Nike endorsements, and merchandizing. And Little League? The play ground can turn into a battle ground of arguing parents and yelling coaches… the emphasis on winning stressing out the little kids who'd just like to play… a game.
Winning seems so pervasive that secondary schools have become a mere conduit to college. It's winning at grades and winning at SAT-taking to beat out the other student to get into college. What happened to becoming educated and learning to think??? I'll tell you what… instead we force-feed kids designed educational templates to win more scores on more and stupider tests… achievement tests. And college? All about the outcome::: winning the job.
And corporations? Winning market share and profits drive great commercial campaigns but the products themselves? Heh. Cheap goods are the most expensive goods we'll ever buy. Toxic plastics made from toxic processes that use up untold energy are discarded after six months, taking up untold space while never decomposing… but leaching toxins into our soil and water sources… Yeah. Like the toxic chemicals we put on in our food, not to mention the way animals are enslaved and tortured to feed us. Have you noticed? SUVs are still being hawked by car companies… and the campaigns paint pictures of freedom and luxury. And, in order to stay current, you need to buy a computer every six months. It is depraved.
Oh. And politics… the thing that drove most of us here. Winning the election is far more important than governance. Politics means campaigning… who has time for policies and our overwhelming problems? Certainly campaigning seems to focus on why I shouldn't vote for the other guy/gal with a little bit about health care and economy. In real life, as Clinton and Obama attack each other, the only one sounding like he's on-point and talking policy is John McCain. And McCain is delusional. An ass-kisser. A control freak. He's more dangerous than Bushie… and yet, Clinton and Obama are so consumed with winning that they have lost control of what is important::: telling the fucking truth, our country, and its citizens. This is not about them. Not them for christ's sakes.
Why isn't it about their strategy to govern… and how they will do this job and the people who will surround them? Who's on their SCOTUS short list? How do they think about diplomacy, evolution, choice… do they believe, as we, that our Constitution has been under assault and how would they restore it and balance of power. Do they believe that men and women elected to uphold our laws should be made accountable to those very same laws? How do they feel about unanswered Congressional subpoenas??? And maybe, just maybe, telling citizens the truth and standing for something, having principles, is more important than winning. Maybe telling the truth and demanding accountability… by impeaching George W. Bush and investigating all the corporations that have won through their association with him… will start the process of restoring our country. Maybe the truth is a long-term strategy to win back our country.
But hey… it's more important to win. Yeah. Winners and winning have replaced leaders and leadership.
It seems to me by focusing on the outcome, winning, we are sacrificing the mainstay parts of our lives. The process of our lives. The everyday of our lives. Meaning, quality, pride, honesty, love… are attributes used in how one thinks about and does a thing. A kindness, playing the piano well, being a great cook, loving your kids… these things are not about winning, but just the ways we live our lives.
So, I said to my nephew, I'm not sure winning is the object or goal of baseball. Sometimes in winning, we lose what's really important… like having fun and learning to play with others. And then there's the cool stuff like hitting, catching, and throwing a ball.
Maybe the most important thing about baseball is just playing the game.