( – promoted by buhdydharma )
In the aftermath of Barack Obama's inflammatory and slanderous insinuation that Americans are frustrated, bitter, and angry; and in response to his outrageous condemnation of Americans for clinging "to guns or religion or antipathy to people who aren't like them or to anti-immigrant sentiment or anti-trade sentiment as a way to explain their frustrations", Hillary Clinton spoke out in passionate defense of these victims of Obama's shameful slanders and declared that "Senator Obama's remarks were elitist and out of touch. They are not reflective of the values and beliefs of Americans."
Thank you for clearing that up, Hillary. It's about time someone called out Obama for being so elitist and out of touch. He must have inherited those elitist traits from that elitist socialite grandmother of his in Kenya, who's always parading up and down some fashion show runway in a fancy evening gown from a trendy Paris boutique:
According to the latest polls, 19 percent of Americans have real American values and beliefs, but 81 percent are elitist, out of touch subversives who say America is heading in the wrong direction. Fortunately for America and its hard working journalists, John McCain and Hillary Clinton love America so much they weren't about to let that out of touch elitist Obama pander for the votes of all those other out of touch elitists.
The Sunday talk show hacks are fired up now. Bring on the furor! Cue the outrage! Saddle up the Pundit Posse and let's ride!
Everything was going just fine all across America until these elitist and out of touch Katrina victims started complaining: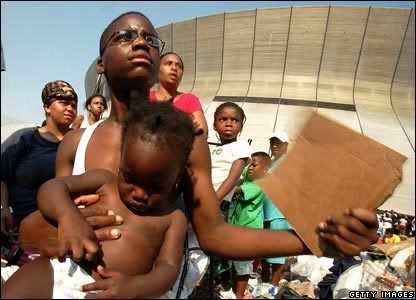 Like Barbara Bush pointed out, they'd never had it so good. Trent Lott's porch got wiped out, but did they feel sorry for him? NO. Selfish bastards. They were too busy plotting to cheat FEMA out of trailers so they could live it up in fancy government housing for the rest of their lives to feel sorry for Trent Lott and his $50,000 porch.
That was bad enough, but then elitist and out of touch widows of elitist and out of touch dead American soldiers started saying we should cut and run from Iraq:
If that ingrate had real American values and beliefs like Hillary and her Beltway friends do, she wouldn't be moping around feeling sorry for herself, she'd be enlisting in the Army to save Iraq, or would donate some money to help America's struggling defense industry make it through these tough times.
Give her hell, Hillary. She deserves it. If her husband wouldn't have gotten himself blown up by an IED on his 5th tour in Iraq, those predatory lenders outside his Army base with real American values and beliefs wouldn't have had to lobby you and your Beltway friends for that Bankruptcy Bill, so they could bring felony fraud charges against her for falling behind on her credit card payments and reducing their profits .00001 percent.
4,000 elitist and out of touch American soldiers have somehow gotten themselves killed in Iraq despite the experienced leadership of Hillary American Values Clinton and her Beltway friends. 30,000 elitist and out of touch American soldiers have gotten themselves wounded and maimed. Hundreds of elitist and out of touch American soldiers are emboldening the terrorists by committing suicide. 200,000 elitist and out of touch veterans are flaunting their elitism in our faces by sleeping under bridges. Tens of thousands of elitist and out of touch Americans have lost their homes and are recklessly blaming the idealistic folks on Wall Street for the mess they've gotten themselves into.
So thank God and all the Saints in Heaven that happy Hillary Clinton has her happy finger on the happy pulse of happy America, and can set the record straight when rabble rousers like Obama try to fool Americans into thinking they've got some God given right to be angry, bitter, and frustrated just because the economy is in freefall, and their dollar is worth five cents, and their sons and grandsons and great grandsons are going to be dying in Iraq for a hundred years, and their tax money is paying for NSA satellites that spy on them, and for bail outs of Wall street thugs who rob them blind, and for oil company subsidies because $110 a barrel only trickles $30 billion in profits into oil company coffers every 3 months.
Who could possibly be frustrated, bitter, and angry about that?
This American cat trying to get to Canada before it's too late sure as hell is . . .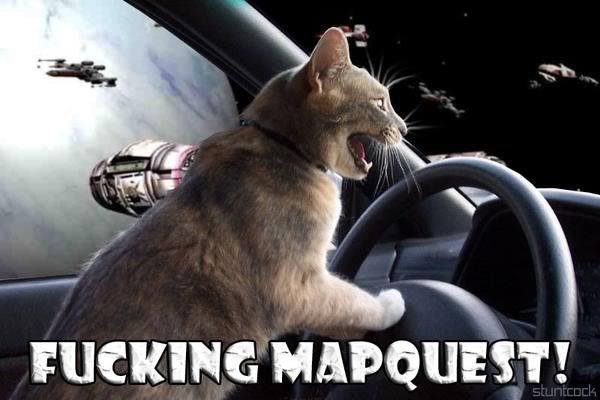 Calm down Sanka, the Islamofascists are going to nuke Canada too, so take your time.
Yeah, I know, all the voters in the focus groups Frank Luntz talks to on national TV know that Democratic voter fraud and secular humanist Christmas haters are the only real problems facing America, but I still think having war criminal torturers running around loose in the White House and a media full of Pravda Prize winners and a Great Depression only one more Wall Street clusterfuck revelation away are of slightly more concern.
But what do I know, I'm just an out of touch elitist with an anger management problem.