Is there a line anymore? Who determines the line? Is the fact that the folks who claim to determine the line, like Faux News, are the ones who usually cross it relevant?
To wit: Is John McCain senile?
This is at least the fourth time that McCain has asserted a direct Iran/al Qaeda connection.
Is he too senile to be President? Or is he just incredibly stupid? EVERYONE who knows anything about Iraq knows that Iran would not train and equip Sunni insurgents/Al Qaeda. But especially if you buy into the alleged existential threat that the Republicans peddle that includes Iran trying to take over Iraq, they would be training the very folks who would be insurgents against them! After five years of this crap, the Republican fear mongering lies have woven such a ridiculous net of lies, that they can't even keep them straight in their own heads.
Especially the senile ones, like John McCain.
He calls it a slip, but says he is the best qualified….after 'slipping' four times.
Asleep 'at the switch' of the Straight Talk Express. Best qualified indeed.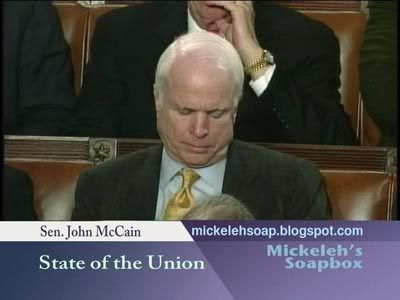 "We're one terrorist attack away from John McCain rising in the polls by ten points because people think he's tougher. Of course he's not tougher about the war, he's dumber about the war … because he thinks that by keeping troops in the heart of the Muslim world, that's gonna help the war on terror."

In this semi-post Rovian era (as if he doesn't still have a hand in, ha!) where all semblance of decency and integrity has been decimated and nuked and buried, where the politics of personal destruction is now the norm, where DO decent people draw the line in trying to defeat a political opponent? How far do we go in trying to defeat yet another delusional, Mad Republican Bomber?
While folks around the blogosphere tie themselves in knots fighting over which Democrat should get the nomination, this angry, unstable, OLD man who either has no idea what is going on in the world he is supposed to protect us from, or is losing it mentally…..has taken the lead over both of the Dems in the latest polls. To the point where alleged Democrats say they will vote for this warmongering wanker.
Let's just hope that when we get a nominee, they devote the same energy to defeating this disaster waiting in the wings as they are spending on cannibalizing their own Party. Oy.